Are you an FL Studio user? Can You Make Good Music with FL Studio Stock Plugins? Here I will tell you everything you need to know about making good music with FL Studio stock plugins. You will also learn why this music production software is so widely used by renowned music producers.
FL Studio's stock plugins are quite good. With them, you can make music of the highest quality and they are useful for working with beats of any musical genre. Also, it is considered to be one of the most popular and widely used DAWs in the world of music production.
If you want to learn everything related to making good music with fl studio stock plugins, I invite you to continue reading this article.
See also: 10 Best FL Studio Stock Plugins You Must Use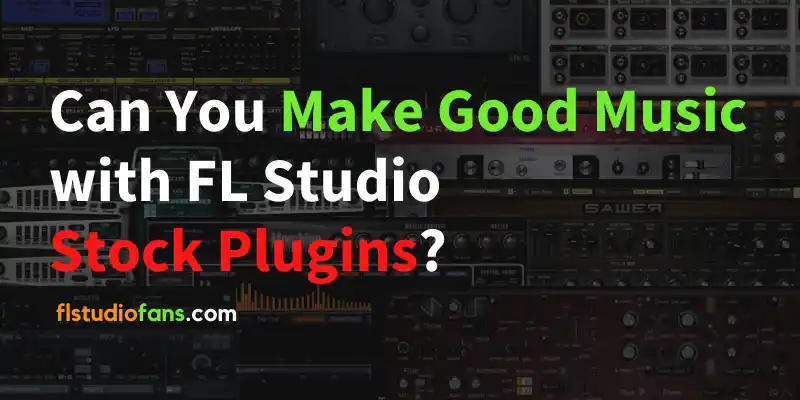 Table of Contents
Does FL Studio have good plugins?
Definitely yes, FL Studio has a lot of powerful and high quality built-in plugins. This DAW is equipped with excellent audio editing and recording VSTs, synthesizers, musical instruments, sound effects, compressors, and equalizers.
Fruity Loops includes plug-ins that allow you to use sound effects and virtual instruments in audio creation.
In addition, these plug-ins process and arrange sounds in order to synchronize with MIDI interfaces.
Thanks to this, the music production process is faster and more accessible.
Other highlights of these plug-ins are:
Presets: These are preset sounds integrated into the program, a varied music library. They are very useful, since you don't need to create tracks from scratch, ideal for saving time in music production.
Instruments and sounds: Its collection of plugins is made up of a variety of audios, organized in libraries. Thanks to this, it is possible to emulate piano sounds and other musical instruments.
Smooth interface: Its tools speed up music production, since you can record using its enhancers, adjusting the track when necessary. You can switch from one audio to another by simply clicking on the screen.
MIDI controls: This gives you the opportunity to manage audio with external MIDI controllers. Ideal for matching beats, mixing instrument sounds, among other things.
How many plugins are there in FL Studio?
FL Studio comes equipped with over 115 plugins. However, the number of these tools will depend on the version you own, with the Signature Edition and All plugins Bundle being the best equipped.
See also: Trap Music: 10 Best FL Studio Stock Plugins
FL Studio has 4 editions, with specific features that make it one of the best DAWs for music production. They are all organized in a simple graphical interface, modern and customizable according to your needs as a music creator.
In addition, it has VST support, automation functions, and specific audio editing.
Each version comes with easy-to-use native plugins.
1. Fruity Edition
This is the most basic version of FL Studio. It is ideal for composing simple beats, loops and melodies. You can use it as long as you want, save your projects and export them to MP3 and WAV.
Although it has limited editing and audio recording tools, it is ideal for beginners.
The following plugins are included:
Fruity Parametric EQ2
Fruity Pad Controller
Fruity WaveShaper
Fruity Granulizer
ZGameEditor)
Fruity Vocoder
Autogun
2. Producer Edition
This is a paid version designed for recording complete melodies and making recordings with external instruments, which you can add to tracks.
The Producer Edition is one of the most popular versions of this DAW.
Among its most used native plugins we can find:
Sytrus.
Edison.
Vocodex.
Newtime
Patcher
Maximus Multiband Maximizer
Groove Machine Synth (GMS)
3. Signature Edition
This version stands out for its mastering functions, equalization and has several synthesizers, as well as excellent effects for the mixer.
The Signature Edition is the best value for money, due to a large number of functions and sound effects for a reasonable price.
In addition, you can use compressors, VST instruments, with the option to edit the audio as many times as you want.
It consists of the following VSTs:
Pitcher
Fruity Video Player
Bass drum
Harmless
Gross Beat
Hardcore
Newtone
Slicex
FL Flowstone
GMSynth
DirectWave Full
See also: 10 Reasons Why FL Studio Is Good For Making Beats
4. All plugins Bundle
This is the version of FL Studio with the largest number of plugins. It complements the functions of the other versions and adds features such as external recording, audio editing and the option to insert clips.
It is the ideal edition for professional producers, due to its wide sound library, the variety and the great power of its plugins.
Among its most outstanding plug-ins are:
Drumaxx
Harmor
Ogun
Sakura
Morphine
PoiZone
Toxic Biohazard
Sawer
Hardcore
Harmless
Video Player 2
Slicex
Transistor Bass
Transient Processor
Gross Beat
Maximus
Sytrus
Is FL Studio good enough for music production?
The short answer is yes. FL Studio is good enough for music production. It is equipped with an impressive library of samples and sound effects, as well as a variety of powerful VST plugins.
That's why it is popular with world-class artists and power users.
With Fruity Loops, you have endless possibilities to create any kind of beat or rhythm regardless of genre. The only limitations are your imagination and creativity as a producer.
Also with this DAW, you have practically everything in the palm of your hand and you don't need absolutely anything else to succeed in the music industry. So you don't need to buy other expensive plugins to make decent music.
These built-in VSTs are enough for most producers and that's the main reason most users don't need third-party plugins if they own FL Studio.
However, if you are an expert and have advanced knowledge in this subject you could expand your repertoire by acquiring sound pack libraries of high-quality, such as:
Can I be a great producer with built-in FL studio plugins?
Of course you can. You can become a great producer using only the built-in FL Studio plugins, because this software has all the necessary features for making high quality music.
That's why it is considered to be one of the most successful and popular beats creation software among users in this business.
Although you should keep in mind that the plugins you need will depend on your production skills and the requirements of your project.
Over the years, Fruity Loops has created an incredible amount of songs that have become hits worldwide. If you want to know what these songs are, I recommend you to check out our article.
Do producers use FL Studio stock plugins?
The short answer is yes. Most producers use FL Studio stock plugins to produce their music projects.
Nowadays there are a huge number of producers who use this tool as their main DAW, as its built-in plugins are more than enough to create amazing beats.
Among the producers who became famous using only FL Studio we can name some of them:
Martin Garrix
Avicii
Deadmau5
Soulja Boy
E.M.M.A.
Porter Robinson
OG Parker
Afrojack
Why are stock plugins so important in FL Studio?
FL Studio's stock plugins are so important because they have all the features needed to produce music at the highest level without having to pay for third-party plugins.
Because of these tools, it is considered one of the most powerful, robust and complete DAWs in the music industry.
Should I choose which DAW I use based on the stock plugins?
Definitely yes. When choosing any DAW you should ideally do it based on the quality of its stock plugins.
It is always a good idea to analyze in which aspects it excels and above all if the plugins that come included are adapted to your needs as a producer.
Otherwise, by making a bad choice the final quality of your music will be affected, and to get decent results you will have to spend extra money to get the right tools.
Making a song with FL Studio built-in plugins
FAQs – Making good music with FL Studio stock plugins
Can I master with FL Studio stock plugins?
Of course, you can. This music production software has good plugins for mastering and mixing and they are good enough to perform this process. So you can easily master any kind of music with the native FL Studio plugins. Indeed, one of the best plugins for this final process is Maximus.
Are FL Studio plugins any good?
FL Studio plugins are good enough to create audio. With it you can apply sound effects, sequencing, MIDI, add filters, compress, saturate, edit and record any beat.
Can you use FL Studio Stock plugins in other DAWs?
The answer is yes. You can use FL Studio with other DAWs, as it is compatible with third-party software and external plugins. Which makes it ideal for powering up your track creation with unimaginable sounds.
See also: 15 Reasons Why FL Studio Is The Best DAW For Music
Do other DAWs offer better stock plugins than FL Studio?
Not necessarily. It is common for most DAWs to come with stock plugins with similar functionality to FL Studio. However, the plugins that come with FL Studio have the great advantage that they are powerful and can be upgraded for free for licensed users unlike other music-making software.
Does FL Studio have good stock sounds for videos and music?
The short answer is yes. FL Studio comes with a good library of excellent quality sounds, effects, voices and samples, which can be used to produce any kind of music or videos.
The higher the version of FL Studio, the better the sound library. In other words, from the Producer Edition onwards, this is one of the most recommended for its good quality-price relation.
Sources