FL Studio is one of the most valuable and popular Digital Audio Workstations used by an infinite number of producers. Do you wanna know What are the best FL Studio Stock plugins?
So, I will show you which are the best stock plugins that are included by default and for free in this awesome music production software.
This compilation of VSTs is based on my personal experience and use of many years as a beatmaker.
I hope you like it and if you have any recommendations I encourage you to share your opinion with us in the comments.
See also: Amazing VST plugins For FL Studio (Free Download)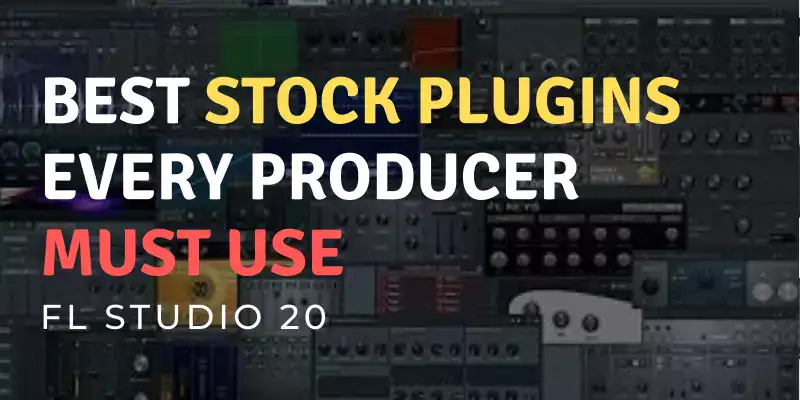 Table of Contents
What are the best FL Studio stock plugins?
The availability of the following VSTs is determined by the FL Studio 20 edition you currently own.
So be warned that some of these stock plugins are enabled for free use from the Producer Edition onwards.
Want to know What are the best stock plugins included in FL Studio? Let's get started!
1) Autogun
This is a native plug-in whose performance is powered by the Ogun synth engine algorithm and the great effects-maximizing compressor, the Soundgoodizer.
It stands out for its hundreds of presets, and rich sounds with which you can create the tune of your choice. In addition, it has these other features:
It has a low impact on the CPU.
Max Level to control the volume.
Has a MAGIC button that manages the level of the effects.
There is a box for you to enter the number of the sound you prefer and use it in your tracks.
See also: Indispensable FL Studio Sample Packs (Free Download)
2) Flex
Flex is a new synthesizer integrated into FL Studio, which is based on subtractive synthesis or signal created by an oscillator, being filtered.
It has a user-friendly interface, easy to use, with presets, arpeggios, excellent sounds, and controls to adjust each audio.
Among its features, which I recommend that you explore one by one, are:
It has a large music library and a browser on the left side for downloading new preset packs.
On the right side, you will find a module to analyze sounds and their spectrums.
Has a pitch module where you can raise and lower 24 semitones as you prefer.
It features three types of effects.
A Delay section with 5 controls and 4 delays with different degrees of intensity.
A Reverb with 5 adjustable controls.
A Limiter that makes sure that your sounds do not exceed the desired decibels.
3) Fruity Delay 3
This is an analog delay complement that allows you to control or automate the timing of your audio. You can apply a delay harmonized with the tempo just when the BPM changes.
Additionally, it integrates filters and distortion effects for delay echoes. This is one of the default plugins that is my favorite.
Check out some of its built-in features:
It has a larger updated interface than the second version.
On the right side, you will find the DELAY TIME option, configurable in milliseconds.
The tool has the keep pitch where you can manage the delay as you prefer.
In the upper part, you will get the delays models section, which allows you to modify the delay in mono, stereo, and ping pong.
At the bottom are the modulation, diffusion, and distortion options, ideal for inserting effects.
See also: Soundgoodizer vs Sausage Fattener - Which Is The Better Choice?
4) Sytrus
This is an extremely powerful stock plugin that offers multiple tools to create outstanding sound effects as you wish.
Sytrus operates with FM (frequency modulated), additive synthesis, equipped with volume controls and oscillators.
I highly recommend you to use this add-on for its very comprehensive interface and the following features:
It comes with UNISON sound envelopes with 9 different types of voices.
Also, it integrates three filter modules, which are chorus effects, envelopes, three delay lines, and programmable voices.
Consists of a three-band equalizer.
There are options to modify the waveform of the sound.
Features 6 operators with specific controls.
5) Edison
Edison is a versatile multipurpose audio editor included in FL Studio, effective for recording and editing.
It is inserted into the Mixer and you can use any sound file, just by dragging it. It's as easy as that.
Once in the Mixer, you can add the effects you want, and normalize the audio by eliminating unwanted sounds, until you get your ideal track.
When recording, you can place it in the channel you want, with 2 options available, Right Now and Input.
See also: Discover What Plugins Come With FL Studio Producer Edition
I recommend that you use both and contrast the quality of both functions. Also, you can assign size and time to the recording.
Actually, I already have a post explaining how to use Edison properly and the best alternatives to this amazing VST, so I suggest you take a look at it.
6) Maximus
Maximus is an excellent tool that works as a multiband mastering and effects complement to the Mixer.
It is a powerful compressor, noise gate, automatic attenuator expander, and deeser.
The latter allows you to remove excess sibilants from a vocal. Here are some of its other main characteristics:
It is loaded with several automatic presets of three customizable bands, which are low, medium, and high. Each band has a stereo knob.
The interface features an analysis screen, where you can check audio details.
Besides, it has 4 limiters and compressors with low, medium, and high bands ready to be used on any channel.
It can be configured with different parameters.
Includes two types of saturation located one on the right and one on the left, identified as Mode B and Mode A.
7) Vocodex
This is a voice encoder plugin equipped with advanced envelopes. It integrates a carrier synthesizer that I suggest you use in live recordings.
In addition, it is synchronized with the Soundgoodizer maximizer.
Its vocal encoding process makes use of a live frequency spectrum in order to modulate the amplitude of any other sound.
See also: How To Install reFX Nexus On FL Studio 20
Personally, I find it to be the best free vocal encoder you can use in your recordings. Check out some of the reasons why:
Vocodex integrates 100 vocal encoder bands with a very variable multiparameter.
Besides allows you to choose different types of vocals.
In the Mixer, you can control the volume as you wish.
Has a Noise tab where you can add clarity to the vocals.
It integrates a Low Pass Filter.
8) Gross Beat
Gross Beat is a powerful plug-in that comes with FL Studio, which works inside the Mixer with interesting functions. For example, in the Pitcher, you can alter the timing and volume of a sound as you like.
This is the perfect choice for live recording with rendering, scratching, stuttering, repeating, and glitching.
It is highly recommended that you use its features one by one while making your compositions. Other of its virtues are:
Allows you to control the volume of the track with rhythmic effects and complex sounds.
Adjustable interface by moving the tabs from one place to another while composing.
Hold button to repeat the recording.
In the upper left corner, you find the Clip Reduction option to control the transition of the sound from low to high.
Has functions to remove unwanted sounds.
It allows you to automate audio clips in three ways, in conjunction with a configured MIDI controller, by creating an event and with the Controller tab.
9) Patcher
This is a stock plugin that is loaded into the Mixer as an effect or instrument, where you can chain the instruments you want in your projects.
I suggest you set up your effect chain with your favorite instruments, so you can reuse them as many times as you want, useful to produce unique and complex beats.
See also: How To Get Omnisphere 2 VST Plugin On FL Studio 20
For example, in a project you can chain a Harmor, Gross Beat, EQ2 Parameter, Sytrus, and Color Mapper, thus obtaining an amazing final result.
Also, I like it for the following functions:
It allows you to add more than 8 effects in a single channel.
You can change the project size and working space as you like.
Option to sort the modules automatically while processing the project chain.
The effect chain is editable, so you can make the adjustments you want.
10) Fruity Parametric EQ2
It is an EQ plug-in equipped with 7 adjustable bands, which have a standard mode and a powerful Linear Phase that make quick changes in audio creation.
I recommend you use it for sounds that need precise mastering and to enhance specific frequencies in an instrument.
See also: How To Install And Add Izotope Vinyl In FL Studio 20 (Step By Step)