There have been many famous songs produced in FL Studio since this software has all the necessary tools to create music of the highest quality.
Due to its versatility and excellent quality features, FL Studio has become the first choice of many renowned artists to create their beats in any musical genre.
That's why I invite you to know some of the greatest hits of all times that were made in this DAW.
See also: 10 Insane Famous Music Producers That Use FL Studio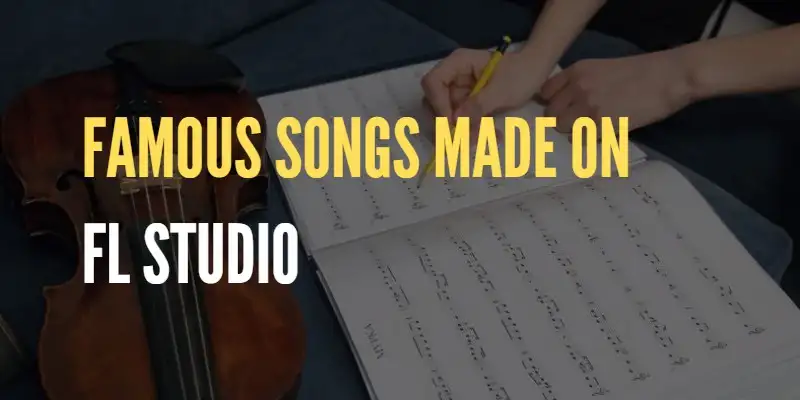 Table of Contents
Popular Songs Made In FL Studio
In this compilation, I have prepared you will see some of the most spectacular beats made with FL Studio that have marked a milestone in the world of music.
So significant was their influence that they have been the basis for some young talents to take their first steps as professional DJs or producers.
In fact, even some musical genres have benefited from this great boom.
I hope you enjoy them! 😉
See also: 15 Reasons Why FL Studio Is The Best DAW For Music Production
1. Your Woman
This is an electronic dance song by the band White Town, produced with the first version of Fruity Loops Studio in the 90s.
2. Gasoline
This song is one of the biggest hits of reggaeton. It was created in 2004 by the Puerto Rican singer Daddy Yankee.
This great hit was made from the sounds and beats provided by FL Studio.
See also: 10 Reasons Why FL Studio Is Good For Making Beats
3. Shut Up
This is a famous song by British rapper and writer Stormzy. It belongs to the grime subgenre of electronic music.
This track has been released as part of the album Gang Signs & Prayer.
Shut Up is one of the best tracks of this genre because of its samples and presets, coming from FL Studio.
4. Crank That
Crank That is performed by American rapper and producer Soulja Boy. This is a rap song made in FL Studio in 2007.
Due to the great popularity of this hit, Soulja became popular all over the world.
See also: Is FL Studio Good For Recording Music? Ultimate Guide
5. God's Plan
It is a rap piece by the singer Drake, which was very successful thanks to its excellent audio quality.
It was released in 2018, having great acceptance by the fans.
6. Rockstar
This song belongs to rapper Post Malone, being created in 2017.
It has currently generated millions of dollars and occupies the second position in the Billboard awards.
It has been produced with high-quality presets and sound effects coming from the excellent FL Studio library.
7. Dream Phone
This is a song in the electronic EMMA genre, written and produced by Bootsy Spankins.
See also: How To Install And Add Izotope Vinyl In FL Studio 20 (Step by Step)
8. Animals
Animals is considered a masterpiece of electronic music, produced by DJ Martin Garrix.
This producer is a great user of FL Studio and one of its maximum exponents.
He prefers the software for its comfort and simplicity to create great beats.
9. Ghosts n Stuff
Ghosts n Stuff is a hit released in 2009 as part of the album It Sounds Like, and has been produced by the famous DJ Deadmau5.
 See also: FL Studio: Make Unique Like A Pro (Step-by-Step Guide) 
Due to its rhythm, it is classified within the Electronic dance music (EDM) genre.
10. Starfish
Starfish is a song classified in the Dubstep and House genres.
It was created by the artist Savant, who prefers FL Studio over other DAWs because of its incredible workflow.
He also likes it because of the great variety of tools and the freedom that this digital audio workstation gives, which allows him to print any rhythm to his songs.
See also: FL Studio: 10 Best Stock Plugins Every Producer Must Use
Other Beats Created In FL Studio
Here is a more extensive list of the most recent hits that became very popular around the world and whose authors prefer Fruity Loops as their main DAW.
This makes us think that FL Studio is undoubtedly an indispensable tool among producers, which stands out from other music production software.
Best Beats Made with Fl Studio:
Ghost: Oliver Heldens – It's about the search for a fleeting love
Mean what I mean: Aluna George
In the name of love: Bebe Rexha
Boom: Major Lazer
Dragon: Matisse and Sadko – It has been a very popular song, and was produced in collaboration with Martin Garrix.
Firestone: Kygo – It has a very interesting mix between Tropical house and Deep house rhythms.
Bad: David Guetta
Rewind repeat it: Martin Garrix
How to sound like Camellia: Created by the singer Composerily. It has a very peculiar rhythm and style that makes it unique.
Sahara: Dj Snake – Since it was released in 2016, it captivated many followers, being the album Encore really acclaimed.
Hot drum: Joyryde
Try it out: Skrillex
Vandalism: Porter Robinson – Song that expresses debauchery, composed together with Amba Shepherd.
The only way is up: By Tiesto
All is fair in love and brostep: Skrillex – Belongs to the genre of electronic music that has made a lot of fans very angry.
Scared to be lonely: Martin Garrix
There for you: Troye Sivan
Bazaar: Hit that belongs to the band KSHMR, of Indian origin. It is a mix of electronic and dance music.
Songs Made with FL Studio Mobile
This software for mobile devices was released a few years ago by Image-Line, and today it continues winning the hearts of many users.
That's why, due to its newness, there are still no productions of beats made in this application by internationally renowned artists.
Recently, a talented FL Studio power user named Olbaid, released on his Youtube channel in Spanish a series of videos where he shows you how to get the most out of this software.
It's logical to think that it's not as powerful and doesn't have the same features as its desktop counterpart.
But come on, that doesn't mean you can't create interesting things with this little DAW.
In fact, there are a lot of not-so-famous music producers who post their mixes on forums or social networks, such as Youtube.
To be honest, you can create good music with FL Studio mobile.