Work with music? If you want to create the best audio tracks in an easy and elegant way that adapts to modern times, then FL Studio is the ideal option as your Digital Audio Workstation (DAW) for excellence.
Do you want to know What Does FL Stand For In FL Studio?, What is FL Studio?, What Fruit Is The FL Studio Logo? Discover all its secrets!
Also see: Discover What Famous Songs Were Made In FL Studio
In this article, also we'll show the basic things you should know about its different versions, hardware availability, and how you can get Image-Line's official software compatible with all devices and platforms.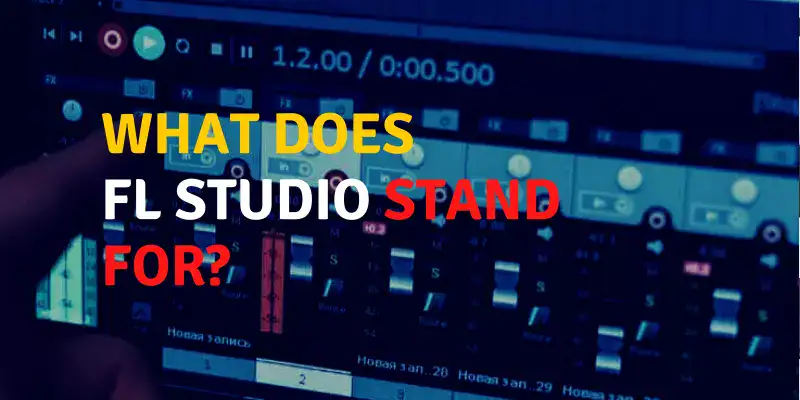 Table of Contents
What Is FL Studio?
It is a Digital Audio Workstation used for the creation and production of music tracks.
This platform allows us to record, mix and edit audios being equipped with a great variety of utilities such as synthesizers, MIDI compatibility, Piano Roll, drum box, multitrack support, equalizer, sequencer, library with a large number of samples, compressors, among other features.
This is a powerful software created by the company Image-Line in 1997, which is located in the European country of Belgium.
See also: 52 Insane Music Producers That Use FL Studio
Through these more than 20 years has won huge popularity and acceptance among the music edition enthusiasts and professionals becoming one of the world's most famous programs for music creation.
What Does FL Stand For In FL Studio?
What Does The FL Studio Logo Mean?
The meaning of its fruity logo is a topic of discussion among users.
Many say it is a mango, a carrot, a chili pepper, a persimmon, a kumquat, or a passion fruit, but what is certain is that it is a hybrid. Its current design is based on the cross between strawberry and mango fruits.
Although unintentionally its final appearance is very similar to a Persimmon.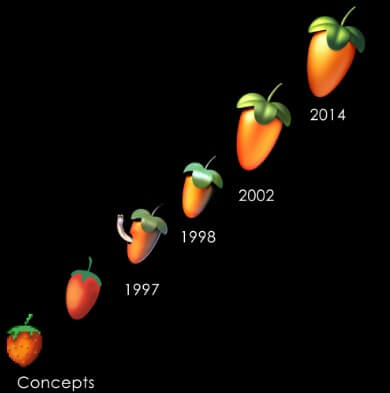 All this explanation is official information, which is documented in Image-Line's Knowledge Base.
Also see: How To Use A MIDI Keyboard In FL Studio 20
Fruity Loops Versions
The program has four editions officially provided by Image-Line:
Fruity Edition: It's the basic version, focused on the Piano Roll and pattern clips in the playlist.
Producer Edition: It gives the highest level of functions in Fruity Loops.
Signature Bundle: Includes the Producer Edition + a collection of most advanced plugins.
All Plugins Bundle: It comes with Producer Edition + all plugins sold by Image-Line.
Also see: How To MERGE / Consolidate Audio Clips In FL Studio 20
A free version of this app includes all of the program's features and plugins.
It also will allow for projects to be rendered to WAV, MIDI, MP3, and OGG, and to use dozens of demo tracks letting you come up with creative music projects without worries.
Can I Get Fruity Loops Studio For Free?
Yes, of course. You can download the trial version of it available for Windows and macOS (use it for unlimited time) from its official website with which you can do many interesting things.
In this way, you will get to know its interface, utilities and learn how to use it correctly.
Also see: FL Studio Soundgoodizer - How It Really Works 
Download FL Studio 20 Installer
Choose your favorite operating system through the links down below, and go to our different tutorials posted, where you will be able to download the official installer. 
There you will learn how to install, authorize (activation by Image-Line), unlock, and download the software from the official site.
It is important to you know, unfortunately, the official application is not available for Linux and Chromebook devices, but we have some great news for you.
We have prepared some tutorials where we will teach you how to install this wonderful tool in a simple way on these systems.
Get the installer for computers:
Get the installer for mobiles:
What is the latest version? Currently, the latest version of FL Studio is 20.8.3
Recommendations
In conclusion, if you want a powerful tool for your digital audio workstation this one will blow your mind, possibilities are limitless.
All editions of this marvelous software allow you to produce quality music regardless of the musical genre.
The trial version has some restrictions, but despite that, they provide all the features equivalent to FL Studio Producer Edition + All Plugins Edition, which is really awesome for a free demo.
Another good news is all paid versions come with lifetime updates without additional costs, letting us have the latest plugins and controllers.
What did you think of our post? Let us know your opinion through the comments section.
Also, I invite you to continue reading our other tutorial articles where we have solved the most frequent doubts about this application.