Flex is a powerful, free, native FL Studio synthesizer plugin that comes bundled with FL Studio's interface.
It has been created by skilled music producers in order to make things easier for users without them having to worry about designing their own sound effects to use in their music projects.
Besides, If you want to learn more about its free expansion packs and libraries, and how to use the software, I invite you to continue reading this article.
Also see: Best VST Plugins For FL Studio (FREE Download)
Table of Contents
How To Use Flex VST In FL Studio
This program comes with a lot of free expansion packs pre-installed in its library ready to be used, including an 808 pack, ideal for all hip-hop, moombahton, or trap producers.
For all those who want to work in a straightforward way, in which their workflow is excellent, this VST plugin is undoubtedly a great option to take into account.
See also: How To Add And Install Izotope Vinyl In FL Studio
If you want the sounds of a guitar (or any other instrument) in your project, just select the instrument through a tag and add it, it is very simple to work with.
Or maybe you want to use a pack or other sound effects, this VST has plenty of options to choose from.
In case all this is not enough for you, Image-Line keeps adding new expansion packs with more sounds to its library.
And you can buy and install them in a few steps and almost automatically, being this process easier to do compared to other plugins.
How To Open Flex:
Simply right-click on the Fruity Loops Channel Rack.
Go to Insert and pick Flex to run it.
Then go to the library.
There, locate the packs that are included by default.
After that, select the preset of your choice.
Click on it to load it automatically.
And finally, you are ready to start playing.
 See also: FL Studio: Make Unique Like A Pro (Step-by-Step Guide) 
Main Features Of Flex Plugin
This is a product with very similar features to Nexus and Kontakt, being this one very fast and comfortable to use.
It is very important to highlight that it is available for all FL editions (Fruit, Producer, Signature, or All Plugins Bundle), as long as you have the license.
In essence, it is very complex, having many options for AM synthesis, FM synthesis, wavetable synthesis effects, audio resynthesis, samples, and a lot of extra functions.
Graphical Interface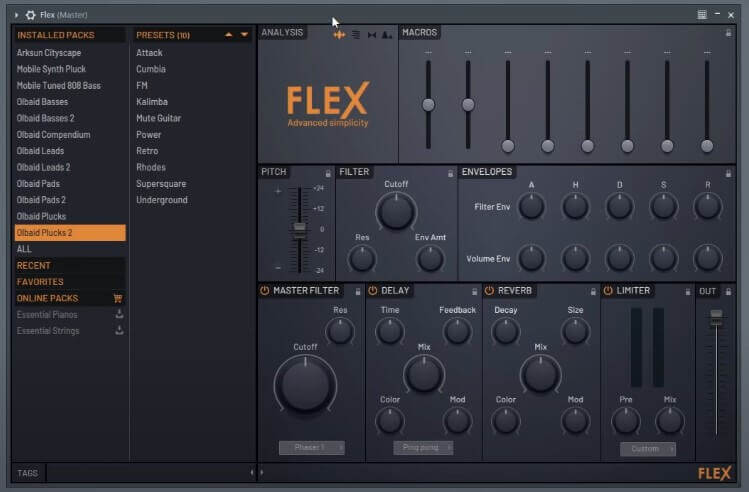 Its interface is simple, easy to understand, and is composed of adjustable knobs and bars to manage the following elements:
A) Analyzer: Here you can observe certain aspects of the sound such as the shape of the waves, their spectrum, frequency, or vectroscope.
Also see: Best Open Source DAWs - FREE Alternatives To FL Studio
B) Pitch: The effects produced by this knob can be applied to the whole sound, used one at a time or by octaves.
C) Macros: Help to repeat sequences of the sound effect in question.
D) Filter: This is fixed by its designer's standards and is related to the internal filter of the audio engine and only the cutoff, resonance and envelope can be manipulated. It can be high pass, bandpass, phaser, or others.
E) Master Filter: In its menu, you can select a wide variety of filters, you can also modify the resonance and cutoff. It also has a limiter, a delay knob, and a reverb.
F) Envelopes: Here you can apply envelope layers on the filter (attack, hold, decade, sustain and release) or you can also add volume. These are pretty basic values.
Also see: Interesting Facts About FL Studio YOU HAVE TO KNOW
FL Studio Flex Not Working
Sometimes while we are working on some of our projects this plugin stops working and it is a rare problem with FL Studio. Normally, Flex is quite stable and works very well in most of the occasions.
If it stops working it is due to very specific reasons and that is why I will give you a series of tips that will help you to solve these problems.
Advices to fix the problems:
Try rescanning and reloading FLEX with the plugin manager from the plugin library.
Use as few plugins simultaneously as possible. Sometimes there are conflicts between plugins, especially if they are from third parties.
Avoid using Beta versions. Many of the bugs are due to using testing versions.
Keep FL Studio updated to the latest version to reduce or eliminate bugs.
Avoid using pirate software. This is one of the most frequent causes of bugs, as they are very unstable.
Save your project, restart the PC and reload the plugin again.
Reinstall FL Studio again. Remember to back up your data before proceeding!
Try to contact Image-line technical support. If you can't solve the problem, seek professional help.
Also see: Trap Music: 10 Best FL Studio Stock Plugins
How To Download Flex For FL Studio
This VST is very well-thought-out, so you only have to explore among the wide variety of presets it has.
Choose the most suitable for your project and modify the sounds to your preferences by moving some very basic knobs, so you can start creating music quickly.
Moreover, to use Flex you don't need to download or install it, as it is a stock Fruity Loops Studio plugin.
In other words, this synthesizer developed by Image-Line has been released from its beta phase to be included free of charge in every single edition from FL version 20.5 onwards. This is great!!!
Just update the DAW to the latest version in order to enjoy the plugin.
As if this were not enough, Flex can be used on any computer running Windows, macOS, Chrome OS, and Linux. I recommend you to learn how to install the DAW for all these operating systems with our tutorials.
Free Libraries and Expansion Packs
What this software is capable of doing is impressive, being thus ranked by expert producers as one of the best FL Studio plugins with no doubt.
Flex also comes with several free library packs that you can use without having to spend extra money. Just update the DAW interface to enjoy all of them!
They are equipped with a lot of amazing presets and sound effects ready to use in Flex that you can incorporate into your compositions without any restrictions.
Among the free libraries contained in the Flex VST you can find the following:
Synthwave The Future Past
Jump Up Repertoire by SH-1
Monsters by SeamlessR
Floor Shakers by SH-1
Sense Gemini Magnificence
Bass Utopia by OLBAID
Essential Guitars & Essential Bass Guitars
Final Thoughts
Finally, I want to mention a negative point and that is that being a native FL Studio plugin, it will only be limited to FL Studio.
Making it impossible to use it with any other Digital Audio Workstation on the market, such as Ableton Live, Reaper, Logic Pro Tools, Cubase among others.
If any doubt, tell us in the comments, and also I recommend you to consult its online manual to have a better idea of this software. See the link in the resource section down below.
Also see: How to ADD plugins to FL Studio 20 for MacBooks
FAQs
Is Flex on FL Studio free?
The short answer is yes. Flex is a free VST that is included in every edition of FL Studio 20.
Is Flex a good VST?
Of course, it is. This VST is very good and used by many professionals, who rate this software as one of the best synthesizers in the music industry.
How do I download FL Studio Flex for free?
The only way to get Flex for free is to obtain the latest update of FL Studio, specifically version 20.5 or higher.
Which version of FL Studio comes with Flex?
Fortunately, all editions of this DAW come equipped with this wonderful subtractive synthesis plugin, so you have the chance to use it for free.
Can you use Flex in Ableton?
No, the short answer is no. Unfortunately, this synthesizer is only available for free use in FL Studio. This means that you can't use it inside any other DAW on the market.
Resources
See also: Discover What Famous Songs Were Made In FL Studio