It is very common to see music producers comparing and discussing about FL Studio 20 vs Ableton Live and wondering which one is better. That's why I decided to create this basic guide for beginners to help people make the best purchasing decision.
For several years I've been using the powerful Ableton Live tool as well as FL Studio and I'm going to tell you what are the strengths and weaknesses of each of them, and that in my opinion, it is the most essential when deciding on one of them.
Also see: FL Studio vs Logic Pro X - Which Is The Best Option For You?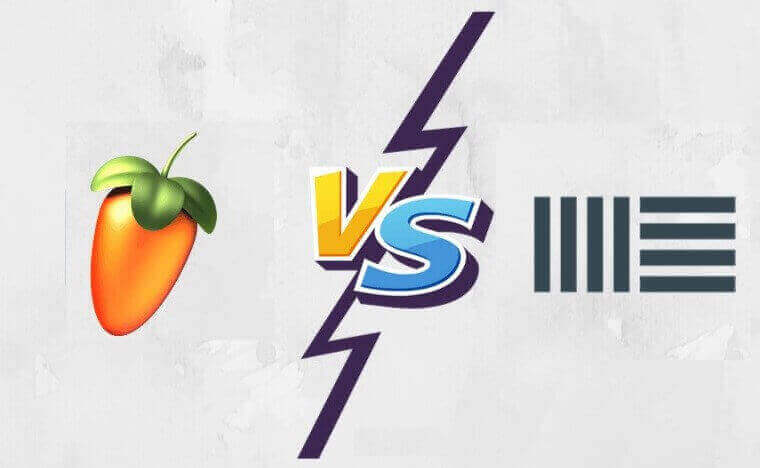 Table of Contents
FL Studio vs Ableton Live – Comparison
I think that the two programs are really very good and with either of them, you can get to professional productions.
With this analysis I will not try to convince you that if you use Ableton Live you will switch to FL Studio, far from it, it is simply to tell my experience.
Licensing and Price
One of the first reasons is the lifetime licenses that FL Studio offers. Unlike Ableton Live, when we buy FL Studio in any of its versions, we will keep that version forever, thus having the right to receive all future updates without the need to pay a single penny to purchase them.
Also see: FL Studio vs Reaper - Comprehensive Guide
For example, if we buy the most expensive version that comes with all the virtual instruments and we will always stick to that version, we will never pay anything again. On the other hand with Ableton, it is not the same.
If we have Ableton 9, for example, and we want to update to version 10 we would have to pay. This means that every time a new version comes out we will have to be paying for the software, unlike FL Studio which has licenses for life.
Instruments
One of the things that I have noticed is that FL Studio has many more virtual instruments and above all of quality, such as Synths or FLEX, which with its new addition is incredible, it has sound libraries which are very good and that it is really far superior to Ableton in this regard.
With a basic version of FL Studio, you can do very pro things only by using what comes with the program and without having to buy the most complete version.
Also see: 15 Reasons Why FL Studio Is The Best DAW For Music Production
Currently, it comes with a lot of things like Flex that we mentioned earlier, new libraries that we can download for free and it has some others to buy as well, but they are incredible.
Plugins
Another of the most important things that I value, apart from the lifetime license, are the newTone and Pitcher plugins which are included with FL Studio. In contrast, in Ableton we have nothing to tune voices.
Although it has a small plugin for tuning, it is not for actually tuning voices, it is used to tune kits or tune certain things on some notes. So if we use Ableton Live we will have to use an external program to edit our vocals and tune them.
In FL Studio this does not happen, since we have the pitcher which would be comparable, roughly, with an Autotune, and newTone would be comparable, so that you can understand a little, to Melodyne.
Speaking a little more in-depth,  Pitcher tunes automatically with respect to the scale that we program for it. On the other hand, newTone is an edition that note by note we are going to have incredible control and it has some functions that are very interesting.
We don't have this in Ableton and that seemed like an important point to mention.
CPU Usage
Both DAWs manage CPU usage quite well. However, FL Studio 20 comes equipped with better features that will help you get higher CPU performance compared to Ableton Live 11.
Also remember that the performance of both software depends on how powerful your PC is, the amount of plugins you use in your project, the operating system you use, among other factors.
See also: How To Allocate More RAM Memory To FL Studio 20 (Easy Guide)
It is important to mention that another plus that FL Studio has over Ableton is that it is multiplatform, being compatible with 64 bits and 32 bits systems.
On the other hand, Ableton only works on 64-bit computers, which is a big handicap for those users with a low budget and who have older PCs.
Strange Tool
When I installed FL Studio I noticed that it came with a limiter, which I found extremely weird, why does it come with a limiter? In the same way, I was able to enter the project configuration so that it was empty by default.
Interface
It is true that when we use FL Studio for the first time it is a bit difficult to get used to, but the learning curve is relatively short, with two or three days using it for 4-5 hours in a row it is easy to get used to the workflow.
However, those who are used to Ableton, to its tracks, to the effects in certain views, the mixer, the playlist, the way of working, and switching to FL Studio is a totally different world.
Also see: FL Studio 12 vs 20: Which Is Better? (Updated)
Nevertheless, once it gets used to Fruity Loops you will make productions a lot faster than you did on Ableton Live.
FL Studio is optimized to become us in a machine making beats or productions because the way of working is much simpler once you understand what the philosophy of the program is.
One of the things I do recognize is that Ableton is more visually comfortable on the EQs. For example, Ableton's EQ Eight is much more intuitive than the EQ that FL Studio brings, it would just be a matter of getting used to it a bit.
Obviously, with FL Studio we use habits, workflow, and a very different way of approaching projects.
Interesting Features
One of the things that can be missed about Ableton is the compressor and its Sidechain which are very easy to use. On the other hand, in FL Studio you cannot do that so easily, although its results are much more faithful to reality, but Ableton is much more practical.
On the other hand, Ableton Live is one of the only music production programs that has its section already designed for live performances, something that we do not have in any other program.
So if you probably want a program for playing live it will be very difficult to replace Ableton, and in that aspect it is great.
Also see: Best Open Source DAWs - Free Alternatives To FL Studio
Instead, something that is quite interesting is that FL Studio has a built-in video editor, that is, we can directly export our videos with audio spectrum or animations with a tremendous amount of options to edit the video directly within Fruity Loops. This directly does not exist in Ableton Live.
FL Studio or Ableton Live? – Which Is Better
Is Ableton better than fl studio? No, it is not. FL Studio is much better than Ableton, due to it has more functionalities and superior features. That's why it is a clear winner.
I want to know your opinion regarding this. Which of these shows is your favorite? Let us know your opinion below as always in the comments.
Also see: FREE Tutorials For FL Studio