When it comes to music production, FL Studio is one of the best options to take into account.
However, not everyone has the economic resources to pay for a license that gives you more advanced features, especially if you are a student, or you are starting with a low budget, which is quite normal.
However, don't worry, we are here to help you.
In this article, we bring you a compilation of the best open-source DAWs alternatives to FL Studio for free.
Also see: FL Studio vs Logic Pro X - Which is the best option for you?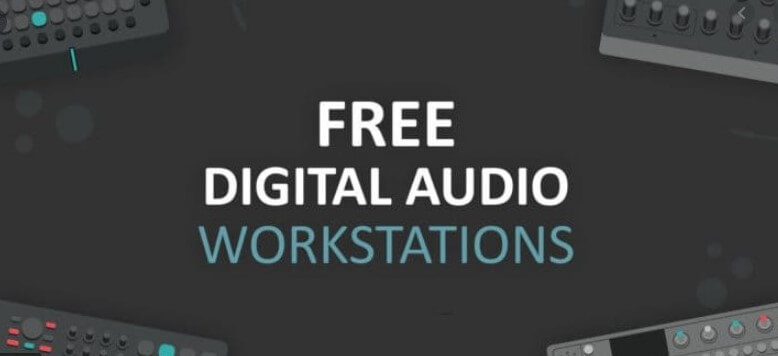 Table of Contents
Best Open Source DAWs – Free Alternatives to FL Studio
Many of these open source DAWs are not so well known, but they are impressively powerful, offering free premium features that in other DAWs software are very expensive or non-existent.
1) LMMS
It is a free Digital Audio Workstation that works on several operating systems.
Also, some music producers remember it by its former name, Linux Multi-Media Studio.
This is an open-source software developed to be free, which means that anyone can contribute to this DAW, even you!
This music production software is very easy to use and has a simple interface, which makes it a good choice for creating music.
It's very famous for its versatility and because it's very similar to the FL Studio application, but free.
It also has the feature that you can connect your keyboard as a MIDI controller, which is great.
System compatibility:
Also see: FL Studio vs Maschine - Honest Review For Buyers
2) Avid Pro Tools First
It is one of the most advanced Digital Audio Workstation software used to make compositions, sound editing, recording, and mastering.
Also, it is used to improve sound and create professional projects.
This software has been developed by Avid Technology and this free version is ideal for newbies, musicians, or all those who want to start producing music easily.
System compatibility:
3) Tracktion Waveform free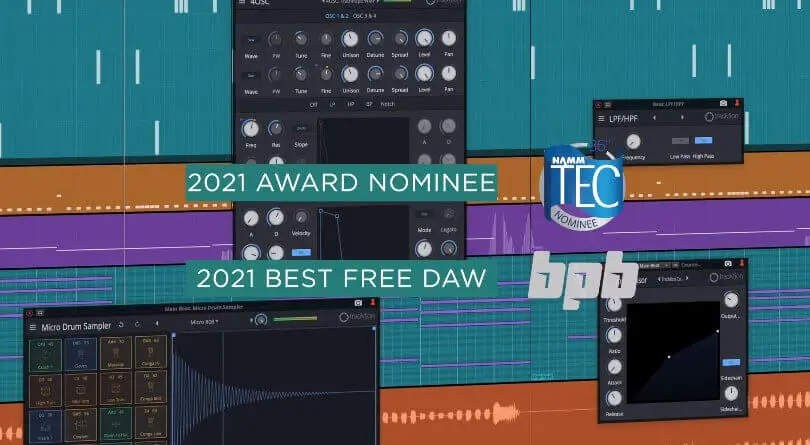 It is an advanced, cross-platform digital audio workstation, known among its fans as Waveform, and is used for recording and editing audio and MIDI.
It has a modern graphical user interface focused on music production.
Tracktion is loved by many for being creative, inspiring, affordable (completely free), and one of the best DAWs on the market.
It is recommended for beginners and supports VST plugins and audio units.
System compatibility:
4) Cakewalk
This DAW was originally a full-paid program when it was previously owned by Sonar.
But BandLab basically bought it and put it as a free download from the moment they acquired it, and well now it is called the Cakewalk by BandLab.
Unfortunately, it is only available for Windows, but users of that platform can have a very complete and powerful program that is totally free to mix, record, and make music.
System compatibility:
Also see: FL Studio vs Ableton Live - ultimate guide
5) Traverso DAW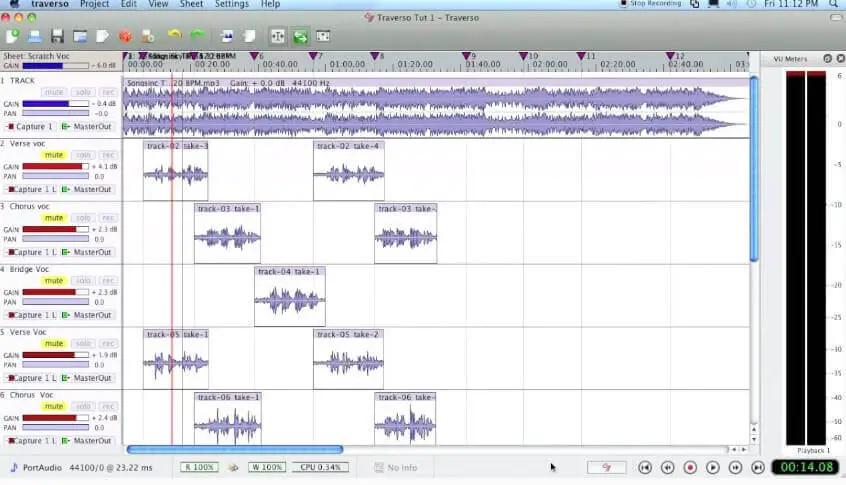 It is free software with GNU General Public License and a powerful digital audio workstation used for recording, mastering, and multitrack sound editing.
This makes it ideal for professional users or not very expert music lovers, being able to be used comfortably in Home Studios.
This software has a nice and intuitive interface that in turn gives a very good experience of use.
Letting us achieve with great precision and speed, favoring the workflow when creating our musical projects, being thus cataloged by many as a tool similar to GarageBand.
System compatibility:
6) Looplabs
LoopLabs is a free cloud-based (online) music studio. Basically, it's not a DAW.
But it's great for getting started and getting ideas for creating audio tracks, and it's also great for beginners learning to make music.
It's very easy to use and intuitive, in a way that will help you at least start creating music without understanding much about theory or anything that might cause confusion to people.
It also allows you to make music anytime, anywhere, and share it with your friends.
LoopLabs also has an extensive library with thousands of royalty-free loops and sounds.
System compatibility:
Online
Windows
Linux
Mac
Chrome OS
7) Ohm Studio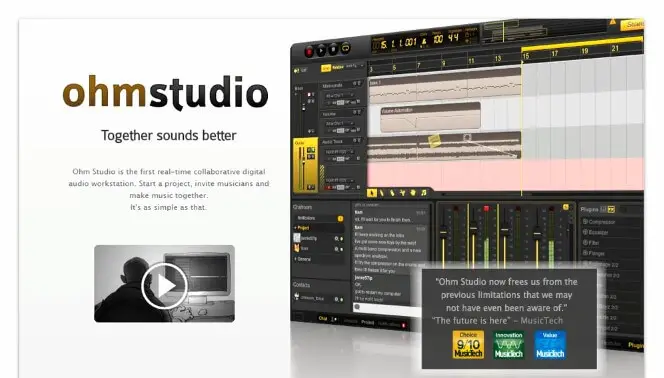 It is a DAW that supports multiple audio tracks, MIDI, and supports VST plugins (32-bit versions only).
It is free software that you can download and use in your Home Studio.
However, the most interesting and the best thing about using Ohm Studio is that you are not alone.
It is a collaborative digital audio workstation, which means you can record songs with other people using a Home Studio.
So you are not stuck on your own to record music, and it allows you to join a collaboration to record a song with people from all over the world, which is really amazing.
System compatibility:
Also see: FL Studio vs Reaper - Comprehensive Guide
8) Soundbridge
SoundBridge is a free DAW that can host third-party VST and VST 3 plugins.
It has a great interface and also comes with the essential tools you need to make music, so it's very easy to use for beginners.
It is ready to be used with multiple screens and even with a touch screen as well.
We can use it with unlimited audio and MIDI tracks, and it includes some very nice native effects like equalizers, compressors, and beat crashers.
It also includes an instrument called Rhythm Mix which is a drum machine with a sequencer by rhythm box with step sequencer and some editing capabilities that are pretty cool, and we think it's worth a look.
System compatibility:
9) Multitrack Studio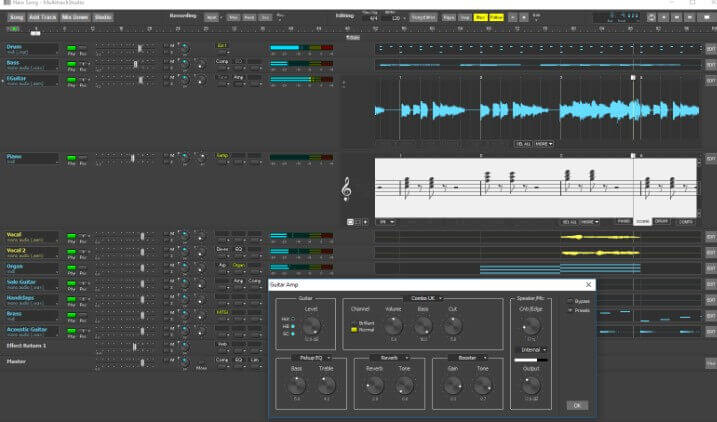 It is a multitrack audio/MIDI recording software.
This Digital Audio Station comes with a mixer, a MIDI sequencer, and a lot of effects, making it useful for Home Studio recording as well as for living multitrack recording.
This freemium software has been developed by Bremmers Audio Design.
System compatibility:
Also see: FL Studio 20 vs 12: Explained For Beginners (Updated)
10) LNX Studio
LNX Studio is a free Digital Audio Workstation that has a powerful set of tools for creating music, and it has been developed in the SuperCollider language.
It is a totally free tool with an interface similar to FL Studio or Ableton Live.
System compatibility:
11) KORG Gadget 2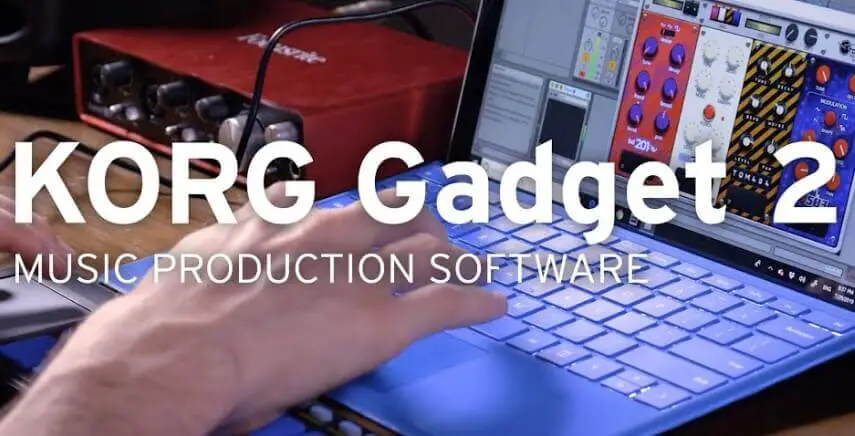 Also see: FL Studio ASIO vs ASIO4ALL: Which Is Really Better?
This is a free DAW that is focused on powerful electronic music production.
It also features a wide range of instruments including synthesizers, keyboards, drum machines, samplers, acoustic sounds, and audio tracks, providing the users with a versatile, all-in-one tool.
This amazing DAW is available for Nintendo Switch as well.
System compatibility:
Mac
iPad
iPhone
Nintendo Switch.
12) Serato Studio
This DAW was created specifically with simple bass producers in mind.
Which makes all the sense in the world because Serato is designed for DJ production of music tracks and this software has the best stretching, re-timing, and re-pitching algorithm for samples.
This is a free and intuitive tool that is ideal for beginners and DJs.
System compatibility:
13) Caustic
It's a rack mount simulator that uses synthesizers and samplers to create sequenced music.
If you've used music software before, many of these concepts will be very familiar to you, but if you've never used one before.
Caustic is actually a great place to start because many of the concepts are simplified down to their basic elements.
System compatibility: 
Windows
Mac
Linux
Mobile (Android, iPad, iPhone, and Tablets).
Also see: Best free VST plugins for FL Studio
Conclusion
As you have seen, there is a wide diversity of good quality DAWs on the internet, and you can use them without paying anything.
Many have unique features, and many others are more complete than similar ones.
So, What is the best free DAW software? Well, this question has a very relative and personal answer.
That means before choosing one, you should meditate on which one adapts best for you depending on your knowledge and skills.
First, think about which suits your requirements and which one is more comfortable for you to work in the production of your audio tracks.
When you know that in-depth, you will be ready to pick up the right choice, and this will result in a direct increase in the quality of your workflow in an exceptional way.