In this post, I show you a comparative guide of FL Studio vs Reaper, two of the most popular DAWs (Digital Audio Workstation) on the market. Both software are great and used by famous music producers.
Besides, you will learn which of these two is the one that best suits your needs. I will also talk to you about their advantages and disadvantages.
See also: 15 Reasons Why FL Studio Is The Best DAW For Music Production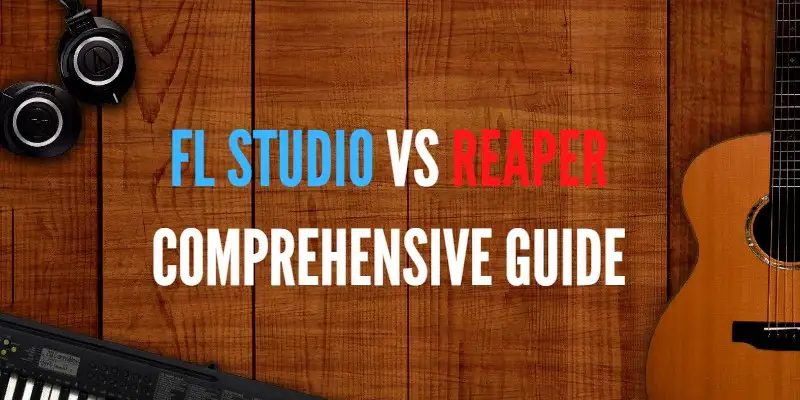 Table of Contents
FL Studio vs Reaper: Main Differences and Comparison
In general, if we compare these programs we can realize that both are very good and allow us to create all kinds of rhythms and sounds of excellent quality.
Overall, FL Studio is much better than Reaper, although this does not mean that FL beats it in every aspect. In fact, Reaper has certain features that are much more outstanding than Fruity Loops Studio.
So I invite you to continue reading this post to learn about the strengths and weaknesses of each of them.
At the end of this guide, I will give you some tips and recommendations based on my experience so you can know and choose which one is the ideal one for you.
1) Interface and Main Features
FL Studio
FL Studio is a powerful DAW based in patterns, characterized by its recording, audio editing, multitrack sequencing, and MIDI functions that allow you to create amazing beats.
It was developed by the company Image-Line and is widely used in the music production industry.
It features a simple interface composed of 6 main sections, where its utilities are located:
Browser: This functionality is used to move between the program's library of tools. The browser is located in the left vertical bar of the main screen, from which you can load any sound, VST or your musical projects.
Channel Rack: It is in charge of managing and loading all the virtual instruments that create sounds and generators that control the automation. These instruments can be guitars, pianos, drums among others.
Piano Roll: This tool is used in the production of musical melodies and allows us to edit the partitures. It is made up of two elements, the first is the note or pitch and the second represents the time.
Playlist: It is where the patterns or samples are hosted, in order to create songs or melodies. In other words, it is our field of work.
Mixer: It is in charge of balancing audio levels, inserting effects, recording automation clips and input audio.
Integrated plugins: They are used to generate different types of sounds, process with effects, synthesize, edit, compress, equalize, among other very professional functions.
 See also: FL Studio vs Logic Pro X - Which Is The Best For You? 
Pros
The program has more than 80 native plugins and instruments of different types, whose availability will depend on the DAW edition you purchase.
It presents a learning curve easy to master, great for beginners.
Its interface is responsive, that is, it is adaptable to different types of displays.
FL Studio has a very attractive and modern design.
Cons
At first, it can be a bit difficult to start mixing.
If you use a low-end PC with few resources, the interface may freeze during recording.
The interface is not very intuitive for track-based recording.
Reaper
This is one of the most famous Digital Audio Workstations used in this industry. This multitrack MIDI sequencer program is designed by the Cockos team.
It has a simple-to-use interface, very clean and pleasant. It has customizable functions when creating music, that is to say, you can adjust its sections as you prefer.
Reaper's interface is structured as follows:
Main menu: There you will find the toolbar to create, master and edit the audios.
Timeline: Indicates the status of the track, sliding from top to bottom.
Main window: This is the track editing area.
Panels: Here you will find the track controls for volume, duration, rhythm and quality.
Mixer: In charge of synchronizing instruments, microphones, editing and audio leveling in the same panel.
Plug-ins: It consists of a powerful collection of plugins such as Jesusonic, AU plugins, Cockos native VST plugins, which generate quality audios and effects. Also here are the compressors, equalizers, native and external plugins.
Sound interface: Processes audio playback and recording. It has several digital inputs and outputs that connect to the audio monitors that play the sounds. The inputs may be microphones, musical instruments, controls and amplifiers or MIDI keyboards.
See also: 13 Best Open Source DAWs - FREE Alterntives To FL Studio
Pros
Simple and clean interface.
It is also customizable, with the option to schedule the actions you want to execute in an unlimited way.
Allows you to export or import customization options, actions, macros and preferences.
The interface is updated frequently, based on user-recommended improvements.
Downloading and installing Reaper takes seconds, thanks to its excellent performance.
Cons
Its visual graphical appearance is not really remarkable.
It may present glitches in the interface customization.
Its interface mentions the names of musical terms all the time, which is confusing for beginners.
The interface can be a bit boring.
It can become slow if you use too many of its functions simultaneously.
Winner: FL Studio is the winner because its interface is more comfortable and well organized, which makes it ideal for beginners. It also has a wide variety of native plugins and instruments, most of which are of excellent quality.
2) Ease Of Use
FL Studio
FL Studio stands out for its smooth operation, in a graphical display that organizes its functions in a very visible way.
Because of this, it is one of the easiest DAWs to use compared to other competitors' programs.
This music production software has a large number of shortcuts that will help you work more comfortably and speed up your music production.
Pros
It is a workstation that creates beats in seconds, allowing you to do advanced mixing and mastering.
The piano roll is easy to use, no matter if you have no previous experience.
Features an effective non-linear workflow for digital recording.
Comes equipped with basic and advanced plug-ins.
It allows easy recording and editing of samples and sound effects, ideal for forming custom music packs in the library.
See also: FL Studio vs Ableton Live - Ultimate Guide
Cons
Workflow is a bit slow at first.
Default interface only available in one language, which makes it a bit difficult to adapt to the DAW.
Reaper
Reaper has a user-friendly interface. Its format is intuitive and customizable, providing you with an extensive collection of editing tools, effects, and plugins.
It is very easy to create tracks, just use its toolbar to start the process. If you want to make audio with virtual instruments, go to the Track section.
Besides, it has an excellent technical support service and a nice community with which you can interact. There, you can ask questions to master its use.
Pros
Its customization options are flexible.
Support for the use of thousands of third-party plugins.
Reaper is available in a portable version. This can be hosted on a USB drive, which you can then run on any computer.
You can run several projects simultaneously, explore them comfortably, with the possibility of exchanging elements between them.
Cons
It does not incorporate many stock instruments for music and loop creation.
Allows you to translate the interface into few languages. Through its language pack you can use only English, Polish and Deutsch.
Winner: FL Studio is the winner, as it has an impressive workflow and better features that make it easier to manage.
3) Sound Quality
FL Studio
This DAW has an extensive sound library with advanced features and instruments, allowing you to create stunning audio files.
In addition, you will have the opportunity to generate your own sounds, mixing them with those of the program.
It also has tools to generate loops and beats easily, with excellent audio quality, clear, and quite natural.
Also, in the creation of sounds, you will be able to record with synchronized or separated instruments in individual channels.
Pros
Ideal for composing EDM and Hip hop music.
FL is quite convenient for producing loops and patterns.
It has tools to create the sound you want, sample and generate beautiful effects.
Capable of composing, editing, mixing, recording, sampling and mastering any audio in a short time.
Includes a large set of chords to choose from.
It has support for MIDI controllers that facilitate the work for the production of original sounds.
Virtual instruments, sequencers and synthesizers are also available.
With its interface, you can program realistic scratching effect sequences.
Cons
The free (trial) version does not allow access to the audio files previously saved by the DAW.
In order to get the best quality when exporting projects or merge audio files, you must first know the best settings and then configure them. If you are a beginner it can be a bit confusing.
See also: 10 Reasons Ehy FL Studio Is Good For Making Beats
Reaper
Reaper allows you to record live digital audio or virtual instruments with nice quality. It is very easy to start recording sounds and can be achieved in just a few steps.
In addition, you can set monitoring effects, such as inserting a reverb in the headphone output, so the musician will hear it when singing or playing an instrument.
Also, it allows you to record on multiple simultaneous audio channels on the different inputs of the interface, which is great and very convenient.
Pros
Capable of processing MIDI tracks of the highest quality through audio indicators.
Provides the option to add stereo plugins on its audio channels.
Its native plugins are of very good quality.
Features high-definition surround sounds.
Integrates hundreds of sound effects and supports VST and VSTI.
Offers unlimited audio recordings per session.
Cons
Its recording guide tutorial is confusing for beginners.
Lacks a good audio editor.
Winner: FL Studio is the winner, as it offers better tools, which are more complex and can achieve higher definition sounds.
4) Compatibility
FL Studio
FL Studio is compatible with both 32-bit and 64-bit Mac and Windows computers. Besides, it is compatible with almost all available audio formats, VST, and AU plugins.
Learn how to install FL Studio on:
In addition, the software has support for recording sounds from external sources and devices.
It even synchronizes with ASIO and WDM controllers, allowing you to export your songs to MP3, MIDI, OGG, and WAV formats.
Pros
Compatible with different formats such as VST, AIFF, Wav, Rex, Apple Loop, Ogg, MP3, MP4 and others.
Cons
In the free version you will not be able to open saved projects.
The interface is a bit cumbersome, so you need a mid-range computer or higher to have the best possible fluidity.
See also: FL Studio Sample Packs For FREE Download
Reaper
Reaper is compatible with Windows (available for all versions, from Win XP to Windows 10), macOS and Linux computers. It features 64-bit and 32-bit internal processing.
This DAW is also compatible with recognized audio formats such as WAV, MP3, AIFF, among others, and supports video formats, with the option of connecting audio and video tracks.
Furthermore, this software supports thousands of plugins and applications in VST, VST3, LV2, DX, JS, and AU formats.
Pros
Ideal for low-end PCs due to its light weight and low CPU and RAM usage.
Cons
Winner: Reaper is the winner, as it performs better on modest PCs. It also has a wider range of operating system support natively and various audio formats.
5) Price
FL Studio
The price of this program varies depending on the edition you choose, all with different features.
Their prices are:
Fruity Edition: $99.
Producer Edition: $199.
Signature Edition: $299.
All Plugins Bundle: $499.
Pros
Provides a free version with which you can produce songs without having to pay.
Several Editions, whose prices are affordable for the quality provided.
Cons
The Fruity version is very simple, so you will have to pay more for a more advanced edition.
The demo version of FL Studio does not allow you to save your projects, but you can export them in any audio format.
Reaper
Reaper has a private license for $60 and a commercial one for $225. After using the 60-day free trial version, you have to choose one.
It is important to note that after the trial period expires you can continue to enjoy all its features for free. Only the purchase prompt will appear every time you run the DAW.
It is free to use for non-profit organizations, schools, or personal use for learning purposes.
On the other hand, if you decide to continue using Reaper for lucrative activities, you must pay for the product.
Pros
Allows you to use all DAW features for free.
Cons
If you are very picky, the payment notification can be a bit annoying every time you open the program.
Winner: Reaper is the winner hands down! You can use the demo as many times as you want and without restrictions. That means you will have full access to all its features.
Final Thoughts
To conclude I would like to say that if we compare FL Studio vs Reaper, we can conclude that both DAWs are really good and equipped with wonderful utilities for high-quality music production.
My favorite DAW is FL Studio, I simply love it. However, I can't deny how excellent and practical Reaper is.
So if you are a beginner and would like to start using music production software, I would definitely recommend Reaper over any other DAW on the market. With it, you can create almost anything.
See also: How To Get Flex VST Plugin For FL Studio (FREE)
Furthermore, if your budget is modest, Reaper is the ideal DAW for you as you can continue to use it fully even if the trial period is over. And if you want to buy its license it is very cheap.
On the other hand, if you want to try a more powerful DAW, with a better library of sounds, plugins, and virtual instruments, then FL Studio is the way to go.
Both products have an excellent community, good technical support, and a lot of video tutorials on the internet for you to learn how to get the most out of them.
F.A.Q.
Does Reaper come with plugins?
Yes, it comes with several stock plugins. Reaper is equipped with a good amount of virtual instruments, editing and recording tools, sequencers, synthesizers, equalizers, MIDI support, among others.
It also includes a sound library with samples, loops, and effects.
Is Reaper a professional DAW?
Yes, it is. Reaper is one of the most complete DAWs on the market with which you can produce professional music. Many people consider it as good as Pro Tools or Ableton Live.
For these reasons, it is highly recommended for professional producers.
Is Reaper good for beginners?
It definitely is. This music production software is one of the most recommended platforms for beginners or those who want to get into the music industry. It is easy to use and very practical.
Is REAPER good for mixing?
Yes, of course. This program is used by famous producers for mixing and mastering their tracks. It is fully equipped with the necessary functionalities to perform these functions.
Why is Reaper so cheap?
The developers of Reaper greatly support the music industry by offering access to their software to anyone who wants to learn how to use it at a low cost.
In fact, they allow free use of the program with 100% of its functions unlocked for schools, institutions, or individuals who want to use it on a non-profit basis.
See also: Most frequent errors in FL Studio DAW (SOLVED)
Resources
–Reaper language pack: Here
–Reaper user guide: English, German, Spanish, and Polish
–Download Reaper: Use it for free