It is common that while we are working on any of our audio projects with the FL Studio DAW, occurs certain issues due to crashes of the software itself, a fact that impacts negatively on our progress, as in many cases we lose all the work done, being this a big headache for most of us.
In summary, a large number of the problems that occur while running FL Studio are due to a malfunction of the DAW itself, plugin errors, computer failures due to insufficient resources or conflicts in its operating system, and also using a pirated version of Fruity Loops or a cracked plugin, which is a very usual situation.
Also see: Best open source DAWs - FREE alternatives to Fruity Loops
Below we will show you how to fix most of the FL Studio crashes in an easy-to-understand way.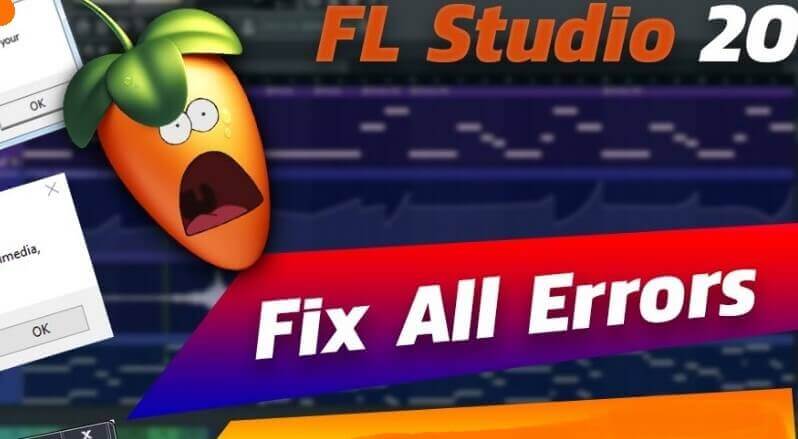 Table of Contents
FL Studio won't open
There can be many reasons why FL Studio doesn't start, but that doesn't have to be a reason to stop everything, on the contrary, we will show you how to fix it easily.
Better yet, the tool can be faster to use after completing this process.
Hey, wait a second! Would you like to learn how to set up FL Studio professionally and get the best audio quality possible? Then I invite you to read my article
How to fix the issue:
The first thing you should do is reboot the system to eliminate any problems having to do with the computer and free up resources.
Also, it is good to check if there are any pending updates eliminating any doubts on the subject.
Reset the DPI scale and then reboot again.
Stop the antivirus of the device and is recommended to include FL Studio into its exclusion list.
Keep all your drivers up to date, especially the audio ones and plugins as well.
Also, reset all your settings to factory defaults or do a new installation from the scratch.
Finally, it is highly recommended to use a deep cleaning tool (such as Ccleaner or similar) to correct errors in the Regedit of the system.
FL Studio is not responding
There are multiple causes that provoke Fruity Loops Studio to freeze or become unresponsive when you want to produce in it.
One of the most frequent factors is related to low PC resources, conflicts between the audio card and some plugins (like ASIO or ASIO4ALL), or maybe with the audio output.
Sometimes these glitches have been reported because of incompatibility due to the use of older versions of these tools.
How to fix FL Studio is not responding:
Close FL Studio and all programs that are running in the background using audio (audio or video players and browsers.)
Restart the computer and open FL Studio again.
Restore the settings of FL DAW.
Reinitialize the PC again.
If all this does not work, you can try to install a newer version of the software and configure everything according to your preferences, which can be very useful to locate configuration errors.
Pay attention to the VST plugins which are a recurrent cause of bugs, so you should test them one at a time.
Also see: Get the best VST plugins for Fruity Loops (FREE)
FL Studio doesn't play sound
On the other hand, one of the glitches that most affects the Fruity Loops Studio application is the one related to failures at the moment of playing any sound while editing a music track.
This is undoubtedly a scary part because it can turn into a loss of the work done that has not been previously backed up.
However, there are some methods whose solutions contribute to fixing this bug avoiding the loss of all the progress obtained in our project so far.
No sound from the pattern
Sound playback failures in FL Studio occur when there are configuration conflicts between some plugins and the audio output that cause audio dropouts or long delays.
Here are the most effective tips to solve FL Studio no sound:
Method #1
Download the sound archive directly from the mixer and open a new file where you have to choose the desired track.
Then you have to move the chosen pattern or track to the playlist and modify it from there.
Finally, press play and wait to see if the process has been successful.
If you can't solve it try to watch the next video to explore another solution related to the pattern mode.
Method #2
You have to use the Edison software and go to the database.
Make the modifications you want to the sound mix.
Make the required adjustments to the sound patterns.
Run play to test if everything works correctly.
Also see: Download FREE sample packs for Fruity Loops
Method #3
Go to the audio tab and enter the configuration section.
Choose the Show ASIO option and launch its control panel.
And finally, configure the output and choose the correct audio output device.
Done, everything should work correctly.
Method #4
This method is a bit more extreme, but still easy to perform. You must reinstall the FL Studio application, as it is possible that it has become corrupted, causing failures that prevent it from working correctly.
On the other hand, it is recommended verify the ASIO, ASIO4ALL and DirectSound configurations or outputs. Also, check your VSTs ouputs and MIDI settings are properly set up.
In my experience, you should take a look to the Auto close funtionalities as well, because this is a common cause of audio lose or sound outputs issues. So go to the audio settings to disable this application.
Won't play sound on Mobile
You have to take into consideration that the mobile app may be quite demanding for your mobile device, as its processing power does not keep up with the high demand for FL Studio resources due to the fact that these devices are designed to perform small tasks.
Therefore, due to these reasons, a lot of slowness occurs during execution resulting in faulty audio playback.
Also see: How to get FL Studio Mobile 3 for Android
What can I do to fix the slowness of FL Studio Mobile?
Close the apps that are running in the background.
Use an application to free up RAM memory and reduce CPU usage on your phone.
Another solution would be to delete unused files that take up a lot of storage space.
Delete the cache of the application by going to advanced settings, but be careful and go to delete the user data so you don't lose your music projects.
Finally, if all of the above does not work, I recommend reinstalling the app with a previous backup of your files.
Fruity Loops is lagging and running slow
The most common issues that cause FL studio performance drop are related to sound hardware problems (distorted audio), insufficient plugin buffer length (such as ASIO or ASIO4ALL), misconfiguration of the MIDI audio outputs, and also overloading of the computer's memory and processor.
How to make FL Studio run faster?
Make sure the audio outputs are set up correctly to the ones you are using.
Free up RAM space and CPU usage by closing unused applications.
Change the settings of your plugins to bridge mode.
Set the buffer length to the best (highest value). This increases latency.
Update the PC sound drivers to the latest version.
Set the pc power plan to maximum performance to increase CPU efficiency.
Verify that the plugin bits are compatible with the pc operating system bits.
Avoid excessive use of multiple plugins.
Consider upgrading your PC to one that is good enough for this purpose.
Clean the system cache and use some software to defragment the PC storage unit.
I would also recommend you to watch this video to get a better idea of what is explained above.
Fruity Loops Runtime error 216
This kind of error may be caused by multiple factors, such as memory problems, driver conflicts, sound card malfunctions, and finally, one of the most frequent is that your system has been infected by some type of malware or virus and is injecting some malicious code into Fruity Loops Studio which causes it to malfunction while it is running.
If you are a user of FL Studio versions 11, 12, or 20, it is likely that at some point you will be affected by runtime error 216, especially if your digital audio workstation is installed on one of the latest operating systems provided by Microsoft, such as Windows 7, 8.1 or 10.
Also see: Get FREE sound packs for Fruity Loops Studio 
Tips to fix runtime error 216:
Reinstall the Microsoft Visual C++ libraries or simply download a new version of it.
Free up space on the storage drive where FL Studio is installed.
Keep the operating system updated with the latest security patch.
Update your antivirus and scan your system for viruses.
Install some deep cleaning software to correct system failures, such as Tuneup or Ccleaner.
Disable automatic startup or close those programs that waste system resources using the Windows Task Manager.
Keep your computer drivers up to date, especially audio and video drivers.
Do not use pirated versions of FL Studio or any of its plugins, use the original software instead.
Check your internet connection, because while downloading or updating, if the connectivity becomes slow or interrupted it is a direct cause of error 216.
Fruity Loops download error
Download troubles related to FL Studio are very habitual and are essentially due to a malfunction of the internet connectivity.
If you are downloading this tool from its official site or simply downloading an update and the internet connection is interrupted, the program may be damaged resulting in crashes when running it. you must follow the next recommendations.
To solve the download error:
Restart your modem or router to get a more stable and clean connection quality.
Re-download the FL Studio utility from a reputable site or better yet, from its official website.
Reboot your computer to free up resources and avoid bugs before reinstalling the application.
Re-install the program.
Keep your network card drivers up to date.
Plugin manager error
Plugins can experience problems for various reasons, in that sense, some of them may come from a bad installation of the plugin or maybe the audio output configuration is incorrect.
The plugin manager is not the exception, sometimes it gets stuck or simply does not work, making the scanning process impossible.
Another recurrent failure is your VST plugin is not compatible with the version of FL you are using (old version) or with the bits supported by the system (32 / 64 bit), or it is simply a plugin conflict that provokes the famous error: FL Studio plugin failed to load.
How to fix FL Studio plugin manager stuck:
Restart the FL application.
Analyze them for bugs with the plugin analyzer.
Use the plugin database and plugin generator to correct possible issues.
Always use the latest plugin version.
Download only the plugins that are needed from secure websites.
Also see: Interesting facts about FL Studio You Should Know
Undefined external error
This glitch is due to corrupted data in Regedit, so you have to modify it manually which is really delicate. I recommend you make a backup of the system before applying the following method.
How to fix the undefined external issues:
Hold down the Windows key or function key + R.
Type Regedit to add the automatic codes.
Add Ctrl + F to open the search window.
Add the code: 4D36E96C-E325-11CE-BFC1-08002BE10318
Go to new and create a multichain value.
Right-click to rename the value to UpperFilters.
Then over this last one enter the following code: ksthunk
Finally, close the code editor and restart the computer.
Edison is not recording
Edison is a very powerful Fruity Loops Studio audio recording tool with which you can do many interesting things and is really popular among music producers.
However, it can sometimes malfunction for reasons related to the user's incorrect use of the software's features.
Tips to fix Edison:
Use Edison in the proper slot and not in any rack.
I recommend inserting the track in the master channel.
Set it to the correct audio input.
Make sure the ASIO drivers are working properly.
Fix most problems with FL Studio's diagnostic tool
This is an advanced program designed for the purpose of troubleshooting errors or corrupted files affecting the DAW. It also functions as a help guide that creates error reports, which can be sent to and evaluated by Image-Line's technical support, allowing the correct resolution of the error.
I suggest you always use this tool to find the appropriate solution to your problem as quickly as possible.
Below is a series of videos where you will learn how to use it.
1- How to make a technical support post?
2- How to send diagnostic reports to technical support?
Note: See the online guide
Final Thoughts
As you can see, although FL Studio is considered one of the best Digital Audio Workstations on the market, it is not free of bugs. Many of them are caused by the user himself, either by inexperience or by the use of illegal third-party software, but they have simple ways to solve them.
We strongly recommend that you avoid using plugins or software from unofficial sources, as these are a direct cause of DAW malfunctions.
Furthermore, not only are you exposed to malicious software infections, but you can also get into legal trouble by violating copyright laws through the use of cracked software.
It is also really healthy to clean your system regularly with one of the tools mentioned above, keep FL Studio and its plugins up to date, as well as your computer's drivers.
Let us know in the comments if you have experienced any of these errors and how you solved them.
Also, tell us if any of the tips in this article were useful to you.