Edison is an audio recording, editing, and exporting utility integrated and hosted in FL Studio as a native plugin, which allows you to enhance your songs in an impressive way.
This VST is a much more complete and powerful tool than the editing options that FL Studio brings in its toolbar.
In this tutorial, I'm going to teach you the basics so you can use Edison.
Also see: How to get Omnisphere 2 VST plugin on FL Studio 20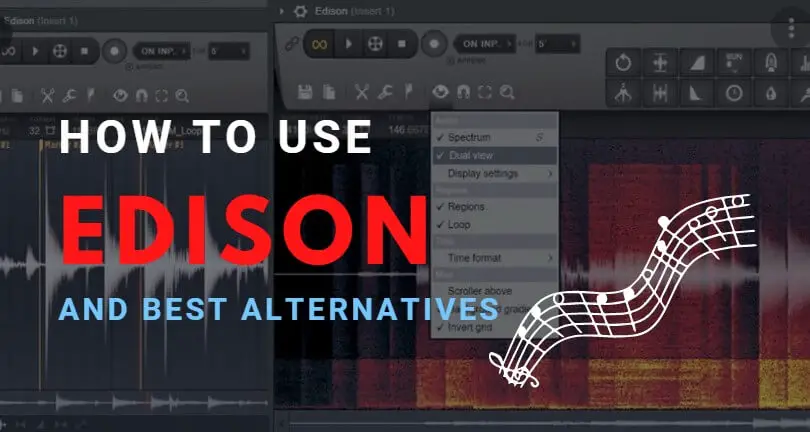 Table of Contents
How to use Edison in FL Studio 20?
Here I will show you the essentials and different scenarios in which you can easily use it so you can start recording audio immediately with this VST plugin.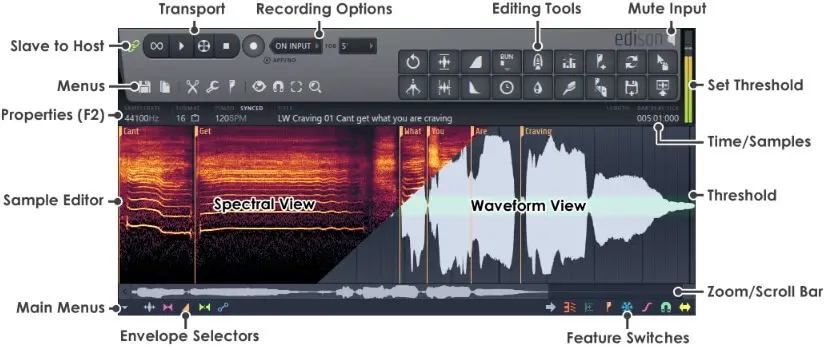 How to open Edison
There are several ways to open it, and they work in both FL Studio 20 and version 12.
Method #1
To load Edison in FL Studio, the first thing to do is to open the Mixer by pressing the F9 shortcut.
Once the Mixer is loaded, select the Mixer channel you want to work on.
Now go to the Slots Panel located on the right side of the Mixer.
Click on one of the slots.
A list of all plugins in your library will be displayed and locate Edison to insert it.
Finally, click on Edison so you can use it for editing.
Now I'm going to show you another way, it's the easiest and fastest way to open this VST.
Method #2 (Opening Edison with Shortcuts)
To open it with hotkeys, first open the Mixer by pressing F9.
Now choose the Mixer slot in which you want to place it.
Finally, press CTRL+E to open Edison in FL Studio.
How to record with Edison
This software has four recording options and I will show you what each of them is for. In this way when you are recording your beats you will be able to choose the ideal option at that moment.
It will help you to optimize your workflow when using this wonderful VST plugin and finish everything faster.
Now: Allows you to automatically record whatever is playing in FL Studio at the moment, even if you are not doing anything or playing any chords or notes.
On Input: When recording with On Input you will wait for an input signal to appear, i.e. for something to play before you start recording, be it a sound coming from the Channel Rack or the Playlist.
Input: This option is very similar to the previous one, but with the difference that it will start recording only when there is an input signal and as soon as it finishes recording will stop automatically.
On Play: It works through the use of time markers (song jump). In other words, Edison will record only when it has an input sound. What you record will have no silence at the beginning or end and you will be shown the exact time it starts playing.
Audio recording tutorial:
Also see: How to get FLEX VST plugin for FL Studio (FREE)
All these sound recording methods are very useful and it is up to you to determine which one best suits your musical creation at that moment.
However, I would like to recommend using the On Play option. It is one of my favorites because of its versatility of use and also because it helps me save time, as it only records what I want and I don't have to be cutting audio that I don't want or is in silence.
Also if you are very skilled and creative you can easily compose loops with the On Play option. Without a doubt, it is an option to master and take into consideration to be a Pro producer.
If while recording with Edison you experience problems I recommend you to check our post, Most frequent errors in FL Studio DAW (SOLVED). There I show you the origin of these errors and how to fix them in a simple way.
How to stop Edison
To Turn OFF Edison in FL Studio while you are playing something or just recording your beats, samples, loops, or vocals you must press the stop button located in the toolbar of this VST.
If you want to stop recording a sound or vocal, you can also do this by pressing the record button to set Edison to OFF.
This procedure can also be applied when recording from an external device, such as a microphone. The recording process will be stopped instantly.
How can I submit a sample to Edison?
The simplest way to submit a sample into this plugin is by going to the FL Studio browser and loading the sound library. There you can choose from all the sounds you have, be it samples, vocals, loops, sound effects, or whatever you can think of.
Now, once you have chosen the ideal sound for your song, drag and drop it on Edison. Then you can record or edit it as you have in mind.
Also see: How to add plugins to FL Studio for MacBooks
Edison shortcuts
Knowing the most used keyboard shortcuts will help you increase your workflow and feel comfortable using this tool. That's why here are some of the most useful shortcuts.
General controls
CTRL+O = Open a file
CTRL+Z = Undo
CTRL+R = Redo
M = Marker
CTRL+Del = Delete non highlighted portion of the track
CTRL+S = Save the project
F2 = Track properties
Audio controls
SHIFT+C = Create and send to the playlist a new sample from the highlighted part of the track
CTRL+B = Reverb effect
CTRL+F = Fade in
Alt+F = Fade out
CTRL+U = Denoiser
Alt+A = AMP tool
Also see: FL Studio: Copying and pasting shortcuts You Should Know
Zoom controls
Home = Default zoom
End = Max. zoom
Page Up = Zoom in
Page Down = Zoom out
CTRL+Right Arrow = Zoom in on the right part of the audio
CTRL+Left Arrow = Zoom in on the left part of the audio
DEL key = Delete the highlighted area of the track
Best alternatives to Edison on the market
Well at this point you know what this VST plugin is and the impressive things we are able to do with it. What it offers us is more than enough to produce a song of very good quality.
On the other hand, there are producers who like to explore and experiment with new options, and choose to use other audio editors like Edison, but have no idea where to start.
For these reasons, I have made a compilation of plugins with similar features to Edison. There are other alternatives to it on the market, with similar functions and they can be used in FL Studio or the DAW of your preference.
1- TDR VOS SlickEQ
It is an editor for mixing and mastering that is characterized by its musical flexibility, clear sound, and ease of use.
It features a semi-parametric design, which gives you access to its EQ system, with 4 different modes.
In addition, it has three EQ bands with high filters and automatic controls to adjust volume and background sounds. Its main advantages and disadvantages are:
Advantages
Convenient toolbar with advanced preset controls.
Undo/redo commands.
A/B functions for comparisons.
Disadvantages
Provides little saturation in the editing process.
Little visual data.
2- Softube Saturation Knob
It is a distortion plugin that has a free version, designed to insert harmonic effects and sounds into tracks on an input signal.
It consists of different types of distortion such as neutral, high, and low, which allow you to get crisp tracks. Its advantages and disadvantages are:
Advantages
Excellent plugin to achieve realistic and smooth saturation.
It includes MIX, LPF and HPF functions.
Perfect for adding distortion to guitars.
Disadvantages
You need to register with a user account to access its functions.
3- BitterSweet v3
It is a plugin that works as a transient processor, with three modes: fast, medium, and slow.
BitterSweet v3 consists of three operating modes which are main, center, and stereo.
In addition, it has multiband functions and includes a sound encoder that can be run independently. Its pros and cons are:
Advantages
It has a convenient open sound management support.
It comes with 8 input and output channels.
It manages the sound gain at the end of processing.
Disadvantages
Can be somewhat complex to use the first time.
Also see: How to export HQ projects in FL Studio 20 (EASY GUIDE)
4- Togu Audio Line TAL
This is a powerful plugin that works as a subtractive synthesizer. This free software is updated regularly and has a polyphony of voices when editing audio tracks.
The interface is organized in 4 panels, where all its editing functions and controls appear. It stands out for the following:
Advantages
Excellent design, clear and comfortable.
Good audio quality.
It has three oscillators and 2 filters.
Disadvantages
It is difficult to rearrange the effects.
The transposition in the sequencer is somewhat difficult to control.
5- FabFilter Pro-Q 3
It is an excellent plugin that stands out for altering the audio track in the frequency you choose, without adding any tonality to the signal.
It is characterized for being a low latency linear phase audio editor, that is to say, it prevents phase difficulties and has an intuitive design. Its strengths are as follows:
Advantages
Options to insert or remove bands by altering the parameters in the frequencies.
It has MIDI connectivity for the management of controllers or surfaces.
Excellent sound quality.
6- Waves SSL G-Equalizer
It is an equalizer composed of 4 bands that does not use graphics in music editing, which is perfect for developing the ear in musical adjustments.
Advantages
It stands out for adding colors to the tracks, in different tonalities.
7- Magnus Jonsson Ambience
It is a plugin that stands out for its excellent audio quality and a large collection of default sounds. You can edit them as you like.
In addition, it has easy to use controls and the hold function, also include:
Advantages
User-friendly interface.
Filters and bands to adjust the sound frequency.
Constant updates of its functions.
8- UVI Workstation
It is a music plugin that integrates an extensive selection of presets, capable of supporting REX, Apple Loops, and WAV files.
Besides, it has advanced editing features such as special effects and arpeggiator ideal for playing your samples. Other features include are:
Advantages
Great audio quality.
Removes background sounds.
Adds tonalities at the time of audio editing.
Also see: Soundgoodizer vs Sausage Fattener - Which is the better choice?
9- Illformed Glitch 2
It is an equalizer designed with a sequencing system to transform any audio track.
Illformed Glitch has 9 effects and a special section for filtering that segments the audio into parts to apply the effect you want.
Advantages
Easy to use interface and controls.
Frequent updates in its editing tools.
Excellent audio quality.
10- Green Oak Crystal
It is a free song editor that serves as an equalizer. It employs granular synthesis, FM, and sample playback in its operation.
Green Oak Crystal runs its sequences in waves, capable of creating complex and enveloping sounds.
Advantages
Segments sound into parts to adjust playback where you want it.
Compatible with Windows and Mac.
User-friendly interface.
F.A.Q.
How to download Edison for FL Studio 20?
To get this VST you don't need to download it. Just install FL Studio in one of its versions and the plugin will come included in the DAW utilities.
Does Edison come with FL Studio?
Yes, it does. Edison is a stock FL Studio plugin. This means when you install the Imagine-Line DAW it will come bundled as a native plugin.
Is Edison free in FL Studio?
Yes, it is a completely free VST plugin that comes integrated with FL Studio.
Where is Edison FL Studio located?
This VST is hosted in FL Studio as a stock plugin. To find Edison in FL Studio just go to the DAW plugin library.
How to reset Edison?
The only way to restore the default values of this plugin is through the Reset FL Studio settings option. You must be very careful as this option will reset the entire DAW and the plugins associated with it.
If you need more information about this, you can refer to the official Image-Line guide.
Also see: Top 13 Chromebook alternatives to FL Studio 20
Final thoughts
If you learn to master the Edison plugin in its totality, you will have at hand one of the best tools ever created for audio recording, editing, and exporting, which FL Studio offers for free.
However, if you are not a user of this DAW or want some other software that offers similar utilities you could consider one of the alternative plugins mentioned above.
Finally, I suggest you see the Edison user manual prepared by Image-Line where everything related to this plugin is discussed in detail so you will have a better idea of how to use it.
I hope you have enjoyed the Edison tutorial!