In this article, I bring you a compilation of the best DAWs similar to FL Studio available for computers with Chrome OS and start making music anywhere.
These computers are very popular devices, widespread all over the world, and that's why many music producers use Chromebooks as recording studios.
However, there is not as much support and variety of Digital Audio Workstation for Chromebooks (DAWs) as on Windows or macOS systems.
FL Studio is no exception and does not have native support for this platform.
Also see: 13 Best Open Source DAWs - FREE alternatives to FL Studio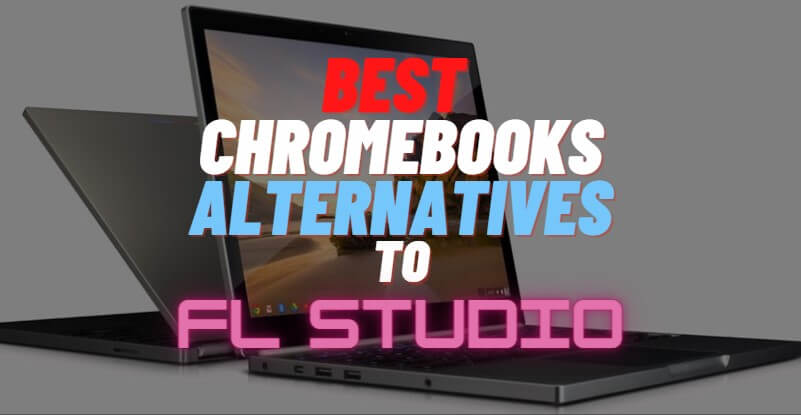 Table of Contents
Best DAWs Alternatives to FL Studio for Chromebooks
If you are a user of a pc with Chrome OS you may be interested in trying other alternatives.
It is for this motive that I bring you a compilation of the best audio recording software for Chromebook similars to the FL Studio DAW.
Among them there are free and paid software, most of them will help us to create good quality music.
So I recommend you to choose the one that offers you the best features, tools and the one that best suits your needs as a producer.
Also see: How to add plugins to FL Studio 20 on MacBooks
1) Soundtrap
It is a freemium music creation platform owned by Spotify, ideal for music students and teachers. Soundtrap has been awarded in 2016 as the best "Creative Apps for Chromebooks".
It features presets, tutorials and templates to help you get started with your music project.
Soundtrap also has the AutoTune function or audio processor that helps correct mistakes and boost your beats.
Its interface is fast and easy to use and comes with input integration for external musical instruments, MIDI file import, and export.
Besides, it offers collaborative online audio creation features.
This is really great and very useful for those who work from long distances or need some guidance in getting started as a music creator.
Compatible operating systems
Windows
Chromebook
Linux
iOS
Android
Also see: How to export HQ projects in FL Studio 20 (EASY GUIDE)
2) AudioSauna
It is an audio workstation that works with a virtual analog synthesizer and frequency modulation.
This allows you to record your music as you like and share it on other music platforms.
AudioSauna is free to use and guides you at the beginning in case you are a newbie, I recommend it.
If you are a Google Chrome browser user you can install the official AudioSauna extension available in the Chrome Web Store.
In addition, AudioSauna is compatible with Chrome OS and has an intuitive interface for composing music with advanced polyphonic synthesizers, samplers and with the option to insert direct effects from the web in real-time.
The DAW also brings you one of the best stereo samplers on the market with various online audio applications and has features such as looping, ping-pong, and bass range mappings.
Compatible operating systems
3) Looplabs
It is an excellent digital audio workstation compatible with Chromebooks.
Looplabs gives you the possibility to create original sound files from scratch or mix songs you want and gives us the option to share them through social networks.
Additionally, Looplabs has a large virtual community of musicians with whom you can interact, sharing experiences and discovering new ways to make cool music.
The application gives you the opportunity to work in collaboration with other users, make use of some of the program's preloaded sounds or record your voice over the other person's rhythms.
Compatible operating systems
4) FL Studio Mobile 3 for Chromebooks
Image-Line has also released this wonderful music creation tool for mobile devices.
Through FL Studio for mobiles, you can sequence, mix and use some free plugins.
It also offers an extensive library of sound effects that will help you create amazing beats.
On the other hand, it includes very useful tools such as Piano Roll, equalizers, a virtual keyboard, samplers, synthesizers, support for MIDI files, compressors, WIFI connectivity, presets, and a browser to manage files and utilities.
I have only mentioned some of the basic features of this mobile application.
Despite this, it can't compare to the full potential offered by the PC version of FL Studio.
Fortunately, Chrome OS has native support for almost all Android apps located in the Google Playstore.
Get FL Studio Mobile 3:
5) Beatlab
Beatlab is an extension for the Google browser that has a very friendly and simple-to-use interface, which allows you to create songs from scratch.
You can create beats quickly and without having much knowledge about music theory or instruments.
Beatlab is available for use on Chromebooks.
The cool thing about this addon is you can produce music collaboratively and share your creations with your friends.
Compatible operating systems
All PCs with Chrome browser
6) Online Sequencer
It is a workstation designed to generate music sequences in seconds. It has audio categories sorted for better adaptability and ease of use.
Online Sequencer allows you to import your music files to other platforms to improve them.
It is a tool aimed at people who already know how to create rhythmic sequences.
In addition, it has a wide collection of instruments, patterns, and basses to adjust the music as you want.
You can mix them together in order to get crisp and original sounds.
Compatible operating systems
7) Open Labs Stagelight 4
It is a tool that has a paid and free version, which allows you to create unlimited tracks, with the effects and sounds you prefer, which are customizable.
Open Labs Stagelight 4 is the perfect option to create songs of the hip-hop and EDM genres since it has drum samples and sequencers that complement very well with these rhythms.
Furthermore, if you are a beginner, it offers step-by-step lessons on the basics of music creation.
This includes creating loops and timelines.
Open Labs Stagelight has tools for making beats using your computer's microphone and a guide for not hitting the wrong notes, an option very similar to the one FL Studio owns.
Compatible operating systems
Windows
Android
iOS
ChromeOS
macOS
Also see: Interesting facts about FL Studio you should know
8) Flat.io
Flat.io is an online DAW that has been designed for beginners which is a good start if you are just starting out in these fields, as it consists of functions for you to create your own musical partiture.
Besides, you can compose it, read it, upload it to other platforms and find more models online.
Likewise, you can create and modify your friends' partitures in the creation of unique sounds.
You can export them to other formats such as MIDI, PDF, WAV, MP3, and MusicXML, and edit them as you prefer.
Compatible operating systems
9) REAPER
It is a complete digital audio creation tool with functions for recording, processing, editing, mixing, and mastering audio and multi-tracks.
Reaper is compatible with different operating systems and has options to generate and expand sounds in a comprehensive way.
In addition, it has a simple interface and is a very lightweight program.
It works quite well on modest computers with not very powerful processing capabilities.
The functions it provides are very professional and it comes with multi-channel support, an internal 64-bit audio processor, and MIDI routing.
Also, Reaper has several quality effects, which process sounds and MIDI.
You will have the option to create your own beats with very original features and has support for the installation of third-party plugins.
It is undoubtedly a software to take into consideration.
Compatible operating systems
Windows
macOS
Linux
ChromeOS
Also see: How to get Omnisphere 2 VST plugin on FL Studio 20
10) Bitwig Studio
This software is a DAW that is designed for multi-platform music creation, especially highly recommended in DJ production and performance.
Bitwig Studio has tools to shape all your audio samples from scratch.
Additionally, with this software, you can record, adjust sounds, improvise and interpret them as you like.
It has an attractive interface with different profiles for you to customize according to your preferences.
Bitwig Studio has an integrated mapping mechanism that allows you to modulate all kinds of VST plugins by means of sound drivers.
Compatible operating systems
Windows
macOS
Linux
ChromeOS
11) Cubase
Cubase is a music software compatible with multiple platforms, designed for the recording and production of music tracks.
It is a music sequencer tool, which mixes sounds to obtain original beats.
The DAW has an extensive library of effects, instruments, and virtual plugins, which you can use and customize according to the project you have in mind.
Cubase can be used for home or professional recordings, edit MIDI files and transform RAW music tracks into others editing formats.
Compatible operating systems
Windows
macOS
ChromeOS (Not native to this system, but can be emulated by software).
Also see: How to install FL Studio 20 on Linux (Easy Guide)
12) LMMS
It is an excellent music production program that works with a basic and user-friendly interface.
LMMS has tools with similar functions to FL Studio with several add-ons and VST support for recording audio, inserting effects, creating music, and mixing tracks.
On the other hand, it has a powerful parametric equalizer and has the option to play tracks in any position.
Besides allows you to synchronize them with others VST plugins.
It offers you the possibility to record chords from the piano and you can make moves to undo mistakes through its toolbar.
Compatible operating systems
Windows
macOS
Linux
ChromeOS (Can be emulated through software)
13) BandLab
BandLab is a music creation platform in the cloud. It has very interesting functionalities and one of them is the online collaboration with other producers.
This is useful for mastering any type of music genre.
Bandlab is a free tool and is highly recommended for those who are starting in the world of music production and is considered a great Soundtrap alternative.
The software is a very complete DAW that offers an educational program with guides and tutorials to get the most out of the software.
Compatible operating systems
Also see: How to use Maschine as a MIDI controller in FL Studio 20
Final Thoughts
As I mentioned before, FL Studio was not designed to work on Chromebooks.
Although, this doesn't mean that it can't be installed and work properly on these devices.
Well, I have good news for you, it is possible to install FL Studio on Google's operating system.
I have prepared a simple guide, where I explain in detail and step by step How to install Fruity Loops Studio on Chrome OS (the latest version).
So don't miss it and start recording audio on your Chrome computer!
FAQs – FL Studio Alternatives for Chromebooks
Can you make music on a Chromebook?
Yes, of course. Chromebooks are good for music production. There are a lot of Digital Audio Workstations compatible with Chrome OS that allow you to record and make awesome and unique songs.
Can you run a DAW on a Chromebook?
The answer is Yes. Despite their limitations, Chromebooks are capable of running a large number of Digital Audio Workstations.
You just need to make sure that the DAW you want to install has been designed for use on Chrome OS computers.