Make Unique in FL Studio is one of the most interesting and useful advanced features of this DAW for creating sound variations in your projects. So if you want to know how to properly use this tool to make songs with a more modern and professional style, then you are in the right post.
Here I will show you a pretty comprehensive user guide where you will learn the secrets and tricks that renowned music producers use to create amazing audios. So let's get started!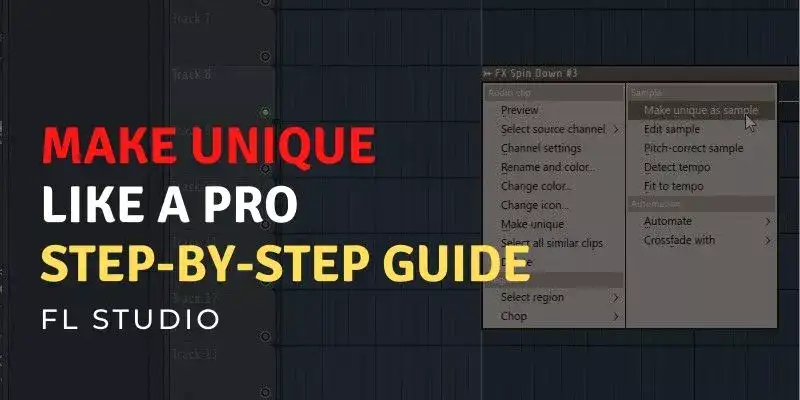 Table of Contents
What Does Make Unique Do?
In essence, Make Unique is an FL Studio Playlist processing technique, which allows you to edit and make sound variations from patterns, audio clips, and automations without affecting the properties of the original source.
See also: How To Merge/Consolidate Audio Clips In FL Studio
Thanks to this, unnecessary repetitions in a beat can be avoided.
Advantages of Mastering this Technique
Why should you use Make Unique in FL Studio? These are some of the Pros of learning how to use this tool:
It is excellent for cloning new sounds from another without affecting the qualities of the others.
It allows you to modify audios and add small variations to them.
It is useful to save more time when creating new clips.
Helps speed up the workflow
Allows you to modify events, increase speed, range, waveform or phase.
Ideal for making modifications without having to alter the source pattern.
Allows us to work in a more organized and cleaner way.
Avoids errors and confusion when making arrangements.
It is good to obtain original and high-quality tracks.
Avoids making inadequate repetitions in a beat.
How To Make Unique In FL Studio?
This utility will allow you to make parameter changes to previously designed sound elements without having to start the whole process from scratch.
It also gives the individuality needed to create the identity in question, which is very useful and appreciated for arranging.
Here's how to make something unique in FL Studio quickly and easily.
1. Make a Sample Unique
This is normally used to create a new audio file in the playlist that contains all the properties of the sample we want to work with.
See also: FL Studio 20 vs 12: Explained For Beginners (Updated)
This will create a new audio element that has no relation with the original one.
This function basically consists of creating a copy of the sample, so in the end you will get the original and a duplicate.
Among the audio files that can be used to make a song or sample sound unique are:
Leads
Kicks
Claps
Drums
Percussions
Musical Instruments
Sound Effects (SFX)
Loops
Vocals
Risers
Melodies
All of these can be used as audio clips when designing our arrangements.
How do you make samples unique?
This is very easy to do and can be achieved through the tools menu. Look at the example I have prepared below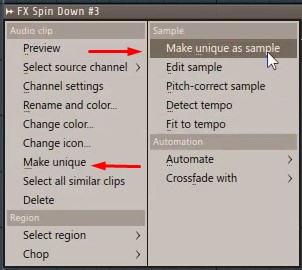 Make Unique as Sample:
Go to the playlist
Choose the desired sample
Open the Tools Menu of the audio file by left clicking on it.
Select the Make Unique as Sample option
Press the YES button to start sound processing.
Rename the file and save it to the path where you host your sample packs.
Then, locate it in the sound library by going to the DAW browser
Drag and drop it into the Playlist to use it.
How Do I Make Multiple Clips Unique In FL Studio?
Currently, FL Studio does not have Make All Unique functionality. This means that it is not possible to select all items in the Playlist at the same time. The only solution to this is to apply this tool one item at a time.
It is possible that this option will be included in future updates of the program.
See also: Trap Music: 10 Best FL Studio Stock Plugins
2. Make a Pattern Unique
It is useful to create copies of some element of the Playlist and edit it leaving the original intact, as for example to take a pattern and make a modification to it.
In other words, we start from the same sound pattern, but we get 2 different sounding things depending on the amount of modulations we perform.
Steps to Follow to Get a Unique Pattern:
Choose the desired pattern in the Playlist.
Go to the options menu of the chosen audio file.
Select Make Unique.
Now the resulting pattern will have new properties.
Note: In case you need to modify and save a pattern as a separate file you can apply the Make Unique as Sample option without any problem, as explained above.
Video demonstration:
3. Make Unique with Shortcuts
So far, there is no hotkey combination in FL Studio that allows you to perform the Make Unique function instantly. Instead, you can use the shortcut Ctrl+Shift+B which has a similar effect and is useful to duplicate any item in the Playlist.
On the other hand, it can also be applied quickly and efficiently by using the audio clips menu (located in the upper left corner) and then selecting the Make Unique option.
See also: 10 FL Studio Pros And Cons You Must Be Aware
In addition to the above, you can use as shortcuts the + and – keys of the numeric keypad of the PC to switch between the patterns you have in the Playlist while one of them is selected in the Channel Rack.
This is something that is appreciated since it helps to speed up the workflow significantly.
4. Using Make unique with Automation Clip Cutting
Make Unique is a technique that you can use with any type of automation you want to try, and apply it to the Pitch, for example.
Imagine that you are working with a clip and you are going to be using it in several areas of the Playlist, but you need it to have certain characteristics that make it different from the others every time you insert it.
However, by automating it you will notice that every time you add effects to a particular audio file they will be automatically applied to all the others.
This is something we must avoid in order to preserve the quality of the track we are developing. So to achieve this successfully there are two ways that I will explain below:
A) Automated Elements
The first one consists of extending the automated file in the Playlist and drawing manually and little by little the effects that we are testing, copying progressively all the values.
See also: FL Studio Out Of Memory? Allocate More RAM (Easy Guide)
This method is very tedious since it steals a lot of time that we could be using in other more important tasks.
In this scenario, I do not advise you to use this technique, because if you are working on something more complex the only fact of drawing repeatedly is counterproductive.
In fact, this can lead us to make rookie mistakes that could negatively affect the final quality of the project, which is something we don't want.
B) Using Make Unique
The second and more recommendable endable, is to use this tool as I have been teaching in this entry to make things easier, by creating new audios with different parameters and effects, thus avoiding wasting time in the application of extra steps.
See also: FL Studio ASIO vs ASIO4ALL: Which Is Really Better?
Knowing this is much appreciated, as it allows us to increase and streamline our workflow, thus helping us to acquire the necessary skills that an experienced producer has.
I also want to comment that the audios obtained from this process can be linked to an External Controller by means of the Remote Control Settings function.
This allows you to do many more modulations in a nice, fresh, and interesting way. This is a method that very few know about.
Tips and Tricks – FL Studio Make Unique
1. How do you make chop unique in FL Studio? The first tip is that we can chop up/trim a pattern we have without using Make Unique, getting the same result and no need to produce a new pattern or make repeats.
2. When saving an audio clip through this tool you must take into consideration that you have to place it in a folder of your PC where you are not going to move it to a different one, because if you do it FL Studio will lose the access path and it will not find it, throwing an error when loading it.
3. FX Spin Down: It is a utility that allows to edit and save in real-time the modified parameters of the source file. This has the advantage that while using the Make Unique option to clone, the original source file will remain intact.
This can be opened from the utilities menu of the audio clip in question or you can also work with it from the Channel Rack.
Why Can't I Make Unique in FL Studio?
If Make Unique is not working or is disabled, it is mainly because this option is not available for use in the Demo and Fruity Edition versions of FL Studio.
So, What Can I Do if The Make Unique Option Is Disabled?
The answer is simple, you have to purchase one of the paid versions or use an alternative method such as duplicating.
The proper way to clone elements is to go to the Playlist and right-click on the desired pattern or audio clip and then select the Clone option (CTRL+B).
This is a very effective method, which allows us to obtain results similar to the one discussed in this article.
See also: 10 Reasons Why FL Studio Is Good For Making Beats
FAQs – Make Unique in FL Studio
Can I Make Unique in the FL Studio Demo?
The short answer is no. This option is restricted in the trial version of this DAW, because it is related to the project saving functionalities, so it is impossible to use it.
How to enable Make Unique in FL Studio 20?
The only way to enable this feature when it is greyed out is by purchasing one of the premium versions of FL Studio.
How do you Make Unique in FL Studio Mac?
The easiest way to use Make Unique in macOS is by using the shortcut Command + Shift + B, which allows you to make a duplicate of the selected element in FL Studio.
Resources
–Image-Line Knowledge base