ASIO drivers are very useful audio managers in the creation of high fidelity beats, and knowing how to use them in combination with FL Studio is of vital importance.
That's why below I show you in-depth a comparative guide between FL Studio ASIO vs ASIO4ALL. What is the best option for you?
When comparing FL Studio ASIO vs ASIO4ALL head to head it can be concluded that ASIO4ALL is the clear winner, because it is the best performing driver. That is why it is recommended to always choose it in the "General Settings" to get the best audio quality and low latency when recording.
In this guide, I will teach you all the essentials about ASIO drivers, which are indispensable for FL Studio 20 and 12.
Also see: How To Use Edison In FL Studio And Its Best Alternatives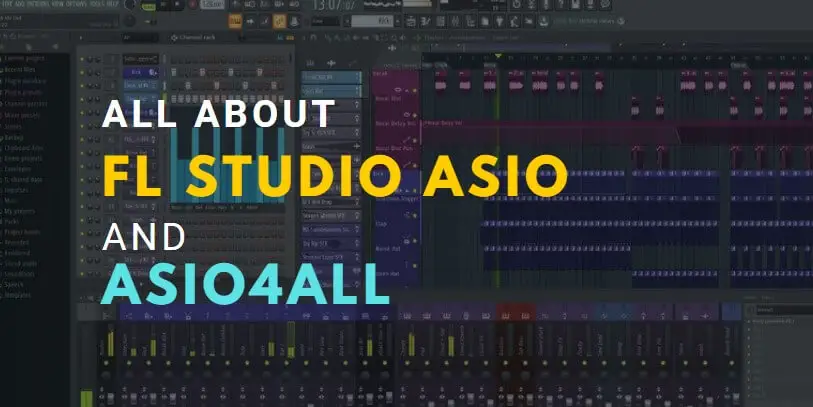 Table of Contents
FL Studio ASIO vs ASIO4ALL
It is important to note since they have very similar names, many users believe that they have the same function, but it is not the case. Next, I will show you the main features and differences between both drivers.
The word ASIO stands for Audio Stream Input / Output. These drivers can be used at the same time, and as a complement to each other, improving the sound quality processed by our Digital Audio Workstation (DAW) when recording or producing songs.
FL Studio ASIO and ASIO4ALL are drivers created with the purpose of improving the audio quality of the PC. This is achieved through a complex process of optimization of the resource usage, especially the CPU and the audio memory buffer. It results in a reduction of the latency, and an increase in the speed and sound performance.
These are also included natively with the Fruity Loops installation, and their simultaneous use is strongly recommended
Also, It is highly recommended to use the ASIO drivers since normally the PC operating system does not handle audio processing efficiently.
What is FL Studio ASIO?
FL Studio ASIO is a driver created by Image-Line that serves as a complement to enhance the sonic performance of FL Studio when used on other audio platforms. This means it is optimized for use in conjunction with FL.
It is essentially a multi-client manager that increases compatibility between our music production interface and audio-video streaming services such as Spotify, Skype, Youtube, SoundCloud, and others.
Another of the benefits of this driver is that it helps the Primary Sound Driver and WDM Driver of our operating system to work more smoothly and correctly with the DAW and our sound card.
In other words, it focuses on managing the audio sending and receiving processes between FL Studio and the operating system.
What is ASIO4ALL?
It is a low latency ASIO driver, created by third parties that serves to disable all the sound outputs of any application while using a DAW and optimize compatibility with it.
This means while using the PC, it only allows the sounds emitted by our music creation interface to be played and not from other Windows programs or third-party applications.
Also see: How To Export HQ Projects In FL Studio 20 (EASY GUIDE)
Also, ASIO4ALL is very useful for reducing latency between audio input and output devices, which increases the speed and quality of the processed sound. This is really cool!
On the other hand, if your PC does not have a dedicated audio card it is highly recommended to use ASIO4ALL, because it will optimize the audio output.
This is a free driver provided by the asio4all.org development team.
How to open ASIO:
To run ASIO in FL Studio you must open the DAW and press F10. Then go to the Settings window and open the Audio options. There you can choose ASIO4ALL v2 in the Output dialog box and then open the driver settings.
Now go to Show ASIO Panel, then ASIO properties, and finally click on the ASIO4ALL driver dialog box.
Best configuration for ASIO
With the settings I show you below you will be able to get the best sound quality and the smoothest possible performance when working in FL Studio.
Although I suggest you have a computer with enough resources or processing power to avoid crashes and failed processes.
 See also: FL Studio: Make Unique Like A Pro (Step-by-Step Guide) 
A. Best settings for FL Studio ASIO on Windows:
Buffer size: 384
Input: Default Input
Output: Default Output
Hard clip-output: Checked (ON)
B. Best settings for FL Studio ASIO on macOS:
Device: Built-in Output
Sample rate (Hz): 44100
Buffer length: 441 SMP (10ms) – 512 SMP
Priority: Highest
Save Overloads: ON
Playback tracking: Mixer
Multithread generator processing: ON
Multithread Mixer processing: ON
Smart disable: ON
Resampling quality: 24-point sin
Play truncated notes on transport: ON
Note: The longer the buffer length, the lower the latency, but this overloads the processor more. Sometimes this causes system instability.
Configuring the latency below 512 ms gives better results.
So you should test and change these values carefully until you find the most stable numbers for the FL DAW.
Get FL Studio ASIO and ASIO4ALL drivers
As explained above, both drivers are already included in Fruity Loops Studio. However, if they don't work properly or get corrupted it is advisable to install them again.
Fortunately, both installers can be obtained free of charge and below I show you how to get FL Studio ASIO and ASIO4ALL.
I also suggest if you have compatibility issues you can explore other alternatives for the ASIO drivers.
Also see: How To Install reFX Nexus On FL Studio 20
Download FL Studio ASIO
–How to get the FL Studio ASIO driver for Windows:
The FL Studio ASIO driver can be acquired from the Official Image-Line forum. However, you must be logged in to access the software.
–How to get the FL Studio ASIO driver for MacBooks:
There is a lot of information on the internet about this topic, but it is very confusing. However, I have good news for you. Thanks to Image-Line releasing the new version of their software, FL Studio 20, it is now macOS compatible.
This means that the ASIO installer is now fully compatible with the macOS system and also comes bundled with the FL software.
Now, if you want to get it individually you can only do it through this link that directs to their forum.
Download ASIO4ALL
–How to get the FL Studio ASIO4ALL driver for Windows:
You can download the latest version of this driver at no additional cost (FREE) from the developer's website.
I recommend you ONLY get it from there to avoid downloading malicious software.
–How to get the FL Studio ASIO4ALL driver for macOS:
Currently, there is no support for ASIO4ALL on macOS. However, if you are a MacBooks user you do not need to have this driver installed.
You don't need to worry as Apple devices come with very high-quality native drivers that perform the same function as ASIO4ALL, so installation is not required.
ASIO drivers troubleshooting
Next, we will discuss some of the most common problems with these drivers and their possible solutions.
Also see: Most Frequent Errors In FL Studio (SOLVED)
Why does FL Studio Sound Strange? (crackling, noise and pops)
Sometimes these problems can be related to a malfunctioning third-party plugin. However, in most cases, it is due to an error with FL Studio ASIO.
ASIO Issues cause Fruity Loops to sound bad and noisy, which can be very annoying when composing songs.
These FL Studio ASIO errors can present themselves as a kind of crackling, pops, glitches, or noise and are the result of no buffer underruns.
Buffer underruns are closely related to low buffer memory availability. To fix this problem you simply increase the buffer length.
To modify the buffer length values go to the Options section of Fruity Loops. Then go to Audio Settings where you can increase the buffer size as needed.
I suggest you check our guide (in this post) where we cover how you can achieve the best settings for ASIO.
You can follow the next video tutorial to try other ways to solve the issues as well.
Why FL Studio ASIO is not showing up?
This ASIO error is not very common and the cause of the failure is very confusing.
One of the most accurate ways to fix this problem is to reset the FL DAW from the Advanced Settings. Alternatively, you could try downloading a newer version of Fruity Loops.
Be warned that you should proceed with caution here because you run the risk of losing all your settings, plugin databases, and files associated with this software.
You should consider backing up all your data if you want to proceed.
Why do I have no sound when using ASIO4ALL?
One of the main reasons why FL Studio does not sound when using ASIO4ALL is because this driver is active when playing audio from streaming platforms such as Youtube, Spotify, Soundcloud, etc.
To solve the error activate the "Auto close" option located in the audio settings or simply switch the device to the FL Studio ASIO driver.
In this way, the DAW will manage the operation of the sound outputs and will perform the automatic switch between ASIO4ALL and FL Studio ASIO depending on the scenario or if we play music from the cloud or streaming platforms.
Also see: Soundgoodizer vs Sausage Fattener - Which Is The Better Choice?
Final thoughts
As you have learned, ASIO and ASIO4ALL are very necessary drivers for the correct functioning of FL Studio.
They are also very useful to enhance the final quality of our beats, through the elimination of undesired noise.
For these reasons I recommend you to use them and apply the best practice settings covered in this post. I guarantee this way you will have your DAW running as smoothly as possible.
FAQs – FL Studio ASIO or ASIO4ALL
Should I use FL Studio ASIO or ASIO4ALL?
It is best to use both drivers when using FL Studio, which helps to have a more refined sound quality and lower latencies between the different components linked to the computer.
Is ASIO4ALL any good?
Yes, ASIO4ALL is an essential driver for increasing performance and reducing latencies when using a DAW as an audio production interface, resulting in an improvement of the final sound quality.
Do Macs use ASIO drivers?
Yes, they do. Normally MacBooks use FL Studio ASIO drivers. However, ASIO4ALL is not compatible with macOS operating systems.
Anyway, the functions of ASIO4ALL are perfectly covered by the high-quality sound drivers designed by Apple.
Do I need ASIO for FL Studio?
Yes, you do. This driver is very necessary, as it improves the quality of songs created in FL Studio. And it also optimizes compatibility between the PC's audio card and digital cloud streaming platforms.
Is ASIO4ALL a virus?
No, it is not. ASIO4ALL.exe is the executable file of this driver and it is a vital component for it to work properly when managing the sounds produced by the computer.
Also see: How To Use Maschine As a MIDI Controller In FL Studio 20
Resources
Finally, I suggest you consult the ASIO online manuals for more information.