Looplabs is one of the most popular online DAWs among music enthusiasts and professionals. It allows you to create your own high-quality tracks and songs easily.
But in recent times, many of its users have experienced problems with the service, which have caused confusion and led to the question: "What happened to Looplabs?, Does it really work?"
Well, you can finally rest easy, because we are here to give you the definitive answer to the question: Has Looplabs closed down?
In this article, I will explain in detail the reasons why it is malfunctioning, the best alternatives to it, and what to do if you have been affected by the current situation.
We will also analyze what the company is doing to find a solution.
So I invite you to read on to find out the truth about what is happening with this program.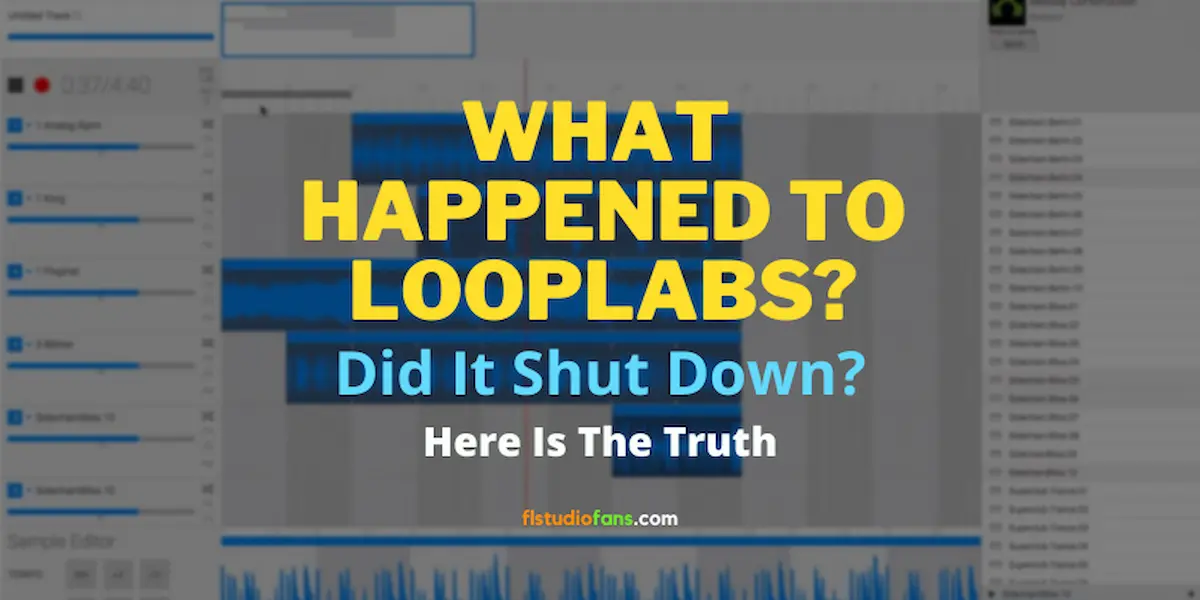 Table of Contents
What happened to Looplabs? – Is It Still Working?
You may have at some point read or heard rumors about "Looplabs shutdown" in online communities.
But these at certain times the comments are contradictory, confusing and do not offer any convincing answers.
And actually, the DAW is currently experiencing some stability and performance issues.
Many users have reported that they are unable to access the platform or use its online tools.
Associated with this, they are also reporting problems loading and saving their music projects.
It is practically impossible to interact with its interface and menu. It is also impossible to login or try to register.
When you click on any of their elements, you get no response, and it gives the impression that it is frozen.
So I decided to explore deeper and took a look at the source code of the website and discovered that they have changed all the functions for a simple background image.
So, this has generated a lot of discomfort among its most loyal users, who have been using the platform for many years to produce music on a daily basis.
Why is Looplabs not working?
To be honest, the reasons for the current malfunction of the platform are not entirely clear, and the company has not even bothered to give an explanation to its users.
The only information we have from them is the following comment, which was made on August 20, 2020, on their Facebook fan page:
"We strongly suggest if you have not downloaded your music from the platform, you do so by the end of the month."

Looplabs

As you can see, the answer from them is very simple. It leaves much to be desired and generates more doubts than answers.
To this day, we can only speculate about the real reasons behind the termination of their functions.
Although, it is not difficult to offer arguments that explain what actually happened.
Reasons for the closure of Looplabs:
As many of you know, Looplabs is a non-profit music production station that in order to keep it operational every month has to pay large sums of money in servers and technical support.
In addition to this, the COVID-19 pandemic has had a negative impact on the economy worldwide.
Financial problems: Inability to generate sufficient revenue to sustain itself and pay its staff. This is further exacerbated by the recent pandemic and the increasing demand for use by users.
Lack of interest: Poor commitment to continue implementing new features and possible low user interest.
Legal issues: Possible legal trouble due to the misuse of copyrighted material, which could have generated legal and financial difficulties.
As a result, Looplabs has been seriously affected and has had trouble generating enough revenue to maintain its operations.
Did Looplabs shut down? – The definitive answer
It's no secret to anyone that since its launch in 2015, the software has been having recurring glitches when it comes to making music.
But we producers have always seen this as something normal, and most of us were already used to it and knew how to deal with these inconveniences.
However, what is happening right now is unprecedented.
At this moment, we do not know for sure if Looplabs stopped working permanently, as they never issued an official statement to explain the situation and apologize to their thousands of users.
Apparently, despite the best intentions of their team, they are having a hard time finding a way to keep the DAW afloat.
So, is Looplabs gone forever?
Personally, I think not, and here's why:
I think they will be back in business at some point, as still their social media profiles and website domain have been operational for several years, even though the program is no longer running.
I don't think they left them running (and paying operating expenses) just for the heck of it.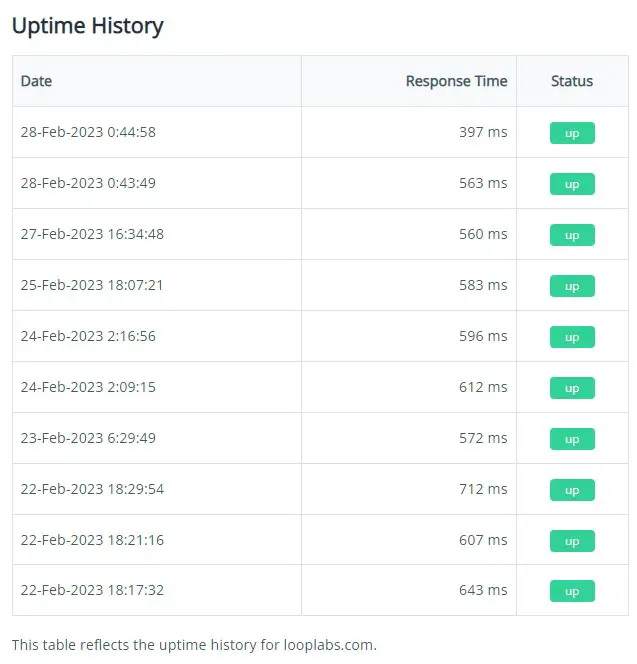 It is possible that they are taking a time-out to regain strength and raise more financial resources, and then have a fresh start and provide the best possible service.
How does the disruption of Looplabs affect users?
The worst thing that can happen to you as a user of this DAW is that you cannot sign in and access your projects, tracks, loops, or songs that you have previously created.
And this is precisely what has happened to many, causing them to not be able to save their files before the deadline (end of August 2020).
This has provoked the anger and frustration of thousands of people around the world, as they have lost several years of work for no apparent reason.
Undoubtedly, this will cause great distrust among their followers and will be a potential loss of customers if they become operational again in the near future.
What to do if you have been impacted by the closure of Looplabs?
Download your projects: If you were unable to download your projects or files before the operation deadline, I suggest you contact the company's support, and hopefully you will be able to recover your audio files.
Find an alternative DAW: Nowadays, there are music production software similar to Looplabs. So it is a good opportunity to find a better and more reliable platform.
Store and share your projects: Is to protect your files, it is an essential security measure to prevent the loss of valuable information. I recommend you to always make backup copies of your projects in some physical storage unit or in the cloud, if possible.
Best alternatives to Looplabs
Here are some online music production platforms with features and functions very similar to Looplabs. These will be very useful to create your own songs without spending a lot of money.
Among the most popular alternatives we can find:
BandLab: It is a music production software that works online. It is equipped with powerful features and tools, which are useful for both beginners and more experienced users.
Soundation: It is famous because it allows you to collaborate and share your songs with other users in real time, which helps a lot to improve your skills and workflow as a producer. To use it, all you need is a PC with internet access.
Soundtrap: This online software has an easy-to-use interface and a wide variety of virtual instruments, which makes it an excellent tool for creating all kinds of sounds.
Audiotool: It is a production program that works from the cloud and is completely free. It comes equipped with audio editing tools and synthesizers that will help you generate music in just a few steps.
Conclusions – When will Looplabs work again?
To this day, the software is still experiencing technical difficulties that are causing it to remain inactive.
Users continue to have difficulties accessing the website, which has prevented them from working on their projects or downloading their files.
For the time being, the company has not provided any answers to justify the abrupt cessation of the operation of their tool. This attitude on their part is awful.
Nor has it given any clues as to an estimated recovery time or if it will be operational again in the future.
But despite this, I'm convinced that sooner or later Looplabs will be back up and running, it's just a matter of time.
Until that happens, I recommend you take a look at other alternative music production stations, which have similar features to Looplabs and that way you don't get stuck.
FAQs about Looplabs
Is Looplabs no longer available?
Actually, the website is still active, but the DAW itself and its functions are not. You can only see its interface, but it is not working.
Why Looplabs studio won't load?, Why can't I access it?
It was very common not to be able to access due to problems with server saturation, technical failures or maintenance problems, but at the moment they are not operating for reasons not yet known.
How can I solve Looplabs problems?
The most commonly used methods to resolve the issues are to clear your browser's cache and cookies, use a different browser or device, or contact the support team for assistance.
Can I still access my projects, tracks, and songs stored in Looplabs?
No. At this time, most users are unable to use their saved projects due to the software's discontinuation. The most viable solution is to try to contact support and ask them to help you download your files.
Can I use Looplabs on my mobile device?
No, Looplabs is not available for mobile devices (such as iOS and Android), as it was designed for PC only.
Do I need to download any software to use Looplabs?
No, it is an online tool that does not require the download of any software. The only thing you need is a computer with internet access.
Is it safe to use Looplabs?
Yes, Looplabs is a very secure website. However, as with any online tool, it is important to use strong passwords and be careful with the sensitive personal information you share.
Is Looplabs gone forever?
It is not known exactly if it is gone for good, as no official information was ever issued stating the closure.
Can I still use Looplabs to create and share music? / Does it still work?
Not at the moment. Its site is currently inactive, and the reasons are unknown.
When will Looplabs be back up and running?
It is unclear when Looplabs will be back up and running. And to date, it has been down for more than 2 years.
Is it really free to use Looplabs?
Yes, the tool is completely free to use and there are no hidden charges.
Do I need any special equipment to use Looplabs?
No. To use this DAW, all you need is a computer with internet access.
Can I use Looplabs to create any kind of music?
Of course, you can, it has a large library of loops and samples that are great for a variety of music genres.
How can I start using Looplabs?
To get started, just sign up for a free account on its website, and then you'll have access to all the features.
Do I need to download any software to use Looplabs?
No, It is a web-based platform which does not need any external software to work.
Sources