Sometimes it is common to see FL Studio run out of memory when working with large projects on computers with limited processing resources. That's why I'm going to show you how to allocate more RAM memory to FL Studio.
The easiest way to allocate more RAM and avoid running out of memory in FL Studio is to take some of the storage space on the hard disk and convert it into virtual memory, which will serve to increase the smoothness and performance of the DAW.
Increasing the capacity will prevent you from running out of memory and will help FL Studio run smoother and faster and therefore have a more enjoyable user experience for creating higher quality beats.
See also: 10 Famous Songs Were Made On FL Studio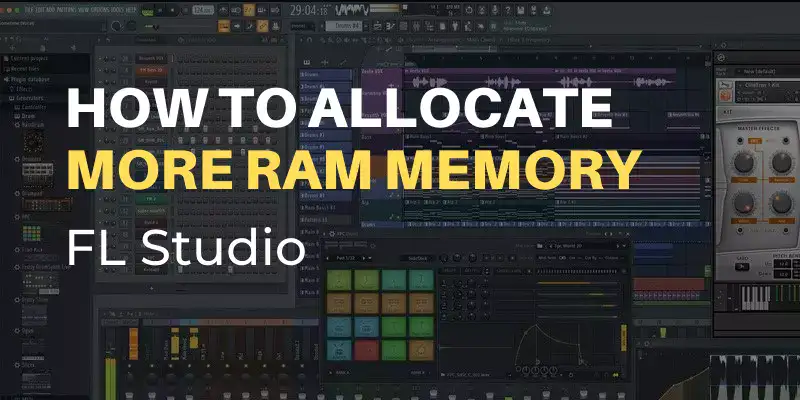 Table of Contents
Why Increase the Ram and Reduce the Memory Usage In FL Studio?
RAM is a vital component of any modern device and is used to store data temporarily so that it can be used by the CPU quickly and effectively, that's why is necessary to have enough capacity to avoid getting out of memory.
So, when memory usage is high by the DAW or simply insufficient we can experience lag or slow performance of the PC.
This kind of RAM related issues makes that the final result of our project does not come out according to what we want and that it is of low quality. For example, you may run out of memory when exporting a project.
Today I will show you an easy and simple way to upgrade the memory of your PC without having to buy a new one. You won't have to pay a technician or take it to a hardware store, you can do it yourself, find out how!
How Do I Allocate More RAM Memory To FL Studio?
In my experience in the music industry, it is very common to see many producers trying to create their beats on low to mid-range computers with very limited processing resources.
A large number of them have it installed on somewhat obsolete laptops, whose performance leaves much to be desired to ensure optimal and fast production.
Therefore, in order to be able to use the program efficiently, our computer has to meet, at least, the basic requirements.
FL Studio 20 only needs 4 gigabytes of RAM, 4 gigabytes of free hard disk storage, and an Intel Core i3 CPU or higher.
Then, due to the age of these computers, it becomes very difficult to upgrade their hardware with new parts.
For these reasons I am going to show you some tips and tricks to give more RAM to FL Studio and make it run faster on your PC.
The following procedure will help you to extend memory and can be applied on any computer running Windows, from XP to Windows 11.
See also: How To Install And Add Izotope Vinyl In FL Studio 20 (Step By Step)
Steps to Increase Ram and Avoid Running Out Of Memory
Extending your computer's memory is no problem and it doesn't matter what type of Windows you are using. I have personally used this method for many years to always get the best performance possible and the results are incredible.
This process only involves manipulating your computer's hard drive so that some space on it can be converted into virtual memory.
This way, it will be able to perform all the functions that the hardware does and this will allow the computer to have more capacity to load FL Studio faster.
Once the steps are finished you will be able to run any program more smoothly.
Note: I strongly recommend that you make a backup copy of the system to ensure the integrity of the data in case of any problem.
Anyway, I remind you that this procedure is totally safe. Just try to follow the step-by-step guide. Let's get started!
How To Increase The Virtual Memory:
The first thing you are going to do is go to your Computer, right click on a blank space and select the "Properties" option.
Once there, look at the left menu at the top and click on "Advanced System Settings".
This option will open another window, there click on "Advanced Options". Locate the "Performance" tab and click the "Settings" button.
Another box will open in which you must select "Advanced Options", there you will see the option "Virtual Memory", so press "Change".
This will open another window, in which you must remove the check arrow from the "Automatically Manage Paging File Size for all Drives" option and it will allow you to modify the capacity of your drives.
On your document drive set an initial size of 3000 MB and a maximum size of 3000 MB or higher, then click "OK" and then "Set".
Then you must restart your computer to save the changes.
You can check that you managed to expand the storage correctly in the "Performance Options" window and in the virtual memory description you will notice that the capacity has increased.
Now you will be able to use FL Studio without any problem and start making amazing productions with more dedicated RAM.
See also: Top 13 Chromebook Alternatives To FL Studio 20
Is FL Studio Out Of Memory? Tips To Reduce RAM Memory Usage
With these simple advices, you will be able to better manage how the programs running on your computer consume resources.
In other words, your computer's overall performance will improve even more and FL Studio's interface will run smoother and faster.
How do I lower my memory usage in FL Studio? Just follow these easy tricks.
A) Disable unnecessary services
This is one of the most effective methods to increase the speed of your computer and at the same time free up more RAM space used by other applications.
This procedure consists of disabling unnecessary Windows services executed when the operating system starts up.
The first thing to do is to press the Windows key + R shortcut and a small command prompt window will appear. Now type the command "msconfig" and press accept.
See also: FL Studio: Make Unique Like A Pro (Step-by-Step Guide)
Then a System Configuration dialog box will open, where you should go to the Services tab. There you only have to disable the services you do not use.
Finally, apply and accept the changes. Then restart the system for everything to take effect.
B) Disable applications at startup
This trick is similar to the one explained above and is performed in the System Configuration window through the command "msconfig".
Then go to the Windows Startup tab where you will see each of the programs that start when you turn on the PC. Go carefully disabling each one of them, apply the changes and restart the computer.
Note: In recent versions of Windows you can deactivate all the programs from the Task Manager.
C) Use only the necessary plugins
While you are using FL Studio, ideally only load the plugins you need for your project at that moment.
That is to say, the more plugins you run in the DAW, the more RAM it will consume. Do not open too many of them at the same time to avoid the interface from lagging or running slow if memory is not enough.
For this reason, I suggest you activate the Smart Disable For All Plugins option. I love this feature because when turned on it will close all plugins that are in the background, which increases the speed of Fruity Loops.
See also: Discover What Plugins Come With FL Studio Producer Edition
D) Close programs in the background
This is a very basic tip, which is based only on common sense and the correct use of the equipment.
When you are working with your music production software you have to close all the applications you don't use, such as social networks, browsers, games, media players, among others.
Just try to use FL Studio at that time and you will see that your computer will no longer run out of RAM, which is great.
Recommendations Before Buying RAM Sticks
Now I want to give you some suggestions based on my experience so that you can choose the most suitable RAM modules that are compatible with your PC.
One of the most important steps is to check if the motherboard supports the modules you want to buy. This is a typical mistake that many people make when buying without consulting.
-Capacity: Normally with 4GB of memory you will be fine. However, what I recommend is to buy 8GB, since every day DAWs, plugins, and operating systems consume more resources. So be prepared for the future.
Avoid wasting your money and make smart purchases!
-Frequencies: Always try to choose RAM modules with the highest frequency possible, as long as it is supported by the motherboard.
-Latencies: Choosing RAM with the lowest latency is the best thing you can do. It is the most important and determining factor in the speed of your device.
-Enable Dual Channel: This is a technology that helps increase the data transfer rate to the processor, which speeds up the productivity of the PC.
This is achieved by using two memory sticks of the same model, frequency, and latencies.
-Consult the manufacturer: Ideally, check the QVL (Qualify Vendor List) of the motherboard manufacturer to make sure the modules are compatible.
Also use specialized tools such as CPU Z, Aida64, or HWiNFO to further investigate what your device supports.
See also: FL Studio vs Reaper - Comprehensive Guide
F.A.Q.
Do plugins use RAM?
Yes, of course. Each of the plugins used in your DAW for music production uses your computer's memory, that is why you should avoid using too many plugins.
How much RAM does FL Studio use?
Usually, the RAM used by FL Studio is determined by how big the project you are working on and the plugins used. It is best to have at least 4GB available.
Is 4GB RAM enough for FL Studio?
The short answer is yes. If you are working on tracks that are not very complex then 4GB is usually more than enough and you will be able to do any music creation without hardware limitations.
Does more RAM help FL Studio?
Yes, it does. If you use memory modules with a higher capacity than 4GB, low latencies, and higher frequencies you will get more speed and fluidity when using FL Studio.
Does RAM speed matter for music production?
It definitely does. The higher the RAM frequency, the faster the processing speed. However, the most determining factor in speed is latency. In other words, if the modules have low latencies you will be more productive in music creation.
Is RAM or CPU more important for music production?
Both elements are very important in the music industry. However, most music production software are dependent on the processing power of the CPU. This means that the processor is the most important component of the device you use.
See also: How To Install reFX Nexus On FL Studio 20