In the music industry, FL Studio is one of the most valued DAWs used by renowned DJs and music producers, since it is possible to create good music.
Moreover, in this post, I will show you what type of music is FL Studio good for. This way you will know in which types of scenarios this software will be useful for you.
See also: 52 Famous Music Producers That Use FL Studio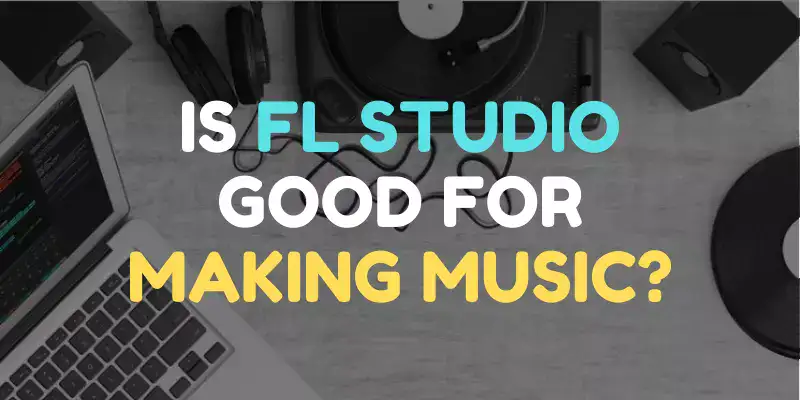 Table of Contents
Is FL Studio Good For Music Production?
The short answer is yes. This DAW is quite good for making quality music, as it has the best tools for composing, recording, editing and mastering music tracks, regardless of genre.
It has different musical effects and plugins to polish your recordings.
In addition, you not only have the possibility of making digital audio, it is also possible to record, edit and export MIDI files, where you can play various musical instruments integrated into the program.
Other strong points are:
File formats: With this DAW you can import and export MP3, WAV, FLAC and OGG audio, in stereo and mono, in no time.
Complete interface: In its options panel, you get different boxes both on the right and left, they have all the tools for audio creation.
Effects and instruments: The program integrates a big list of native instruments and musical effects that will raise the quality of your creations. It is VST compatible so you can install third-party plugins.
Plugin collection: It integrates a wide selection of plugins of various types, to create the sound you want and process them as you prefer.
Audio samples: It consists of an extensive collection of samples that you can use with DirectWave. It has presets and audio loops that will fine-tune your musical creations.
Performance mode: Focused on creating live performances, it allows you to play tracks in the playlist with a touch screen or MIDI.
Piano Roll: This is the program's integrated keyboard, designed to insert musical notes wherever you like.
Constant free updates: All versions are updated frequently, free of charge. This way, you will enjoy all the new features of the program.
See also: Discover What Famous Songs Were Made On FL Studio
What kind of music can you produce using FL Studio?
Fruity Loops is one of the best known DAWs in the music production industry for its excellent digital tools that allow you to achieve clear and professional audio.
Its different functions are ideal for creating any genre of music you want. What type of music is FL Studio good for:
1. Electronic Dance Music (EDM)
This workstation is the best choice for this genre of music, as it has patterns or sequencers that shape the song.
Also, at the top you have tools to control the rhythms and speed of the audio, I recommend that you check the top bar when creating electronic audio.
2. Reggaeton
If you want a good Dembow, I recommend FL Studio without hesitation. The reason is that the program has the necessary patterns to create a good rhythm, using its kick, hit hat, or snare.
Thanks to these, you will achieve an energetic, sexy, and original audio.
See also: 13 Best Open Source DAWs Free Alternatives To FL Studio
3. Rap
If you are a fan of this genre, you need FL Studio. In the program, you get different sound effects and samples that you can insert into your audio.
In addition, it has the Edison editor, the channel mixer, and the ability to adjust tempos, which I suggest you master.
4. Trap
Thanks to its basic patterns, kick, presets, native plugins, and snare you can make amazing trap beats.
I recommend you to explore its melodies in-depth and use its tempo to make the result more solid.
5. Hip hop
If you want to create a good Hip Hop track, I recommend you to use FL Studio's kicks and snares.
Also, you can use its different sounds, percussion, bass, echoes, and native plugins or simply add external ones.
See also: Discover What Plugins Come With FL Studio Producer Edition
6. Tech house
Those of you who are a professional in this genre need FL Studio. This is because the program has a vast library of electronic sounds, kicks, bass, sequencers, and effects for the production of Tech house audio.
7. Dubpste
Well, if you like this subgenre of electronic music, I recommend you to use the advanced tools of this DAW.
It has a wide collection of dubstep kicks and snares, cymbals, vocals, percussions, equalizers, samples, effects, and sub-basses that will give an original touch to your audio.
8. Pop
No matter what kind of Pop music you produce, FL Studio is your perfect ally. In its comfortable options bar, you will find instruments such as violins, pianos, and guitars, kicks, drops, hi-hats, cymbals, claps, and percussion.
See also: How To MERGE Audio Clips In FL Studio 20
9. Rock
FL Studio's step sequencer is recommended if you like heavy sounds. There, you will be able to play kick drums, snare drums, cymbal clips, drum clips, and distortion guitars, ideal for a rock base.
It also has a large music library, so you can choose the sound you prefer.
Why use FL Studio for your music compositions?
Undoubtedly, FL Studio is a good DAW to make your music arrangements, as it is powerful and comes equipped with all the necessary tools to produce good music.
See also: 15 Reasons Why FL Studio Is The Best DAW For Music Production
If you are still having trouble making up your mind, I recommend you to read the following reasons why you should use it:
It is ideal for new musicians, as it consists of simple and innovative design, which you can use without any experience. The interface will guide you during the process.
It is a software that stands out for its sequencing functions.
The application promotes musical learning with simple tutorials that you can get online.
It is updated frequently and free of charge.
It is the DAW of choice for professional composers such as Avicii, Martin Garrix, Afrojack, among others.
F.A.Q.
Is FL Studio a free DAW?
No, it is not. This music production software is a paid program. Although it should be noted that it has a trial version in which you can do many interesting things.
In addition, FL Studio is considered by many to be worthwhile and has an affordable price because of the great number of tools it offers.
Can you use FL Studio to make music?
Yes, sure. This DAW is designed to produce any kind of music in high quality. This program is on par with famous software like Pro Tools, Reaper, or Ableton Live. Indeed, Fruity Loops is a great software for both experts and beginners.
See also: How To Allocate More RAM Memory To FL Studio 20 (Easy Guide)