There are many reasons why FL Studio is the best music production software on the market. Thanks to it we can produce, mix and master amazing and high-quality songs.
FL Studio is the best DAW for producing music because stands out for its ease of recording, editing, sampling, and adding VSTs to your music projects. Because of this, it is the most popular and widely used DAW by professional musicians, especially in the hip-hop and electronic music industries.
And in this post, I'm going to tell you in more detail some of the reasons why I consider this software is the king among all the DAWs.
See also: 13 Best Open Source DAWs - FREE Alternatives To FL Studio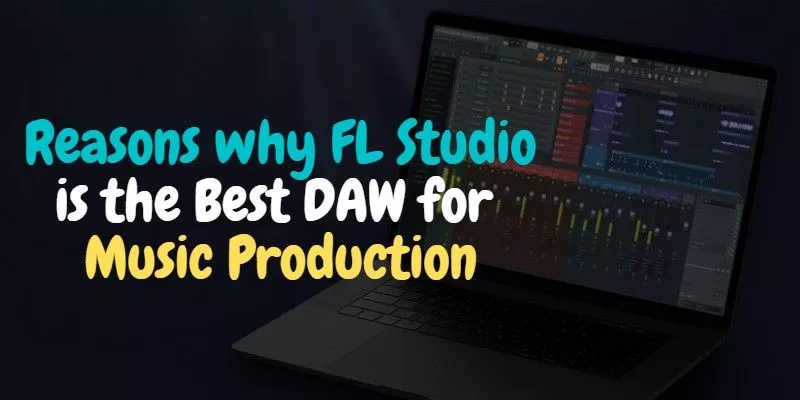 Table of Contents
Why Is FL Studio The Best DAW For Music Production?
I would like to emphasize that this is an efficient Digital Audio Workstation for producing high-quality loops, beats, and patterns.
It comes with a wide variety of high-quality stock plugins and musical instruments, ideal for working with any kind of music style.
For these reasons it is preferred by renowned professionals in the music industry, it is ready the best DAW of all as it excels in ease of use and versatility.
See also: FL Studio vs Reaper - Comprehensive Guide
In addition, over time it improves its functions with constant updates, free and for life, which will allow you to create the best music tracks in a short time.
That's why I suggest you use FL Studio 20, the DAW that stands out above the rest.
1) Easy To Use Interface
This is one of the most outstanding aspects of FL Studio, as its interface is very aesthetic, elegant, and illustrative. In other words, it is very user-friendly.
Besides, its interface has additional features for adjusting tones, time-stretching, correction, cutting, and pasting of the created sounds.
It is designed with a convenient toolbar, whose options are very visual and will help you optimize your work.
You can open any number of plugins simultaneously, which is not possible with other competing DAWs.
A- Excellent Workflow
The application has a unique and flexible workflow that will allow you to work much more at ease.
If you are a beginner, the learning curve in the early days can be a little slow, but after you get familiar with Fruity Loops your progress will be unstoppable.
It offers great comfort due to the infinity of options and features it has. As simple as they may seem, they help a lot and everything it offers adds up.
This DAW allows you to add and edit sounds easily, and thanks to its excellent organization and ease of use, the work flows faster.
Another interesting feature is that it integrates the "Don't distract me" mode so that you can work quietly and with the greatest possible concentration, by limiting the number of distracting elements on the screen.
B- Attractive Design
The appearance of the program has been considerably improved compared to its previous version, FL Studio 12. Simply put, FL Studio 20 has a much more modern approach.
This software offers a lot of visual information that helps you understand how you are creating the sounds. In general, it has a good design, colors, and animations.
On the other hand, its interface has a section called Animations, designed for you to place visual effects of your liking that move to the rhythm of the music you are creating.
See also: FL Studio vs Ableton Live (Which Is The Best Option?)
Its icons, visual effects, and controls (knobs, sliders, and buttons) have been renewed. In other words, they are slightly larger, more pleasing to the eye, and present a different perspective, with vivid tones.
Thanks to these changes, the software can be used on computers with large monitors and high resolutions without losing graphic quality.
While using the plugins it is possible to display them all in separate windows using the "Detach all plugins" option.
C- Resizable Windows
This feature of this music production software is very useful and interesting. Any interface, be it a plugin or a tool, can be resized and adapted to the size that best suits your working style.
This is really cool because it allows you to adapt any window you have open in the DAW according to the size in inches of your computer screen.
It is one of the most practical and useful features. That's why I love it since you can resize almost anything.
D- Intuitive Menu
The "Channels" option no longer appears in the program menu, in order to achieve a better integration in the sequencer. On the other hand, the Add menu and the Patterns box have been added.
Also, in the Add menu, located at the top left, you get access to the "Color Selected" function, where you can change the display color of your music tracks in seconds, as many times as you want.
The Mixer also includes the "Auto Color Group" option, which allows you to color a group of tracks instantly. In the "Browser" you can also adjust the shades.
Apart from this, the menu of the Step sequencer, a program that plays music tracks sequentially, has been redesigned.
It has new display parameters, is more direct, and interacts quickly when switching from the Step Sequencer to the Piano Roll.
See also: Soundgoodizer vs Sausage Fattener (Which One Is The Best?)
2) Keyboard Shortcuts
It has a large number of commands that allow you to use Fruity Loops or any plugin with keyboard shortcuts predefined by the software.
Something that other programs used for creating music lack.
It is without a doubt a well-appreciated feature and makes almost any hotkey integrate in a natural way to any plugin, no matter if it is created by third parties.
3) Powerful Mixer
The Mixer is nothing more than a tool that allows you to make modifications to tracks, insert a wide variety of effects, clip them, level them, and mix different sounds at the same time.
Fruity Loops Mixer is considered one of the best and most complete on the market.
It has an excellent view in the main window and has the capability to contain up to 125 channels, allowing us to work with very huge projects.
Aesthetic cables appear there, representing the connections to route your tracks with the Mixer.
It also has "Multitouch" functions and separators, which you can configure as you prefer.
4) Adaptable To Any Musical Genre
This is useful for working with a wide variety of music genres and is the perfect DAW to get into the world of music, in my opinion.
Its powerful platform has the proper tools and plugins for creating different beats. Some of these are:
EDM
Rap
Trap
Pop
Rock
Hip hop
Electronic
Instrumental
Reggeaton
Dubstep
Tech house
Jazz
Cumbia
Conga
5) A Multitude Of Built-In Plugins
FL Studio hosts a comprehensive range of plugins for creating, editing, and processing sounds. This makes it an even more interesting tool for working on professional projects.
More than 80 plugins and instruments are natively included and consist of effects for sampling, synthesizing, distorting, and compressing tracks.
Also, the plugins of this DAW come in stylish designs and can be loaded quickly when running them.
See also: How To Use The Edison VST And Best Alternatives To It
Furthermore, Fruity Loops has a lot of built-in tools and you will hardly need to purchase third-party plugins to get high-quality results.
Perhaps the only one you may require is Voxengo's SPAN, which is quite useful for mixing and mastering.
Overall, you don't need to invest in plugins.
In order to run your stock plugins and instruments, they need to be loaded into its innovative Channel Rack.
Features And Tools
VST Plugins
Equalizers
Compressors
Reverbs
Delays
Distorters
Flangers
Chorus
3X OSC
Synthesizers
Hamlees
Sytrus
Vocoder
Soundgoodizer
Autotune
Newton
Deesser
Melodyne
Sidechain
Piano Roll
Virtual instruments, effects, and drum samples
In addition, Fruity Loops also includes some musical instruments and a large library of sound effects suitable for various musical rhythms.
A) Instruments
Acoustic and electric guitars
Violins
Cellos
Acoustic basses
Pianos
B) Samples
Kits
Snares
Hi-hats for different musical styles
6) Natural Sound
This DAW sounds natural and offers very original sounds. At the same time, these sounds feel fresh, as if they were being played with a physical musical instrument and not a virtual one.
I mention this because some music production software when it comes to playing any audio sounds a bit weird or robotic.
The software can maintain the original quality of your samples and make them sound nice.
See also: How To MERGE Audio Clips In FL Studio 20 (EASY GUIDE)
I also want to mention the Ghost Notes plugin that will help you to automatically correct the wrong notes you play on the keyboard, according to the musical scale you previously chose.
It is a functionality much appreciated by users, mainly by beginners. Ghost Notes will help you place the right note if you go out of the scale and prevents the creation of false notes.
This feature will help you save a lot of time in editing, as you won't have to keep fixing mistakes.
7) Includes a Piano Roll
It is a keyboard integrated into the program that is used to add musical notes to the tracks. This tool has a simple design, very friendly, with sequencing tools, chord creators, and quantizers.
It also has a tab with MIDI notes and a section to adjust tones, automation data, velocity, and panning of the notes.
It is considered one of the most used and powerful Piano Rolls in the music world.
It is easy to use and as it is intuitive will help you to create sounds, even if you are not skilled in music theory.
8) The Fruity Patcher
The Patcher is one of my favorite and most recommended features of Fruity Loops. It allows you to create customized and automated plugins for a specific task.
Another interesting aspect is that we can chain instruments and effects together. So we can add an infinite number of sounds to a certain channel or slot of our musical project.
Some of the examples we can do with it are the creation of mastering chains or mixing chains. It can also be used to make your own kits, snares, leads, loops, plugs, among others.
9) Great Compatibility
FL Studio is compatible practically with all known audio formats. It is also perfect for exporting tracks to MP3, WAV, MIDI, and OGG formats.
In addition, the DAW includes support for recording sounds via sources and other external devices.
In my experience, one of the things I like the most is that it has the possibility of being compatible with 32-bit and 64-bit plugins.
So, it is functional with most of the plugins in the market developed by third parties, which increases the chances of creating unique rhythms and sounds.
It is also compatible with drivers such as ASIO and WDM.
10) Huge Community
Fortunately, due to its tremendous popularity and extension among music producers, Image-Line has acquired a large number of users followers of its music production software.
For these reasons we can access many online tutorials, very informative and of excellent quality.
In addition to this, Image-Line has a forum that is visited by millions of people annually due to the immense amount of guides, troubleshooting, and information it contains.
See also: How To Install reFX NEXUS In FL Studio 20
The community is quite solid and willing to collaborate, providing support in case you need help.
And as if that wasn't enough, it also has an online user manual where it explains in-depth every single function of the DAW. It has saved me on some occasions, so I highly recommend you to visit it.
11) Free Courses
Definitely, this is one of the best advantages of FL Studio. Because it is used by skilled and important people in the music world, it is easy to find useful guides.
These tutorials are very practical and are so well explained that they are often better quality than a paid course or a book that tries to teach you how to use the DAW.
So there is no need to spend extra money on this kind of training and I encourage you to search on the internet for the information you need at that moment, or just watch some instructional video on Youtube.
12) Multiplatform Accessibility
Something that is impressive about FL Studio is that it has a wide multi-platform support, being native for Windows, macOS, and mobile devices.
Unlike others that are stuck on one platform, as is the case of Logic Pro X.
Although it is important to note that it can also be installed on Linux and Chromebooks.
See also: 13 Best Chromebook Alternatives To FL Studio
If this is of interest to you, I invite you to watch our tutorials, in the links below, where I show you how to achieve this in simple steps.
Download the latest version FL Studio 20:
For PC
For Mobile
Moreover, in order to bring you the best, the DAW integrates the Enable Image-Line Remote feature.
I like this feature as it has the ability to link and sync the program installed on your PC with your smartphone or tablet.
This way you can use these devices as a MIDI piano or remote controller over a Wifi network.
13) Browser Renewed
The tools of this program are distributed by sections. For example, in the "All" section you can find everything in the DAW, clearly identified.
In the "Current Project" section are all your music projects and those still in production.
Plugin "Database" contains all the plugins, effects, and music generators available, which is an attractive option.
14) Reasonable Price
One of the main advantages of purchasing the FL Studio license is that it gives you access to unlimited upgrades for any version, free of charge and for life.
However, you only have to make a one-time payment to get lifetime access to the software and future updates.
In contrast to many of its competitors, you have to constantly renew licenses or pay monthly or annual fees.
For the tools it offers, the price is great and very affordable. No matter if you are a person with a modest budget or you are a professional producer who always wants the most premium.
Fruity Edition: 99.00 USD
Producer Edition: 199.00 USD
Signature Bundle: 299.00 USD
All Plugins Edition: 499.00 USD
15) Good Performance
Despite the complexity of the DAW, it can be run on computers with modest or middle-end resources without any problem.
FL Studio is very customizable and allows you to improve the processing power of not-so-powerful CPUs through a series of advanced functionalities.
Through these, you can improve the overload intensity of the computer. This means that you don't need to spend thousands of dollars on a supercomputer to make decent music.
I suggest you check the basic system requirements for your computer:
See also: How To Use Maschine As MIDI Controller In FL Studio 20
F.A.Q.
What is the best DAW for music production?
FL Studio is undoubtedly the best DAW for music production. This software is equipped with a large number of tools, plugins, and instruments of the highest quality, which will allow you to create all kinds of musical beats.
Is FL Studio the most popular DAW?
The short answer is yes. This DAW is the most popular software among music producers because it is reasonably priced, easy to use even for beginners, offers a large collection of plugins, and a very good quality sound library.
Is FL Studio the easiest DAW?
The short answer is no. FL Studio is not the easiest DAW to use, there are better alternatives in this aspect. However, due to its excellent workflow, you will feel comfortable quickly and in a short period of time, you will be producing your beats.
Which DAW has the best sound quality?
FL Studio has the best sound quality. The library of this DAW is considered one of the best on the market because its audio sounds very natural and clear. Unlike some of its competitors that sound somewhat robotic.
Is FL Studio a professional DAW?
Definitely yes. It is one of the most complete and professional programs in the music industry. That's why this powerful DAW is used by many professional producers.