Fruity Loops is one of the most powerful music production software used by expert beatmakers to create beats and rhythms of various genres.
FL Studio is undoubtedly a good DAW for making beats, being considered by many music production professionals as the best software for making beats in the market due to a large number of tools and features it comes equipped with.
This DAW includes a lot of very useful native effects, tools, and plugins, great for turning your ideas into awesome beats.
See also: 15 reasons why FL Studio is the best DAW for music production
In this article, I will talk about some of the reasons why I consider it to be very good for producing beats. In addition, at the end of this post, I will show you how to make one.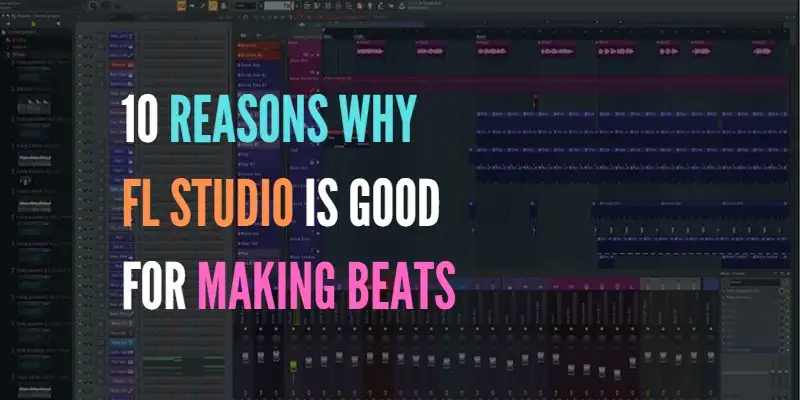 Table of Contents
Why Is Fl Studio the Best Music Production Software for Making Beats?
The program has an intuitive, pattern-based design and comes equipped with interesting native tools.
Among these are its powerful sequencer, mixer, sound effects, and the stock plugins that make it easy to produce original beats.
If you want to create impressive beats in just a few minutes, I suggest you analyze these 10 reasons that show FL Studio is the best DAW for making beats.
1) User-Friendly Interface
FL Studio has an intuitive interface that makes it simple to use when producing beats. You will also find an extensive sound library and tools that are well organized and easy to operate.
Because of this, you will have at hand everything you need for the composition of your beats without having to scroll much between the options of its menus.
2) Ease Of Use
Despite the fact that the application has advanced features, it is an easy program to learn how to use, which is an aspect that differentiates it from other DAWs.
It organizes all the utilities in very visible folders and sections that you can explore in-depth and try out little by little.
It also has multiple keyboard shortcuts, that if you master them you can work much more comfortably and increase your speed when you are creating your tracks.
3) Plugin Compatibility
This DAW supports 64-bit and 32-bit plugins, which can be in VST 1/2, VST3, and Audio Units (AU) formats.
So, if you are interested in a nice plugin, Fruity Loops offers wide compatibility with software developed by other companies.
However, FL Studio comes with a good amount of built-in plugins, so spending money on other software is not so necessary.
Some stock plugins useful for making beats:
3xosc
Harmor
Fruity Delay 3
Harmless
Sytrus
Synthesizers
Fruity Parametric
Fruity Reverb 2
Fruity Soft Clipper
Gross beat
Patcher
If you want to make the best beats, I recommend you to explore each of the plugins included, you will surely find some that suit your needs.
4) The Fruity Patcher Plugin
The Patcher is a stock FL Studio plugin that allows the connection and routing of MIDI devices with other VST effects, in order to create layers of instruments and effect chains.
Thanks to it, you can design the basis for the beat and make arrangements as needed to produce unique sounds.
See also: How to use Maschine as a MIDI keyboard in FL Studio 20
5) Wide Range Of Features
FL Studio has high-quality tools useful for producers and recording engineers, such as Edison, which allows you to make professional arrangements for your audios.
Included with this DAW are more than 80 free plugins and virtual instruments, which are impressive.
In addition to this, it comes with an excellent library of effects, vocals, samples, drums, and loops.
It also allows you to record instruments using external devices such as MIDI controllers or microphones.
All your creations can be mixed and mastered with its free plugins. Or simply improve the quality of the tracks by means of its compressors (such as Soundgoodizer) and equalizers.
6) Extensive MIDI Keyboards Support
One of the strengths of this DAW is its huge support for MIDI controllers, which allows you to produce sounds from different external instruments connected to your PC.
Through a MIDI keyboard, you can route or link its controls to a VST and vice versa, so you can compose your own beats or rhythms.
I recommend you to see the article where I explain how to use and configure a MIDI controller in FL Studio 20 in a simple way.
7) Nice Learning Curve
The program is optimized for a non-linear workflow, which gives you the freedom to make your beats the way you want.
This is thanks to well-designed features such as the Channel Rack, the Sequencer, the Piano Roll, sound routers, and the excellent playlist that makes it easy to manage patterns.
So, unlike other DAWs that only support a linear workflow, FL Studio lets you generate multiple beats as separate patterns and arrange them in the playlist in the order you want.
8) Quick Management Of Automatable Clips
The automation present in FL Studio allows you to give life and dynamism to your beats.
Automation clips are managed in patterns, ideal for inserting or modifying them in your playlist.
See also: Soundgoodizer vs Sausage Fattener - Which is the best option?
Also, you have the possibility to link an automation clip with one or more VST settings while creating the beat.
9) Unbeatable Price
Image-Line offers 4 editions of this DAW with different features and according to the one you choose, it will depend on the number of instruments and plugins it comes with.
Compared to other DAWs from the competition, what it offers for the price is very interesting. Besides, its updates are lifetime and free of charge.
Its price is around 99 USD for the most basic version, and 499 USD for the premium one, which is equipped with a greater number of features.
Fruity Edition
Producer Edition
Signature Bundle
All Plugins Edition
Thanks to these, you can create all kinds of beats, export them in other audio formats or add instruments to improve the sound quality.
Even with the most basic version of FL, the Fruity Edition, you can start creating beats, since it has a large number of drum packs, kicks, vocals, snares, kits, hit hats, and melodies.
This is great, as they are perfect for making patterns without having to recur to external tools.
10) Built-in Gross Beat
This is one of the best features of FL Studio, as it allows you to control the timing and volume on the beat to adjust it drastically or slowly.
It can be used in the Mixer to process sounds with different effects related to timing, playback stops, glitches, and real-time repeats.
Many beatmakers don't appreciate how useful this VST can be. For this reason, it is considered an underrated plugin.
It can be found in the DAW plugin library and comes with a demo version.
You should try it so you will see how cool it is, and if you like it you can purchase the paid version which is sold separately from FL.
See also: Top 13 Chromebook alternatives to FL Studio 20
How To Make A Beat In FL Studio?
It is well known that FL Studio has many tools and functions that allow you to create beats in a short time.
It is a simple procedure, if you are in the process of creating one, I suggest you follow these steps:
1- Set up rhythm and tempo:
Choose the tempo depending on the musical genre you are going to create, which can be between 80 and 130 BPM.
The rhythm depends on your imagination and creativity, but you still have the drum machine to choose the one you want.
2- Insert the bass or drum sound:
You can create them from scratch or use elements from the DAW library. Both the bass and the drums add tonality to the rhythm, indicating the progression of the chords in the track.
See also: How to install and add Izotope Vinyl in FL Studio 20 (step by step)
3- Add a sample:
These can be guitar, bass, piano, synthesizer, or wind samples. You can use these, available in the program, or download them from the internet. You can add them one by one or together.
4- Song structure:
Create a song length pattern according to the exact number of bars, from 2 to 16, that are repeated in the song.
The most important part is the introduction, which should have 4 or 8 bars.
In the verses, there will be the instruments and finally, the chorus is the most moving part, since it joins all the verses, giving intensity to the audio.
Beatmakers – Related questions
Is it hard to make beats on FL Studio,?
Definitely not. With this music creation software, it is not difficult to start making beats quickly. In fact, its excellent features and plugins make it ideal for making beats. This is one of the most important reasons why music producers, artists, rappers, and DJs decide to use this workstation.
How long does it take to make a beat in FL Studio?
Making a beat in this software is very easy and it is common that the production time of a beat is usually around 20 minutes to an hour. It all depends on the user's skills and workflow with this DAW.