In this article, we're going to take a look at the Soundgoodizer. This powerful tool is based on the Maximus Soundprocess engine, which allows us to maximize-enhance the soundtracks.
In essence, the Soundgoodizer is a free VST plugin that works by enhancing audio tracks or vocals through the processes of compression and saturation, resulting in a more refined sound, with more body and quality.
I'm going to explain What is it actually doing? When should you use it?
Can you use it on the master? Can you use it on vocals?
Also see: Soundgoodizer vs Sausage Fattener - Which Is the Better Choice For You?
So if you'd like to know the best alternatives to it on the market as well, then keep on reading, as all this will be explained in this post.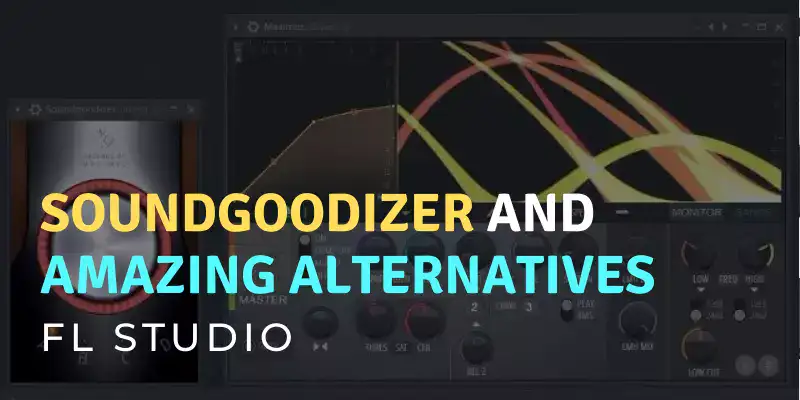 Table of Contents
How Does Soundgoodizer Work? What does soundgoodizer do?
We've all used this VST from time to time. This simple and mysterious plugin appears to make anything you use it on sound better, right?
But exactly How does it work?, and Why does it make everything sound so much better?
This all has to do with compression. There is nothing magical about this tool.
It really just does two things: compression and saturation.
It has just four settings and one intensity knob.
Also see: Get Some Amazing FREE Sample Packs For FL Studio
The intensity knob is a dry/wet knob. In other words, how much of the effect is being applied to the original signal.
Here's a simple illustration to show how this works:
Also see: Best VST Plugins For FL Studio (FREE)
Compression Process
The main reason why it makes everything sound "huge", is because it's compressing the sound. The compression actually is very simple.
It does exactly what its name suggests, it compresses the signal.
Also see: How To Get FL Studio 3 For Mobiles
When a compressor does this, it reduces the volume of the loudest elements, a makeup gain is then added to bring the overall volume back up.
Depending on the amount of compression, the dynamic range is decreased accordingly.
The difference between loud and quiet becomes less and less. 
This means that the quieter parts of the sound which was previously inaudible can now be heard loud and clear.
This will obviously make the sound much fuller. So, the compression is what makes the sound appear huge.
Saturation
The last component is saturation, which is basically just distortion. When distortion is added to a sound, it can make it sound crisper and clearer.
Then what happens when I apply distortion to a sound?
It sounds brighter, right?
Its four presets come from Maximus, which is FL Studio's flagship multiband compressor.
If you want to know exactly what this plugin does, then you can load the various presets in Maximus and study the settings.
This can also help you learn how to set up a compressor yourself. 
They all have slightly different settings in terms of attack, release, and so on.
Since Maximus is a multiband compressor, it can compress different parts of the frequency spectrum differently at the same time. 
This is the main reason why the four presets sound so different.
One control will make the highs stand out. Another will make the mids stand out, and so on.
They also have different saturation settings.
The dry/wet knob is the same as the main knob in the Soundgoodizer. It determines how much of the effect is being applied.
How To Use The Soundgoodizer
To use this tool is not necessary to download it, because it already comes integrated (as a stock plugin) with the Fruity Loops DAW.
Hopefully, you now have a better understanding of how it works.
I have noticed some people like to make fun of anyone who uses this plugin.
Obviously, they have no idea how this synthesizer actually works.
If this ever happens to you, you should just ask them if they ever compress their sounds.
They will no doubt answer yes.
Also see: FL Studio: 10 Best Stock Plugins Every Producer Must Use
In that case, you can now enlighten them and let them know that this VST is, for the most part, a compressor too.
A similar plugin would be the Sausage Fattener.
Last but not least, let's talk about when you should and should not use this synthesizer.
When You Should Use The Soundgoodizer
Should I use The Soundgoodizer?
Yes, you should use this synthesizer. It is a good option to take into consideration to optimize your tracks by improving the sound quality.
You can also make unique and interesting combinations using the knobs of this plugin and the results are quite good.
Compression is a widely used tool in modern dance music, but it is important to use it correctly.
You can compress almost any sound, but keep in mind that this plugin only has four different compression presets (A, B, C, D).
Therefore, one of the presets will usually work well for any given sound, but sometimes it will not.
If you use Maximus instead, you can tweak the settings to get a perfect result.
If you don't have it, or maybe you're just not a compression expert, then this tool can be a good alternative.
It can works very well on leads, bass, pads, guitars, and even vocals.
Just try it out!!! It sounds really good. 😉
When You Should Not Use The Soundgoodizer
Can I use it on the master channel?
The only place It's not recommended to use the Soundgoodizer is on the master channel.
When you put something on the master, you're essentially mastering your track, and you have to be very cautious about what you put there in order to avoid issues.
The four different settings are emphasizing very different parts of the frequency spectrum, so it will tend to make your mix unbalanced when used on the master.
Sometimes this can work though, but more often than not, the presets will not be the exact medicine that your master needs.
Also see: FL Studio vs Logic Pro X - Which Is The Best Option For You?
Best Alternatives To The Soundgoodizer Plugin
Now we bring you a comprehensive compilation of the best plugins like Soundgoodizer.
Each one has virtues in which they are exceptional and most of these are very easy to use, so it will be a very personal decision when choosing one.
This list contains both paid and free plugins.
We recommend you try the most interesting for you and in the end stay with the one that best suits your needs or with which you get along better or have a good workflow.
1. Sausage Fattener
It is one of the best compressors on the market, developed by Dada Life, being an equivalent rival of Soundgoodizer.
It stands out for its excellent saturation.
This synthesizer is easy to handle and even for beginners.
Because of this it is very popular and used by a large number of music producers.
2. OTT
It is a multiband compression plugin created by Xfer Records.
It is free to use and very popular among music producers, a great alternative to Fruity Loops software.
3. You Wa Shock
This VST / Winamp plugin is very easy to use but very powerful at the same time.
So it is considered an essential tool to brighten up and maximize any soundtrack.
4. OneKnob Series Plugins
It is a set of tools based on 8 plugins, which are appreciated for the great versatility they have.
Such as filter, reverb, distortion, compression, bass boost, treble boost, auto-sidechaining, and brick-wall limiting effects.
This bundle is priced at around 110 USD, although you can get a better deal by using a discount coupon.
5. TLS Maximizer
TLS Maximizer is a free-to-use software, so you can enjoy it without having to pay anything.
This VST plugin can be used as a maximizer or limiter, it is very easy to handle, even for beginners.
It is very powerful, but at the same time, it is very light, so its impact on the computer resources consumption is very low, being ideal for low-end devices.
Also see: How To Get FL Studio 20 For FREE On Windows
6. Pumper
Also known as OneKnob Pumper. It is an amazing audio plugin that allows us to use 3 modules (3 in 1) that serve to simulate a better sidechain compression.
You have to pay to use it, but fortunately, its price is very cheap, you can buy it for 40 USD on its official site.
7. Revival
This is a paid plugin developed by the company Slate Digital, but also contains certain features that are free to use.
Through its processing helps your beats to sound better, achieving more harmonic and natural audios.
Its power will depend on the plan you choose, which is composed of 3 bundles, a starter, an intermediate, and an advanced plan which offers a lot of powerful tools.
8. British Kolorizer
This plugin is characterized by increasing the saturation effect and taking your tracks to the next level.
It is very useful to give body and brightness to your music productions.
It is a paid plugin, whose price is around 150 USD.
However, you can get interesting discounts through coupons that are offered in stores for a limited time.
9. ComBear
ComBear is a very powerful dynamic and parallel compression VST plugin, ideal for enhancing vocals, drums, and other instruments.
This is totally free software and is a great alternative to Soundgoodizer.
This software has a comfortable and simple-to-use interface.
It is also compatible with Windows and Mac. Get it at any moment from W.A. Production, its official website.
10. Ableton Saturator
Here we are going to make an honorable mention with Ableton Saturator.
This is not a plugin per se but an internal feature of the Ableton Live DAW.
With this one, you can print more punch, warmth, saturation, among other interesting things to make your music projects sound better.
As we have mentioned before, this software is only available in Ableton Live so to use it you must use this DAW.
But if you are a lover of this you will feel more comfortable because it is integrated being for many music producers an essential tool.
11. Fab Filter Saturn 2
FF Saturn 2 is a multi-band VST plugin designed to give saturation, distortion, warmth, or body, which results in a greater enhancement and life to your tracks.
It is a paid plugin, but you are offered 30 days of trial use.
It is available for Windows and Mac operating systems.
Also see: How To Use A MIDI Keyboard In FL Studio 20 (EASY GUIDE)
12. Devastor 2 plugin
It is a multiband VST distortion plugin, which is the second installment of D16's first FX Plugin from the SilverLine Collection series.
It is widely used to enhance vocals, guitars, and synths.
It is very flexible to use and delivers everything it promises and is highly recommended for professional use.
13. AudioThing Vinyl Strip
It is a multiband plugin based on 6 modules, compatible with Windows and Mac operating systems.
Compared to the others in this list it is a bit more complex to use, as it has several knobs to get the desired results, but it is still very flexible to use.
However, its use results in a very impressive audio quality.
14. Izotope Trash 2
It is one of the most powerful and interesting multiband plugins on the market.
It has been created by the famous company iZotope.
Its operation is based on dozens of complex algorithms which results in exceptional sound quality.
It is commonly used to improve the sound of guitars, basses, drums, synths, pads, vocals, brass, woodwinds, and more.
It is priced at around $100.
 See also: FL Studio: Make Unique Like A Pro (Step-by-Step Guide) 
15. Ozone 9 Exciter
Like the previous one, it has been developed by the company iZotope.
It works on the basis of four useful bands to improve saturation, and warmth helping to enhance the mastering process, obtaining very professional and harmonic results, just to mention some of its functions.
This is the ninth release of this module.
16. Presswerk
It is a dynamic compression and limiter emulation plugin with a very complete and robust interface.
Presswerk allows us to have a good workflow for being very intuitive, thus offering very rich sound results.
17. Maximus
Maximus is undoubtedly one of the most complete and versatile multiband VST plugins in the music production world.
It is Image-Line's flagship plugin and provides a wealth of compression options and is a defining element for professional mastering.
In my opinion, it has two essential disadvantages, its complexity of use and its high price, 130 USD.
However, overall it is worth the investment for the great benefits it offers.
Also see: How To Get FL Studio 20 For FREE On Macbooks
FAQs – Soundgoodizer VST
Is Soundgoodizer good for mastering?
The short answer is no. It is not recommended to use this plugin for mastering because it was not designed for this purpose and therefore you could ruin the beat you are creating if you are not very experienced in its use.
Is Soundgoodizer good for vocals?
The short answer is yes. This software is an excellent choice to be used on vocals to improve and enhance them.
Is Soundgoodizer good?
Yes, of course, it is. This VST is very good to use on tracks in order to improve them and get more saturated and colorful sounds.
Is Soundgoodizer bad?
No, it is not. It all depends on how you work with it. If you apply it correctly, the results will be great.
On the other hand, if you use it without knowledge of what you are doing, you can ruin your song.
What is Soundgoodizer's price?
Fortunately, this program is free and it is considered as a default plugin of FL Studio, so it is included in the utility package that contains the DAW.
Does Soundgoodizer come with FL Studio?
The short answer is yes. This great utility comes bundled with any edition of the DAW you purchase.
Is Soundgoodizer a saturator?
The short answer is yes. Soundgoodizer can work as a saturator.
Is it OK to use Soundgoodizer?
The short answer is yes. It is a good idea to use Soundgoodizer, as it allows us to make audios that sound more professional and with higher quality.
Without a doubt, it is highly recommended to use it.
How do you use the Soundgoodizer? What's your favorite alternative to it?
Let us know in the comments below! I hope this post was helpful!
Sources