Are you a newbie in the world of music production? Are you looking for the best way to learn FL Studio and don't know where to start?
Well if you want to know how to learn Fruity Loops from scratch you are in the right place.
In my beginnings, I went through the same problems and I had no one to advise me to choose the easiest way to make music.
And yes, I wasted a lot of money and time!
In this article, I'm going to show you a short guide on the best ways to learn how to use FL Studio and they will be of huge help for you to take your first steps as a producer.
Find out what are my secrets and tips to become a successful music producer.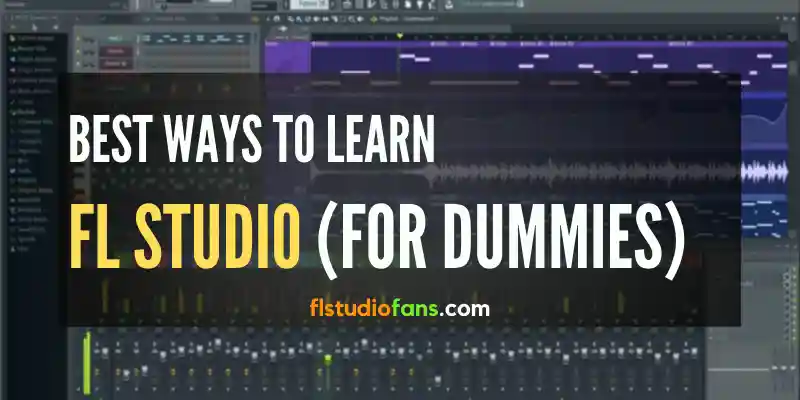 Table of Contents
Best Ways to Learn FL Studio
Like any beginner, everything is difficult at the very beginning. Learning to use this production software can be challenging and sometimes overwhelming.
But don't worry, with this guide everything will be easier for you.
I will show you which are the best ways to learn FL Studio 20 at home so you can make your own beats or songs.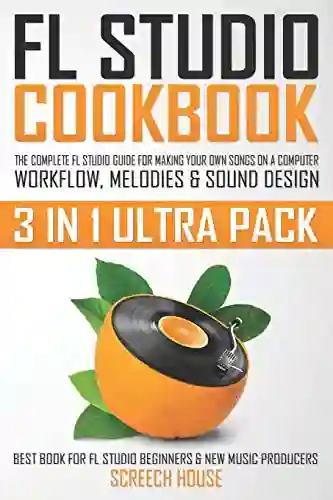 This tutorial for dummies contains tips that will help you start this career professionally.
Let's get started!
1. Get familiar with the DAW
Before you take your first steps as a producer and start using Fruity Loops for the first time.
It is of utmost importance that you get to know the utilities that integrate this music production software.
And the best way to learn to use FL Studio is by getting to know in more detail how each of its tools works and the scope of what you can do with them.
This will give you an overview of everything you need to review in order to start learning how to use FL Studio.
FL Studio is a Digital Audio Workstation (DAW), in other words, it is a virtual program that allows you to make beats or music of any kind, without any limitations.
With it, you can record, mix, produce and master in an easy and fast way.
Getting started in FL Studio is very easy, because this software has a very intuitive interface and consists of the Channel Rack, the Piano Roll, the toolbar, the Mixer, the Browser, and the Playlist.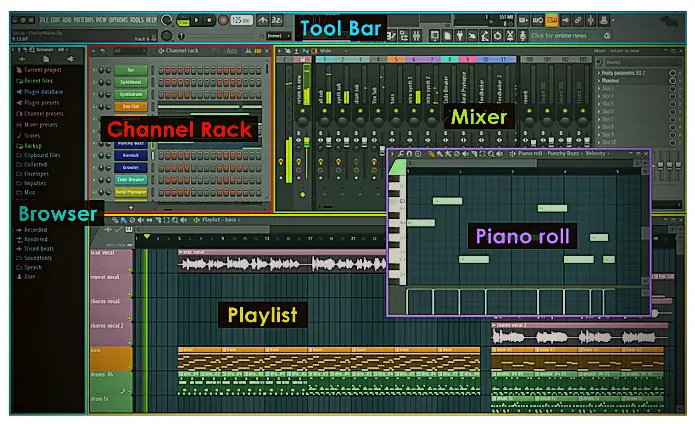 Next, we will talk about each of them in more depth:
1. Channel Rack: This is used to load all the VST (virtual instruments) and sounds you are going to use (kicks, drum sounds, bass, snares, synthesizers, hi-hats, etc) to compose your rhythmic patterns, melodies, and harmonies.
It also allows you to modify the parameters of the loaded sounds.
2. Piano Roll: It has an upright piano look so you can arrange the notes along it and is used to make chords and melodies in an intuitive way.
The Piano Roll is closely related to the Channel Rack.
Using the Piano Roll is so simple that you will be able to make your first melodies without the need to know music theory.
3. Mixer: In this section you have to load your main sound pattern once finished to add effects to each sound, combine them with others, equalize them, compress them, delay them, reverb them, or change the volume.
All this is done in order to improve the final result of the sound.
In the Mixer, you can arrange all these elements according to the characteristics of the project you are working on.
In the slots, you can load the effects, and once there they will affect the sounds that are in that particular channel.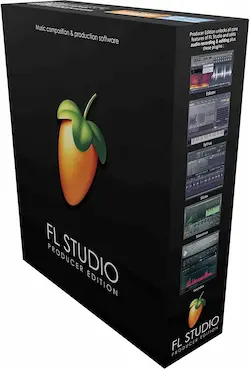 When you want to modify all the sounds together, you can do it from the Master Channel.
This is going to allow you to add effects as a whole that will affect all the sounds in your song.
4. Playlist: This is the canvas where the song or beats you are creating will take form and structure.
Here you can accommodate at your convenience the arrangement of each sound or pattern you have created in the Channel Rack.
That is, you can choose which sound goes in first, which one comes next and which one goes last.
In addition to this, you can choose the most appropriate place where you want to locate the verse, the chorus, a bridge, etc.
Another of the virtues of the Playlist is that through it you can automate effects, add vocals, loops, melodies, or percussions and place them where you like them or where they sound better.
From here, you can export your song or audio files if everything is ready.
5. Browser: This tool, due to its accessibility, allows you to do things in a more fluid way, that is to say, that you will be able to grab the elements of your project instantly.
In short, you will be able to do everything in a more agile way, allowing you to develop a good workflow.
The Browser is located in the left vertical zone of the main Fruity Loops window.
It hosts a variety of utilities that you can access quickly.
Among them are: your current project, recent files, VST plugins from your collection, the sound library, your presets, templates, backups, sample packs, and a lot of other utilities.
6. Toolbar: Here you will find the main control buttons to manage the sound playback, tempo, and general options.
In addition, the Toolbar allows us to have access to each of the main elements of the DAW interface that we discussed above.
Here is a video tutorial where this topic is explained a little more in-depth and in illustrated form.
Through several examples, you will get a better idea of how Fruity Loops works and you will learn the basic concepts that every beginner should master.
2. Sign up for professional training
One of the fastest ways to learn how to use FL Studio 20 professionally is through paid training and courses.
There are many online platforms and producers that offer their tutoring services to teach lessons, where they will teach you shortcuts and advanced techniques used by elite music producers.
If you have the budget and want to progress in a more organized and schematic way, then buying a course will be very helpful and will save you a lot of headaches when taking your first steps as a producer.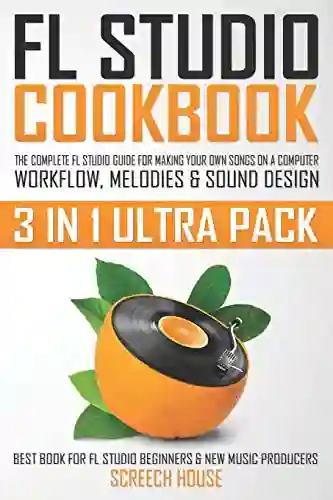 On the other hand, there are also books and practical guides for newbies to learn how to use FL Studio.
These types of courses are very cheap and are made up of easy-to-understand lessons for dummies.
So if it is within your means I recommend buying a book for music producers, as it is one of the best ways to learn FL Studio at home.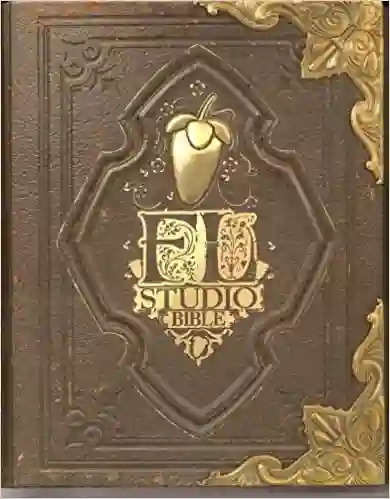 3. Learn with free training
Nowadays, thanks to the increase of free access to information there are a lot of free guides and courses on the internet, a clear example of this is the Youtube video platform.
On Youtube, there are many channels of very talented and renowned music producers, where they teach through tutorials how to make music in FL Studio.
There they teach basic skills that any beginner should have and also show step-by-step advanced production techniques, automation, mixing, mastering, etc. for more experienced users who want to get more professional results.
Hey, wait a minute! Would you like to learn How to use FL Studio professionally? I suggest you take a look at our free tutorials
With these Fruity Loops Studio video tutorials, you can learn everything without spending a dime and it's one of the best ways to learn FL Studio at home and on your own.
There are some famous producers and artists who learned how to use FL Studio by themselves and among them are:
Metro Boomin
Olbaid
Dr. Dre
Avicii
Rza
Bizarrap
These courses are very underrated by most people, especially by those who are starting out, because they are unaware of the potential of this type of teaching.
Behind all this, there are many experienced people (teachers, professionals, experts, etc.) sharing their knowledge and experiences accumulated over the years that can even exceed a university degree.
So there are no excuses for not learning, take advantage of this type of teaching while it is still available.
4. Join the communities
This is one of my favorite options and is another excellent way to learn FL Studio for free.
Forums and social networking groups dedicated to music production are full of people with a lot of knowledge and experience willing to help others.
In these communities, you can ask others for tips and tricks that will help you develop skills to create your first beats and improve your workflow.
You will also find suggestions and opinions on how to get the necessary equipment to build your first Home Studio.
We all help each other, no matter if you are an expert or a novice. You should join one!
Little by little, you will be making friends with whom you can ask how good your music or beats are getting.
Ask them to listen to it with their headphones, their audio monitors, their computer, or their smartphone.
Sometimes we hear that everything sounds good, but it's not. Hearing other people's opinions will help you progress on your path as an artist.
This type of feedback is very important, as it will allow you to perfect your songs over time.
You can also ask for recommendations of samples, plugins and music equipment that will serve as tools to enrich your creations.
Among the most popular communities and forums where FL Studio topics are discussed are:
Forum.Image-Line
Reddit
Quora
Ask.audio
Kvraudio.com
Gearspace.com
Youtube channels
Whatsapp groups
Telegram channels
Never underestimate the wisdom you can gain by exchanging knowledge with others.
A clear example of this is the Image-Line forum, which is frequented by famous producers, experts, and even the developers of this DAW, who listen to opinions and make their contributions to help new users.
Undoubtedly, relying on communities is a good way to learn how to use FL Studio for free.
5. Experiment on your own
When using FL Studio for the first time it is important that you try to take your first steps on your own.
Try to be curious and explore the entire DAW so that you can familiarize yourself and understand how its utilities work.
Even if you are a rookie, you can learn how to use FL Studio in a self-taught way. Nowadays there are many examples of producers who have succeeded.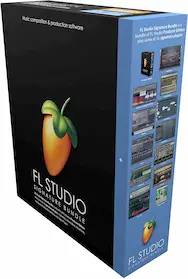 If they could do it, you can make your dreams come true too!
Try to be consistent in your practices and spend time using the production software so that you can develop the essential skills and techniques.
Some extra tips for dummies:
Be creative
Have fun
Try it for yourself
Avoid distractions and make the most of your time.
Learn from others (ask them for advice and opinions)
Practice so you can develop skills
Always innovate and don't limit yourself only to what you know
Be consistent in what you do
Keep your interest and strive for everything.
Take a rest whenever your body needs it (taking care of your health is also important)
Enjoy your loved ones and nature (they will help you to get inspired and be more creative)
Start making music with FL Studio has no ceiling, the limit is your creativity as a music producer.
6. Check out the Imagine-Line website
The official Fruity Loops website is one of the most important resources that every music producer should always take into consideration, especially newbies.
Checking this site is a good way to learn how to make music on FL Studio 20, since they offer updated information on how to use all the features, plugins, and improvements of the DAW.
There you will also learn how to set up the DAW to create professional sounds.
In addition, Image-Line has available on the web a very complete online manual with very useful information and guides to troubleshoot problems.
It covers the most important aspects of handling the program and developing the key skills that every producer needs.
7. Use the most recent version of the DAW
Perhaps many people do not give much importance to this point, but the truth is that it is a vital cornerstone for all those who want to learn to master Fruity Loops to perfection.
When comparing the previous versions with the latest update (FL Studio 20) we can conclude that the latter is much better.
FL Studio 20 stands out from its predecessor versions because it has a more modern and intuitive interface, which is ideal for learning to use the program in the shortest possible time.
In other words, your workflow will be significantly increased if you use the latest version of FL Studio.
Also, another thing to keep in mind is that FL Studio 20 is more powerful. It is equipped with better instruments, VST plugins and sounds.
In short, FL Studio 20 is the way to go if you want to learn how to make music quickly.
Would you like to buy FL Studio 20 at a great price? Check out my post and get amazing discounts.
Conclusion
Is it hard to learn FL Studio? Not at all, getting started in FL Studio is very simple as it stands out for its ease of use.
This DAW is one of the best music production software focused on beginners.
No matter if you are starting out in the world of music production, if you apply the tips discussed in this article you will know how to learn FL Studio from scratch without much effort.
Whether or not you succeed as a producer will depend almost entirely on you.
Remember to always make an effort and put your heart and soul into everything you do.
Consistency and perseverance are part of the key to success!
I wish you the best of luck on this wonderful path.
If you have any questions or suggestions about the Best Way to Learn FL Studio you can leave them in the comments below and I will gladly answer you.
FAQs – Best way to learn FL Studio
Is it easy to learn FL Studio?
Definitely yes. Learning to use this DAW is very easy, as it is very intuitive and the learning curve is quite good.
Is FL Studio easy for beginners?
Yes, the short answer is yes. FL Studio is an easy-to-use music production software and stands out over its competitors because it has a friendly and intuitive interface for beginners.
Is FL Studio worth it for beginners?
The short answer is yes. This software is well worth purchasing and is highly recommended for anyone, especially if you are a beginner.
How long will it take to learn FL Studio?
The learning time is very relative and depends on multiple factors. In a nutshell, learning to use FL Studio as an amateur could take you anywhere from a few months to a year.
On the other hand, mastering it fully for professional use could take you a minimum of 2 to 4 years.
Are there classes for FL Studio?
Yes, there are a lot of online and in-person classes for professional use of FL Studio.
Resources
FL Studio Facebook Community (recommended)
Visit the Image-Line Forum