In this article, I am going to make a detailed comparison between FL Studio vs Maschine from my experience using them for several years.
In addition, we will analyze in more depth what are their similarities, strengths, and weaknesses.
If you still don't know which one to choose, you are in the right place.
I suggest you read this post because here you will learn which of the two software is right for you and therefore make a smart buying decision that suits your needs as a music producer.
See also: FL Studio: Use Maschine As MIDI Controller Like A Pro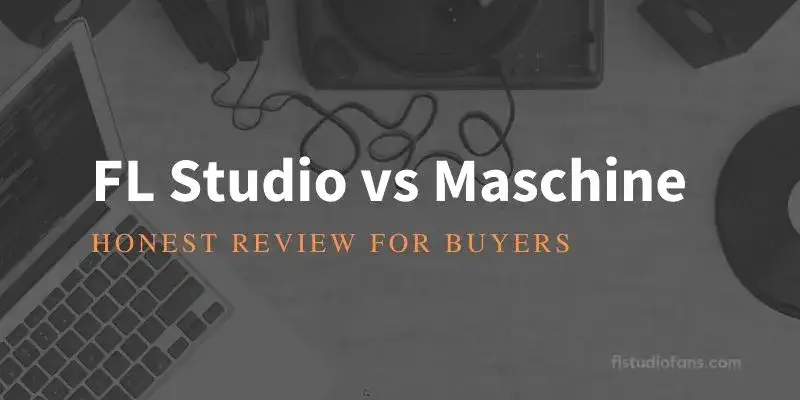 Table of Contents
FL Studio vs Maschine – Comparison
For more than 6 years, I have been working with FL Studio as my main Digital Audio Workstation (DAW) in which I create most of my projects.
And generally speaking, I feel very comfortable with it, I use it almost every day.
I usually use it for sequencing, mastering, mixing, programming, recording, automation, or in combination with an external MIDI controller, just to mention a few examples. Well, I use it for just about anything.
Fruity Loops is very versatile, it's practically an all-rounder.
However, when comparing FL Studio vs Maschine, the DAW developed by Image-Line is the clear winner. This is because FL Studio is better equipped with plugins, better-designed tools, a large sound library, greater cross-platform support, and also has greater plugin format compatibility.
It also receives frequent updates, which are free of cost and for life when purchasing some of its licenses.
On the other hand, there are many people who say that after using Maschine as a production tool for the first time it is very difficult to go back to FL Studio, they feel so comfortable that they can not afford to look back.
So I invite you to continue reading this post to discover the truth of why this happens.
See also: Using a MIDI Keyboard in FL Studio 20 (Easy Guide)
FL Studio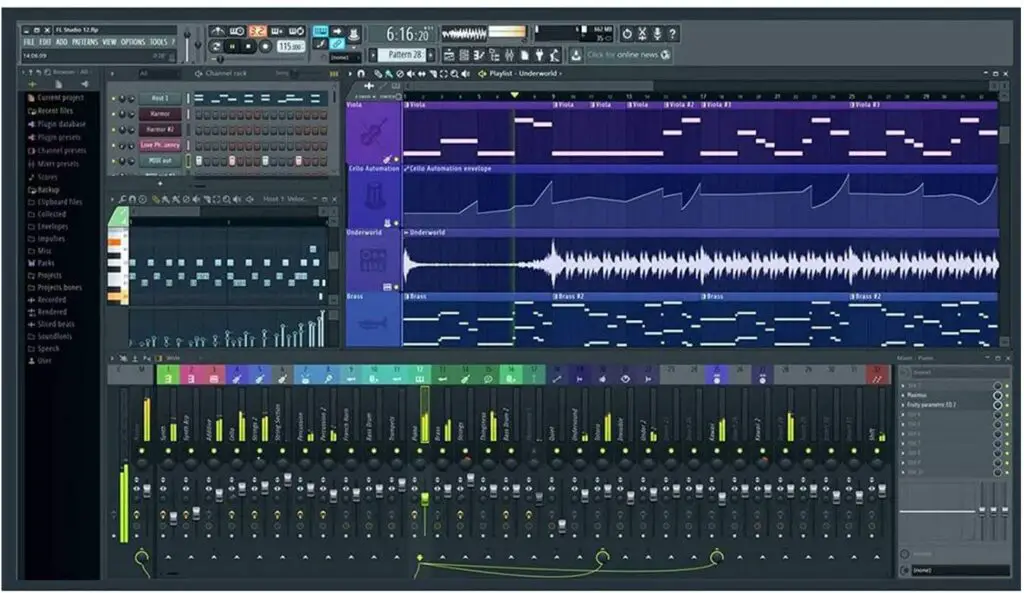 FL Studio is one of the most complete and advanced music production environments available today, making it one of the most popular DAWs in the world.
Its features are excellent for mixing and composing songs at an expert level.
A large number of the most creative artists love to use this software, and it is undoubtedly one of the best alternatives to take into consideration when buying a DAW to give life to your musical creations.
FL Studio is a program designed for composing all kinds of music, regardless of genre or musical rhythm. It also stands out for the ease of merging tracks.
If we look at FL from its origins it has evolved from a "basic" music product to a very powerful beat creation interface with a huge popularity among electronic music producers (Trap/EDM/hardcore).
Pros
Extensive MIDI keyboard support.
Great audio recording, mixing, and mastering
Numerous high-quality synthesizers
A large and rich sound library
Free lifetime upgrades when purchasing a license
Allows importing and exporting of audio and MIDI files
Extended cross-platform support, both Computers (Windows, Mac, Linux, and Chromebooks) and Mobile (Android, iOS, and Windows Phone).
Cons
Its interface is a bit complex and challenging for newbies.
At the beginning, the workflow is slow if it's the first time you use it.
Maschine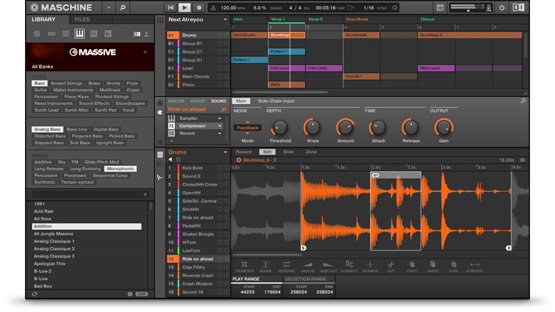 What is Maschine? What is it good for?
We can say that Maschine is the combination of software and hardware created by Native Instruments, which allows us to capture, process, and/or produce audio files by hitting highly sensitive pads.
This system is used for making beats, melodies, songs, loops, mixing, and mastering.
Therefore, you can connect the physical device to the computer and use it in unison with the software.
Is Maschine really a DAW?
There are many music producers who do not credit Maschine as a DAW, but what is true is that with it you can do practically everything that a high-performance Digital Workstation such as Ableton, Reaper, Fruity Loops, Pro Tools, etc. does.
With it, you can create music from start to finish!
This contradiction is due to the fact that it has a different workflow than conventional music production software since its heritage does not come from audio recorders, but from machines that produce sound.
And it is exactly here where the confusion arises that causes many users to marginalize it as a program to create music. Personally, I do consider it as a DAW.
Included with Maschine is Komplete, which is a large 8 GB library of high-quality samples, loops, sound effects, patterns, drum kits, and various premium musical instruments (such as Massive and Monark), just to mention a few.
And all this comes together with Kontakt Player and Kontak Factory selection, which is great for working with any kind of project.
Maschine is a great option to buy without a doubt. If you are used to using FL Studio as your main interface, then you will love Maschine. It has everything a professional producer requires.
See also: FL Studio vs Reaper - Comprehensive Guide
Advantages
I can say that Maschine is so easy to use that it is possible to create a track, instrumental, or beat without even looking at the computer screen.
It can even be used in conjunction with Komplete as a MIDI Controller, which is very useful to have for choosing sounds easily and quickly.
It also has the great advantage that you can make beats or arrangements with it and then export the resulting audio to another DAW (e.g. Studio One or Reaper) for further enhancements.
Other Pros to consider:
Runs smoothly and is low latency to touch.
Visually everything is well arranged
Compatible with Kontakt: You can use the instruments directly, without having to install other third-party software
Quick and comfortable access to the library: It is a marvel to instantly use your sound effects, samples, drums, and plugins, including instruments such as piano, guitar, cuba, etc.
The sounds are quite good: It has nothing to envy to Fruity Loops.
Resolution and adjustment of the plugins on screen: It is good, however Fruity Loops is better in this aspect.
Note: Maschine software can be better utilized if used in combination with its pre-designed hardware.
Disadvantages
Loading and scanning at program startup is a bit slow.
Only one stereo channel available for recording audio: This makes it difficult to create beats. So sometimes we have to rely on the use of another DAW to export the sounds we want to use.
Main Differences Between FL Studio vs Maschine
Next, I will show you a comparative table so you can better appreciate the advantages and disadvantages of each one of them.
It is important to mention that both music production software share certain similarities, especially when loading sounds or plugins.
On the other hand, in my experience, I can tell you that if we talk about beat-making is one of the strong points that both have. In fact, they are far superior to Logic in that aspect.
In addition, these programs are equipped with a Playlists quite organized and comfortable to the sight, which makes them pleasant and easy to use.
Features
FL Studio
Maschine
Interface
Complex and modern
Visually nicer, simpler, and more organized
Ease of use
Good (recommended from novice to expert)
Superior
Sound library
Large library of samples, loops, SFX, etc., and of excellent quality.
Quite good.
Plugin Compatibility
Super wide plug-in support: Supports 32 and 64 Bit VST 1/2, & VST3.
More limited, but can work in combination with almost any DAW as VST instance, Audio Units, or AAX.
External Devices
Has a large list of compatible hardware
Works better with Komplete hardware
Instruments and synthesizers
Includes a large number of native instruments and plugins
Basic
Workflow
Good, but more difficult to master
One of the best on the market
Mixer
The most advanced and complete Mixer
Basic
Mixing and mastering
Best quality and easy to achieve
Acceptable, although with certain limitations
Beats Making
This is one of its strong points
Very good
Very good
FL Studio vs Maschine – comparative chart
We can roughly say that FL Studio is superior to Maschine in terms of synthesizer tools and functionalities.
However, Maschine is light years ahead of Fruity Loops in terms of its ease of use for creating beats. This means that it is very clean and focused on comparison.
With Maschine, you can create beats in a matter of a few minutes, while with Fruity Loops it might take a bit longer if you are not very skilled.
See also: FL Studio 20 vs Logic Pro X - Which Is Better?
Although, we can say that the real magic starts when we use both together. In other words, FL as the main DAW, and the other as a MIDI controller.
So it is also a good alternative to use Maschine standalone.
Both DAWs are equally good, it all depends on your approach as a producer and your workflow.
Final Recommendations – FL Studio or Maschine?
As a final recommendation, I suggest you choose the production software that you like the most and that suits you best. Always keep in mind that you are the one who makes the music and not the tool.
DAWs are just a medium and do not define the music you create. The most important thing is your creativity and originality.
Also, I want to tell you that using Maschine is as useful and productive as using FL Studio. The final decision will depend on the particular taste of each producer and how comfortable they feel using it.
If your workflow is good with Maschine, go ahead and continue using it, otherwise Fruity Loops is an excellent option to consider.
Or you can use both simultaneously and in combination for arranging songs, exporting sounds, mixing, and mastering. Thus obtaining an improvement in the quality of the music.
In a few words, using both programs is a big plus and regardless of which one you prefer, both are excellent music production programs.
And these are some of the reasons why many believe Maschine works better than FL Studio and choose to switch from one DAW to the other.
Tell me in the comments which one you like better, Maschine or FL Studio, and why?.
What has been your experience using both music production software?
See also: FL Studio: Make Unique Like A Pro (Step-by-Step Guide)
FAQs – Maschine vs Fruity Loops
Is Maschine better than FL Studio?
The short answer is no. FL Studio is much better than Maschine, as it has better features in comparison. In other words, it comes equipped with better synthesizers, audio editing, and recording tools, and is much better at mixing and mastering sounds.
It also has wider third-party plug-in compatibility and is cross-platform (PC and mobile devices).
Does Maschine have its own DAW?
The short answer is yes. Native Instruments created its own music production software capable of running simultaneously on Maschine hardware.
So you can create very complex and elaborate tracks, just as if you were using any other Digital Audio Workstation.
Will Maschine become a DAW?
The answer is yes. Eventually, Maschine will be considered as a DAW, since it has most of the features that most conventional production software has, allowing to create any kind of music.
At the end, it will all depend on the acceptance of music producers.
Is Maschine a good DAW?
Definitely yes. This music production software is quite good and used by renowned music producers. It allows you to record and edit audio, create excellent quality beats and use almost any MIDI keyboard on it.
Also with it, you can mix and master easily, and get good results as in any other DAW (FL Studio, Pro Tools, Ableton, Reaper, etc.).
Resources