The use of synthesizers in music production is essential to create unique, rich, and powerful sounds.
That's why I bring you this comparative review between Vital vs Serum, two of the most popular and versatile synth plugins of the moment.
Vital is the new synthesizer that is challenging Serum and wants to take away its throne.
Would you like to know which one is the best of the two? Which one offers you more for the price?
Well, I invite you to read on to find out which is the ideal VST synthesizer for you.
Let's find out!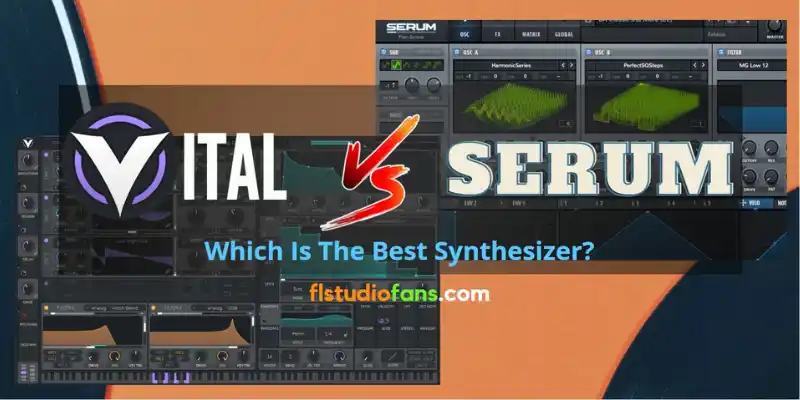 Table of Contents
Vital Spectrum Wavetable Synth vs Xfer Serum – Comparison
This review is made from a neutral point of view and always focused on objectivity.
Although it is worth mentioning that I will also give several opinions based on my experience as a producer using both synthesizers to help you have a clearer idea of which one to choose.
When comparing Vital vs Serum head to head it is evident that both synthesizers are equally good. Each has features that its rival does not and both stand out for their excellent audio quality.
Deciding which one is the best is just a matter of personal preference and will depend on the needs and demands of the producer.
Would you like to download free Vital Spectrum Wavetable Synth? I invite you to read my other article where I talk about the best free plugins for making music that you can get free of charge.
Vital Spectrum Wavetable Synth is a relatively new plugin and since its release, it has been causing huge hype among music producers due to its outstanding performance and quality of its utilities.
While xfer Serum is a plugin with much more trajectory, it was released in 2014 and has had many improvements over the years since then it has become the number one synthesizer used by producers of all styles.
Related video – Vital Spectrum Wavetable Synth vs Xfer Serum:
1. Interface and scalability
Nowadays it is necessary for music production software to be re-scalable and able to adapt to any type of screen. It is a necessity that is almost mandatory.
There are users who use computers with small screens, such as laptops. On the other hand, others have large monitors (27 inches or larger).
For these reasons, working with the ideal screen size is a wonder.
That is why the scalability of the synthesizer is something fundamental since it helps to improve the workflow, use the synthesizer to the maximum, and make the user experience more pleasant.
This is crucial to produce the best possible audio and always stay comfortable.
In this aspect, Vital does it acceptably. You can adjust its interface to various preset sizes or do it manually. You can make it very large or very small.
We could say that it is enough for most users.
Although this feature could be a bit better and is something that its developers should work on a bit more.
On the other hand, Serum stands out in this area. The way we can rescale its appearance is simple and makes everything easier.
It also has a wide variety of options that make it perfect for synthesizing on any type of monitor.
Serum can be easily adapted to screens of low or high resolution.
🏆 Winner: In the interface category there is a draw between both synthesizers, as they do a good job. Serum is better than Vital in terms of interface design and rescaling potential. While Vital is more visually comfortable to work with and helps to make music more easily.
2. Ease of Use and Workflow
The more complicated a synthesizer plugin is to use, the more difficult it will be for you to design sound with that software.
If you don't understand what its functions consist of, it will cause you to feel overwhelmed and you won't want to continue using that VST.
Then a key question would be: Which is better for beginners Serum or Vital?
Nowadays it is important that this kind of tools have a user-friendly interface, especially if the user is a beginner, and at the same time, it is equipped with advanced features for more experienced producers.
In a general sense, we can say that at first glance Serum is not very intuitive and easy to use.
Some might find it a bit intimidating because of the large number of knobs, buttons, and functions in its main window.
However, as you use it little by little you will see that in the end, it was not as complicated as it seemed.
On the other hand, with Vital at first, the user experience is somewhat similar to the one you get with Serum, but with the big difference that the first one is more intuitive.
Vital has a much more friendly and graphical interface, which helps us to understand how everything works without feeling overwhelmed.
Its main functionalities and sections stand out from the rest. Even the size of the letters is bigger, its colors and graphics are eye-catching, making everything easier to identify, especially for novices.
In addition, Vital is equipped with some animations and effects that give feedback and help the producer to understand a little more the scope of what he is doing.
Vital's advanced settings are more simplified. This Serum does not do as well, as it displays a lot of information on screen, which tends to confuse some users a bit.
🏆 Winner: In terms of ease of use and workflow the conclusion is that Vital is better than Serum. Its features are nicer, more visible, and easier to handle. In short, Vital is easier to use than Serum for beginners.
3. Synthesis and oscillator modifiers
Vital currently features 12 different types of synthesis, which allow us to modify the sound and obtain truly impressive results.
As if that wasn't enough, Vital also includes 11 individual oscillator modifiers. This will allow you to make audio of almost any style.
The only limiting factor here is your creativity as a music producer.
Serum comes equipped with only 13 synthesis types to create sounds.
That's much less options compared to Vital.
Although it is important to mention that even though there are fewer synthesis options in Serum, they are good enough to produce impressive and good-quality sounds.
🏆 Winner: Vital is the clear winner. It is better equipped than Serum in terms of synthesis types, allowing producers to have a wider variety of options to create unique sounds.
4. Effects
In this section Vital has 9 types of effects. Personally, I can say that these are very good and the final result of the projects in which I have used it is quite decent.
I can say that I am satisfied with the work Vital does.
Besides this, in this section, its graphical interface is more pleasing to the eye.
It has animations that make it easier to analyze what we are changing and its utilities look better organized.
In my opinion, its visual qualities are superior to those of Serum.
On the other hand, Serum comes with a larger number of effects compared to Vital.
It has a total of 10 types of effects of the highest quality.
🏆 Winner: When comparing Vital with Serum in terms of effects, Serum is the winner, but not by much. Both synthesizers have virtues that make them unique in this aspect, it is up to the user to choose the one that best suits him.
5. Oscillators
At the moment the Vital VST comes equipped with 3 oscillators and a sampler. While Serum comes with 2 oscillators, a sub-oscillator, and a sampler.
At first glance, you could say that Serum has better oscillators, but in reality this is not the case.
The difference is made by Vital's third oscillator. It is more complete and has a greater number of options.
That is, it is much more powerful and allows us to create a wider range of sound variations.
It could be said that Vital's third oscillator is as powerful as its other two, which gives it a big advantage over its rival Serum.
Unfortunately, Serum's sub-oscillator is very limited, as it only allows us to use 6 different types of waves and apply a few extra parameters (such as Pan, Level, and Octave with their respective intensity modifications).
Although it is important to mention that Serum does a great job with its oscillators, they are of exceptional quality.
It just lags a bit behind its rival.
As far as samplers are concerned, I could say it's a technical draw. Both synthesizer plugins are equally good in this aspect.
🏆 Winner: Vital is the clear winner, as it has better oscillators than Serum.
6. Modulators
Now let's talk a bit about the modulators. Both VSTs are well prepared and do a good job in this field. The competition between these two titans is pretty tight.
Just that Vital stands out a bit more over Serum.
Vital has a total of 32 modulators.
Basically, these consist of LFOS, Envelopes, Notes, Pressure, Random 4x, Velocity, Mod, and Pitch, among others.
While Serum brings 31 modulators, among which we can find Macros, Multiply, Max, Min, LFOS, Random, Pressure, Envelopes, Velocity, Note, etc.
🏆 Winner: In summary, Vital has better modulation tools compared to Serum, although not by much, as both plugins do a good job. The main difference lies in the fact that Vital brings one more modulator.
7. Sound quality
The sound quality is one of the most important aspects and every producer should pay special attention to it when making music.
So to speak, it is the cornerstone that can define how good and professional your music sounds.
Here I will address a bit the subject of oversampling and Unison.
Vital offers 8x oversampling, while Serum has only 4x oversampling.
At first impression, we could think that Serum is inferior in this matter, but it is quite the opposite.
Now I will explain why I consider Serum superior in terms of oversampling.
I consider Serum is better in oversampling since when using it we obtain audio that sounds a little more natural, clearer, and superior in quality.
Despite this, there is not much difference with respect to Vital.
To appreciate the slight difference between both synthesizer plugins we need to have a well-trained ear, use professional headphones, and have knowledge to be able to detect these changes between one and the other.
I know that many producers might say that both sound the same and that there is no difference between them, but this is not the case, I assure you!
Unison
Unison is one of the most important tools in any synthesizer we use for music production since through it we can make faster, smoother, and richer sounds, leads, pads, heavy basses, etc.
It also allows us to create vintage-type music, but with a style that adapts to the way modern producers work.
In short, Unison helps us to create more professional, creative, unique, powerful, and superior quality sounds in a more simplified way.
If you don't have a high-quality Unison unfortunately the music you produce is going to sound bad, low quality, and unprofessional. To be frank, the end result will be nothing but garbage.
For that reason, it is key that you avoid synthesizers with a mediocre Unison.
Fortunately, both plugins are equipped with a good Unison. Although you could say that Serum's Unison is slightly superior to the Vital one.
Serum's algorithm is better optimized in terms of artifact and noise reduction.
It is possible that in the future Vital will improve even more in this field.
🏆 Winner: Serum is the undisputed winner in terms of audio quality, because its oversampling and Unison qualities are subtly superior to those of Vital. This will allow you to create more organic and complex sounds.
8. Filters
Referring to the filters, there is not much to discuss about which VST is more impressive.
Vital includes only 8 filters with different characteristics and subtle variations. Its filters are not bad at all and you can make interesting sounds with them.
The downside is that there are very few of them.
Serum, on the other hand, has an astonishing 97 types of filters. These are wonderful for designing any style of sound, especially for working with audios that have a lot of movements.
The end result is simply stunning!
Serum's performance in this category is incredible!
🏆 Winner: In the filter category Serum is the winner, as it is better than Vital because it offers a much larger amount of filtering options. Although it is important to note that Vital does a good job, despite having fewer filters.
9. Price
This is one of the most important categories and sometimes the most decisive.
The latter applies especially to those producers who have a very limited budget and have few options at hand when making any choice.
It is common to see producers who are just starting out in the music creation industry not having enough money to get a good synthesizer.
This is where we have to be wise in our choice, as there are free or cheap options that we could consider.
Vital is a 100% free synthesizer that natively comes with a lot of premium features.
Although it also has several paid versions to enable certain extra features, such as access to more presets, unlimited use to convert Text to Wavetable, access to more wavetables, additional skins, exclusive support, among other benefits.
Vital has several ways to purchase it, monthly fees, or one-time payment.
The price of the most premium package of Vital (membership) is only 5 USD per month.
While the Plus version has a value of 25 USD and the Pro version costs about 80 USD, both are paid with a single payment.
Not bad at all, it is a very affordable cost for all that it offers.
In short, either version of Vital is affordable and worth it.
Serum, on the other hand, costs $189 USD. It is substantially more expensive than Vital's most valuable package.
However, this one has the great advantage that it can be paid in convenient monthly parts of 9.99 USD.
Despite its price, if you compare Serum with other synthesizers it is undoubtedly one of the best alternatives, as its price is quite cheap for all it offers.
🏆 Winner: Vital is better than Serum in terms of cost, as Vital has the best price-performance ratio by far.
10. Extras and special features
Vital has a very interesting option called Text to Wavetable.
Basically, the function of this tool consists in writing any word and when you press enter automatically the synthesizer converts it into a wavetable.
The result is the reproduction with a robotic voice of the inserted text. With Vital, you can create wavetables more interesting and faster compared to Serum.
In addition to this, Vital has the capability to fully convert any preset into a wavetable that you have stored in your user files.
These are options with which you can create wavetables instantly and easily, features that Serum lacks and can be a game-changer for choosing Vital.
The downside is that Vital only lets you make 5 text wavetables every 24 hrs and to have more options you have to pay for one of their plans.
Serum has a different functionality than Vital, but at the same time it is very cool.
It is about converting images into wavetables.
To use this tool you just have to drag images and drop them on the oscillator to convert them into amazing wavetables.
This is ideal to produce different sounds, variations and encourage creativity.
In other words, you can create whatever you want in a simple way.
Personally, I think that both synthesizers do a spectacular job with these options and can complement each other.
🏆 Winner: In the category of special features there is no clear winner. We can declare a fair tie between Vital and Serum. Each synthesizer has its own thing going for it and they excel wonderfully at what they do. Although in my opinion, I think Serum is discreetly better as it has more settings.
11. Presets
I personally consider the presets section as something not so relevant with respect to everything I have previously mentioned.
When you buy a synthesizer you usually do it with the objective of creating your own sounds and not so much to use its presets.
Both synthesizers are phenomenal and with them you can create anything you can think of, especially if you know sound design.
Vital as it is a relatively new plugin and comes with a very limited amount of pre-installed presets.
Although these are very well done and are somewhat superior to those of Serum in terms of quality.
It is only a matter of time before the availability of presets for Vital increases and matches what currently exists for Serum.
However, Serum comes with a huge amount of presets.
Its library is much larger compared to that of Vital.
🏆 Winner: Serum is the clear winner in this category, as the number of pre-installed presets are infinitely superior to those of Vital. However, although Vital comes with few presets, they are subtly better than the Serum ones in quality.
Main differences between Vital vs Serum
Here is a comparison chart where you can appreciate the main differences between Vital and Serum synthesizer plugins.
You will also be able to more easily appreciate their pros and cons.
Features
Vital
Serum
Interface
Friendly and intuitive
Good
Resizable size
Very good
Excellent
Ease of use
Excellent
Very good
Synthesis types
12 synthesis types + 11 oscillator modifiers
Only 13 different types
Effects
9 varieties of effects
10 different types of effects
Oscillators
3 oscillators + 1 sampler
2 oscillators + 1 sub-oscillator + 1 sampler
Modulators
32 modulators

(LFOS, Envelopes, Random 4x, Note, Pressure, Velocity, Mod, Pitch, etc.)
31 modulators

(LFOS, Envelopes, Random, Note, Pressure, Velocity, Max, Min, Multiply, and Macros)
Sound quality
Very good
Excellent
Unison
High quality
Superior quality
Filters
Only 8 filters + variations
97 filters
Extras and special functions
– Text to Wavetable
– Spectral mode
– Different unique transformation modes
– Analysis section
– Image to wavetable
– Remapping
– More customized transformation
– Better resampling
– Rendering between oscillators
Price

Excellent

A) Free
B) Membership 5$/month
C) One-time payment:
– Vital Plus $25
– Vital Pro $80
Good

A) 189 USD
or
B) Payment in installments of $9.99/month
Presets
Regular
Good
Vital vs Serum – comparative chart
Final Thoughts – Vital or Serum, Which one should I choose?
Serum is considered by many to be the leading synthesizer in the music industry and has been on the market for about 8 years.
It also has thousands and thousands of presets and wavetables that you will be able to use.
It is a product that has a longer history and development.
If you are a more experienced producer, who likes to convert images to wavetables or enjoy higher sound quality, or its great interface, and you don't like the other options available, then Serum is the best choice for you.
Serum is a premium synthesizer and worth every penny.
This is because of the high quality of everything it offers compared to other synthesizers that cost hundreds or thousands of dollars. In other words, Serum is not expensive
In contrast, if you are a new user whose budget is low and is not enough to buy plugins, DAW, hardware, or synthesizers the most recommendable and attractive option is Vital, since you have to pay absolutely nothing.
As we have already seen this one has certain functionalities that Serum does not have and its audio quality is very good.
And for beginners Vital stands out for its ease of use and excellent workflow.
At the pace Vital is going, it could become the standard synthesizer by excellence among music producers, especially for those who have a tight budget.
What do you think of this review? For you, which is a better synthesizer, Vital or Serum?
FAQs – Vital vs Serum
Which synthesizer consumes more CPU, Vital or Serum?
Serum consumes less processing resources than Vital. In short, Serum is more CPU friendly and performs better than Vital on low-end computers.
Is Vital the same as Serum?
No, it is not. Vital and Serum are totally different. Both are very powerful synthesizers, with different qualities and tools.
Is Vital as good as Serum?
The short answer is yes. Vital is one of the best synthesizers on the market and is as good as Serum in terms of sound quality, synthesis, oscillators, filters, effects, and modulation.
Can you use Serum presets in Vital?
Yes, in short, it is possible to use Serum presets in Vital. Just keep in mind that the files have to be exported manually between both synthesizers.
Is Serum still worth it?
Definitely yes. It is worth paying for xfer Serum, as it is considered by many producers as the ultimate synthesizer in the music industry.
How do you add wavetables to Serum?
It is very easy to add wavetables to Serum. Just copy and paste the folder containing these files into the User folder of Serum.
Just follow this installation route: This PC > Documents> Documents> Xfer> Xfer> Serum Presets> Tables> User
Where do you store Serum wavetables?
Serum wavetables are stored in its User folder. It is located in the next path: This PC > Documents> Xfer> Serum Presets> Tables> User
Is Vital a good synth?
Definitely yes. Vital is considered to be a good synth because of its free, powerful, and high-quality audio utilities.
Should I buy Serum?
Of course, you should. Buying Serum is worth it, as it is one of the best synthesizer plugins available on the market and its price is very cheap compared to its rivals.
How to get Serum for free?
Yes, you can get Serum for free, but only its trial version. The safest and cheapest way to get it is to pay for it in monthly installments of 9.99 USD as a rental.
Is Vital synth free?
Yes, Vital synth is totally free.
Do professionals use Serum?
The short answer is yes. Serum is used by many professional producers and musicians due to the high quality of its tools.
Why is Serum synth so popular?
Basically, Serum is so popular because it is the favorite synth of many famous producers. In addition to the above, it stands out for the quality of its modulators, filters, oscillators, audio quality, and other affordable tools.
Sources